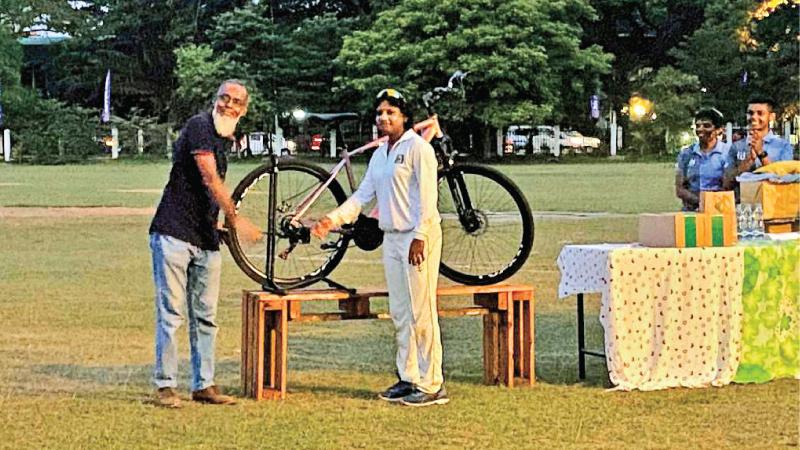 Women's cricket in Sri Lanka received a patronizing boost when a host of sponsors came to their rescue at the Colombo District Women's Cricket Association tournament last week in the form of a T/10 championship with eight teams contesting.
Air Force won the tournament for the Nippon Paint Trophy when they defeated Army in the final at the Colombo University ground sponsored by Nippon Paint Lanka.
Army scored 80 for four wickets in their 10 overs with skipper Roshini Perera (20), Ayesha Chandrasiri (21) and Sithumini Peiris (14) being their top scorers. Inoshi Fernando, Chamari Polgampola, and KK Suranthi claimed a wicket each.
Air Force captained by Chathurani Gunawardena scored 83 for two wickets with Dilani Manodara (35 not out), Chamari Polgampola (16), and Iroshi Fernando (17 n.o.) being the main scorers. S Bandara and Kushanthi Liyanage claimed a wicket each.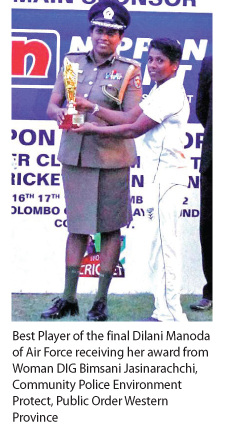 The woman of the tournament Chamari Polgampola of Air Force received a bicycle sponsored by Lumala Bicycle Company for the first time in the women's cricket arena.
In addition to the main sponsor other contributions came from Hirdaramani Industries (Pvt) Ltd, DP Global Ventures (Pvt) Ltd under David Peiris Management, Diamond Best Food Company, Soflogic Life Insurance, Diamond Brand Match Box Company, Kundasale, Dash Brand sanitizer company, The Multichemi International Ltd & Lumala Bicycle Company.
The chief guest of this tournament was Olympic medallist Susanthika Jayasinghe and guests of honour were head of Marketing Diamond Best Food Company Rimzan Farook, Naminda Hapuarachchi and Harsha Buddhika Pathirana both from main sponsor company Nippon Paint Lanka, Community Policing Environmental Protection, Public Order Western Province Woman DIG Bimsani Jasinharachchi, Manager of Lumala Bicycle Imthiyas and Sujive Kumar of DP Global Ventures.
Special Awards:
Best fielder – Dilani Manodara (Air Force)
Best bowler – Sudrashika Bandara (Army)
Highest numbers of boundaries of the tournament – Roshini Perera (Army)
Best catch of the tournament – Nippon Paint Catch
(Lihini Apsara and Inoshi Fernando of Air Force)
Player of the final – Dilani Manodara (Air Force)
Player of the tournament – Chamari Polgampola (Air Force)