Brazil striker Richarlison de Andrade says racism will continue "every day and everywhere" unless the authorities "punish" the perpetrators after a banana was thrown at him during Brazil's 5-1 win over Tunisia.
The incident took place after the Tottenham striker celebrated scoring Brazil's second goal in the Paris friendly.
"As long as it's 'blah blah blah' and they don't punish, it will continue like this, happening every day and everywhere. No time bro!" Richarlison tweeted following the match.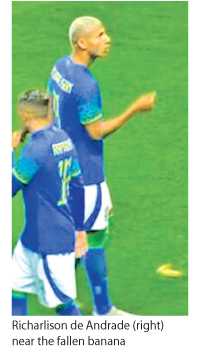 Brazil had posed with an anti-racism banner prior to kick-off.
The team lined up with a message that read: "Without our black players, we wouldn't have stars on our shirts."
In a statement, the Brazilian Football Confederation (CBF) said it "reinforced its position to combat racism" and "repudiates any display of prejudice".
In a separate statement, CBF president Ednaldo Rodrigues added: "Whether on or off the field, attitudes like this cannot be tolerated."
Spurs have since said they are "disgusted" in a message of support for their player on Twitter.
"We are disgusted by the racist abuse of Richarlison at last night's game between Brazil and Tunisia," tweeted the Premier League club.
"This has no place in football, or anywhere. We stand with you, Richy."
The Premier League added: "There is no room for racism anywhere.
"We all need to tackle discrimination together. Challenge it. Report it. Change it."
Richarlison's goal had restored Brazil's lead after Montassar Talbi cancelled out Raphinha's opener.
Neymar added a penalty before Raphinha claimed his second goal of the evening and Pedro wrapped up the scoring after Tunisia had Dylan Bronn sent off.
(BBC Sport)