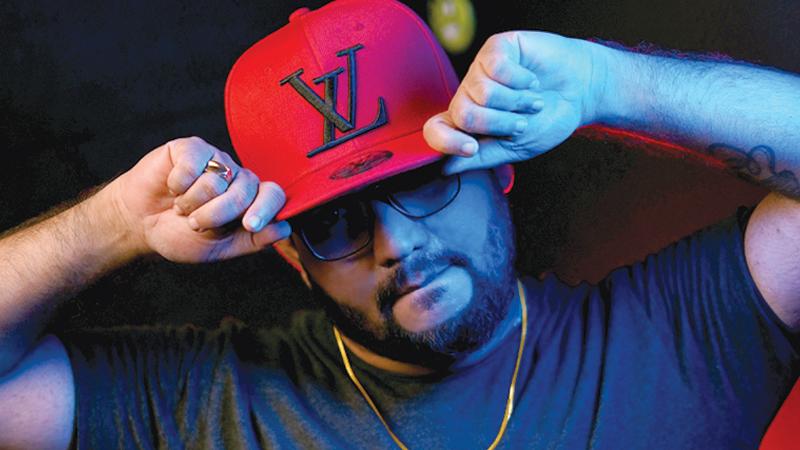 'Menike Mage Hithe', because of its simplicity, catchy tune and Yohani's voice, went on to win the international music charts, broadening the horizon of the Sri Lankan music industry.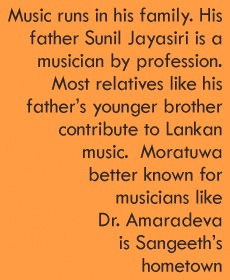 To be frank and honest, Chamath Sangeeth's music opened a new window for the lyrics penned by Satheeshan. It is no secret that Sangeeth's creations (not only the above one) undoubtedly trick anyone to hum and sing.
Not that Sangeeth studied music as a subject at his school. Music runs in his family. His father Sunil Jayasiri is a musician by profession. Most relatives like his father's younger brother contribute to Lankan music. Moratuwa better known for musicians like Dr. Amaradeva is Sangeeth's hometown.
"I was born in Moratuwa and had my education at Prince of Wales. Speaking of my musical life, I have to mention that I did not study music at school. But I was born in a musical family background. My father is a musician called Sunil Jayasiri. He has worked with Weraliyadda. My father's younger brother is a recording engineer at Torana. Most of my relatives are living with music," said Sangeeth.
Musical life
Back in 2019 young talented musician Sangeeth began to emerge with his maiden musical creation titled 'Ma Thani Wee'. "I did my first song Ma Thani Wee in 2019. I am still satisfied with the quality though I created it at my tender age." Going through his chart, what is true is that every creation has become trending on social media platforms around the world transcending geographical boundaries.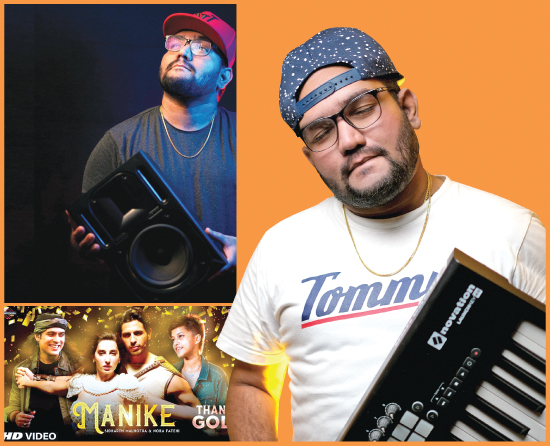 Honestly, Sangeeth is taking our country to the international level. For instance, Dinesh Kanakarathnam's Tamil song, 'Menike Mage Hithe', Dinesh Gamage's 'Nesuna' and ' Nade' already remain as top hits in countries like Nepal, Bangladesh and India.
'Obata Satutuida Dn' sung by Ruwan Hettiarachchi is another hit which remains on Lankan music charts. When asked about his composing music, he said that he prioritized the track.
"I feel the youth's taste and heart beat. I feel what they want. First I create the track and put a melody. Most of the time, I decide the titles and even change the lyrics of songs because I feel the appropriateness of words. What I want is to do something good. Melody, music track and lyrics are the main areas. Most singers too agree with my decisions in terms of composing music. However, I do the best for any creation within my capacity," said Sangeeth. Speaking of his music, what is clear is that he is more into hip hop, RMB and dance music. For instance, both his Sri
Lankanness and hip hop style had been embedded in 'Menike Mage Hite' song. Both styles had come in unison.
His life in our neighbouring country
"In Sri Lanka there is a good music industry. Anyone can come up with new creations because there are many platforms like fb, you tube, instagram and so on. If you are talented your future is good. However I have noticed the togetherness and unity among artistes in India.
"They have a good relationship with each other. Indian artistes are more open minded than Sri Lankans because most Sri Lankans do not like to think anew. They don't like to think out of the box. The best example is university students. Most university students who are studying music up to the degree level are not doing something new in our music industry. They can be seen teaching music for students at schools. It is because they are very conservative," he said.
Speaking of his team, he remembered Satheeshan, Iraj, Dulan, Pasidu, Viraj and B&N. Moreover, he highlighted that he never creates songs for politicians. "I have never earned even a cent with the help of politicians. Speaking of Sangeeth's future plans, being a musician, he is working on two movies and the Hindi version of a song."
His message
"Work hard until you achieve your goal. Think out of the box to do something better for the music industry." Wrapping up our interview, Sangeeth remembered his beloved wife for creating a peaceful environment for composing music.