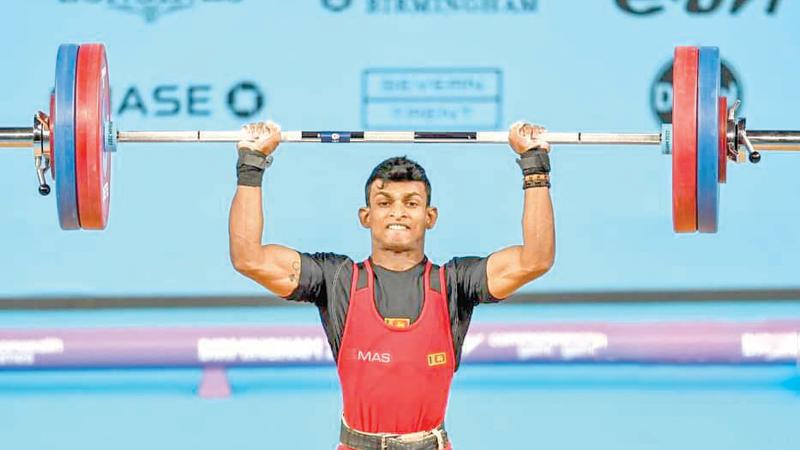 He could be introduced as a young man with real determination. Today he aims to win an international level medal in weightlifting in the future. The Youth Observer caught up with weightlifting bronze medal winner at the Commonwealth Games this year - Dilanka Isuru Kumara.
Q: I would like to begin our conversation with your Commonwealth medal. Were you sure of winning a medal? Or was it unexpected?
A: Well, I was hoping to win a medal for my motherland. As such I cannot say that it was unexpected. I practised hard for several months before the Games.
Q: So you were sure of winning a medal?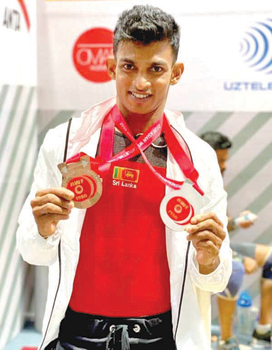 A: Yes. My coaches, our federation always believed it. We prepared well before the Game. We studied the weightlifters who would take part in the Games and planned to beat them in my category. Weightlifting Federation officials and coaches were expecting me to win a gold medal.
Q: If you had that much confidence what happened to your gold medal?
A: Like I said before we calculated the skills of the other competitors before the Games. According to that I was above all of them in my weight category.
Q: Why were you unable to win the Gold medal?
A: In the competition I first lifted a light weight. My coach and I discussed tactics and decided to lift a medium weight on my first attempt. If I had started with a heavy weight and lost I would not have been able to progress further.
Q: Was this your first Commonwealth Games appearance?
A: Yes this was my first. In 2018 I tried to qualify for the Commonwealth Games. But I was not selected. After that I was determined to qualify for the next Commonwealth Games. I practised hard for four years and was selected for the 2022 Birmingham Commonwealth Games.
Q: What are the challenges you faced on your way to win this medal?
A: After 2018 I started hard training and suddenly Covid-19 spread around the world. Did you remember that our country was closed? The government imposed a curfew in the whole country.
At that time we had a lot of problems attending practice. But as I was determined to win a medal I got a curfew pass and permission to attend my training sessions.
Then we faced economic problems and fuel crisis also. Even then I never stop my training. I bought fuel in the blackmarket at Rs. 2,800 a litre to attend practises. I have sacrificed money, time and several other things to win this medal.
Q: All right Isuru, tell me how did you take up weightlifting?
A: I took to weightinglifting in my school days. One day when I was in the playground with a group of friends our master in charge of sports asked us whether we would like to lift weights. At that time we did not have much knowledge about this sport. At that time Chinthaka Geethal Vidanage had won a gold medal in weightlifting at the Commonwealth Games. That is the only thing we knew about this sport. We agreed with our sports master and he went to the Kurunagela weightlifting centre. That was the first step in taking up this sport.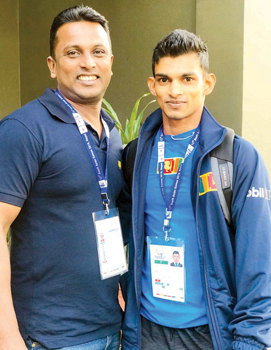 Q: So you started the game during your school days. What was your school?
A: First, I went to Gattuwana Maha Vidayalaya and after passing the GCE Ordinary Level exam I entered Sir John Kotelawala Vidyalaya. These two schools were my education centres.
Q: Would you like to share details of your personal life with the readers?
A: I grew up in Udagama , a village near Kurunegala. It is a small and beautiful village near Wellawa. My family has a few members, my mother, brother and myself. My grandparents also live with us. My father met with an accident and died five years ago. Now I have joined the Army. They provide most of my necessities.
Q: Is it true that after your father's sudden death you decided to stop the game?
A: Yes. In 2016 I won the first medal in weightlifting at the Youth Commonwealth Games. At that time my father was alive. But with his sudden death I had to face many difficulties. My mother was shouldered with many responsibilities.
However, at that time I had joined the Army. It helped to change my mind and I decided to fight to overcome the challenges. I know my father had a big desire that I win a medal in weightlifting. I decided to fulfill his dream.
I faced a lot of economic problems at that time. My mother was a daily paid worker and earned little money. She tried her best to feed our family and gave me a room to continue my sports. Finally her efforts were successful as I was able to win a Commonwealth Games medal. She is the person who got full credit for this medal.
Without her support I could not have won the medal in Birmingham. I believe my mother is the real winner and the medal belongs to her. I bow my head every day for my mother who bears many problems in her life and fed us to take us forward in society.
I think mothers are the real heroines in this world and my mother is my best hero. She has lifted more weight than me to feed us and look after us when we were young. Actually I am always indebted to her.
Thank you mother and everyone who gave me support to win this medal. I hope to win a world standard weightlifting medal in the future. The medal I won in Birmingham has sharpened my mind and I am determined to perform well on the international stage.