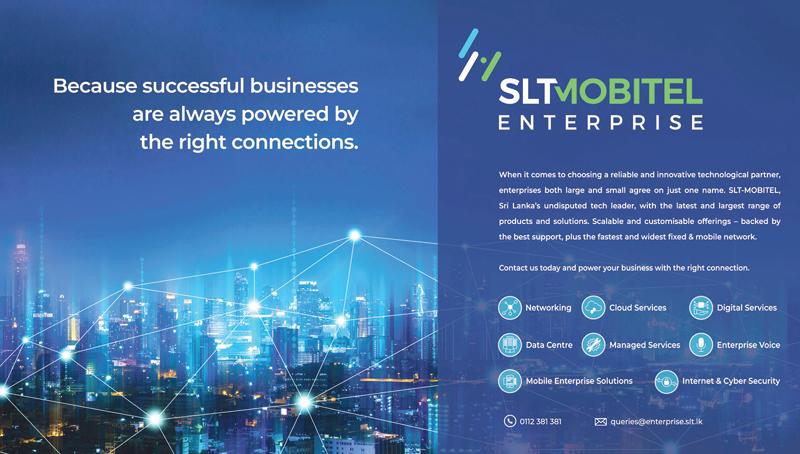 Today, enterprises require the full spectrum of technological innovations to spur growth and transform digitally.
To catapult businesses, SLT-Mobitel, the National ICT Solutions Provider has launched 'SLT-Mobitel Enterprise' a dedicated service offering delivering best-in-class technology with scalable and customised offerings for the Enterprise segment.
SLT-Mobitel country's national ICT solution services provider has a robust customer base of over five million including multinational corporations, large and small corporates, the public sector, retail and domestic customers. SLT-Mobitel portfolio is unmatched in scope ranging from domestic to international, going beyond connectivity to provide full-fledged tech solutions such as cloud and managed services.
Harnessing the power of total communications, SLT-Mobitel Enterprise offers a range of enterprise grade services and solutions to support the growing needs of business customers including small offices to large multinational companies, also Government institutes.
Unveiled as a formidable player, a reliable and innovative technological partner, the segment's comprehensive solutions backed by the best support, fastest and widest fixed and mobile network enabling businesses to tap into new opportunities helping them thrive.
Delivering and fulfilling the needs of enterprise customers, SLT-Mobitel Enterprise scalable and customised product pillars include Networking, Cloud Services, Digital services, Data Centre, Managed services, Enterprise Voice, Mobile Enterprise solutions, Internet, and Cyber Security.
SLT-MobitelEnterprisegrounded in its purpose to connect for a better future, focusing on powering businesses as the trusted partner with the right connections, becoming the connectivity provider of choice and to be theleading end-to-end provider for every organisation, enabling an inclusive and sustainable digital society.
For more information in SLT-Mobitel Enterprise contact 0112 381 381 or via [email protected]