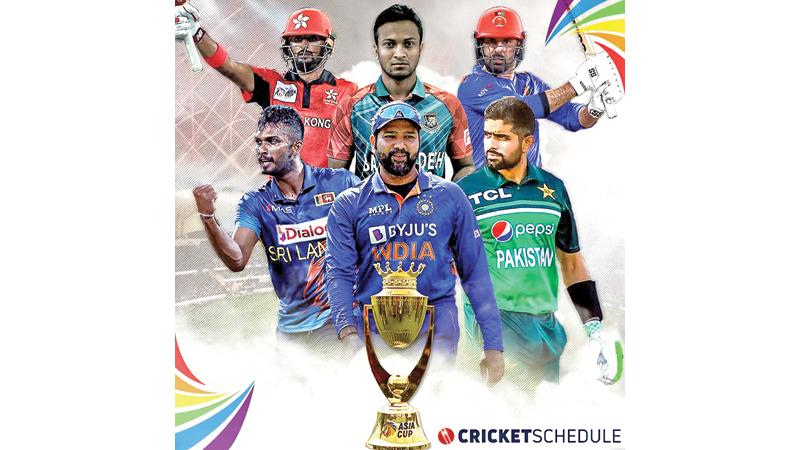 Last week Sri Lanka won two Asia Cups - cricket and netball. Not only sports fans but others too were elated by this twin victory.
The cricket triumph was not only celebrated in Sri Lanka, but also in India and by some people in Jammu-Kashmir, Balochistan and Afghanistan. This week the Youth Observer discusses those amazing victories.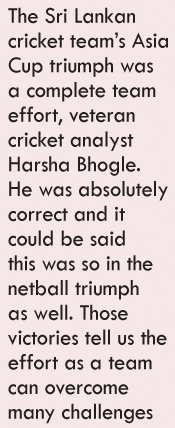 The Sri Lankan cricket team's Asia Cup triumph was a complete team effort, veteran cricket analyst Harsha Bhogle. He was absolutely correct and it could be said this was so in the netball triumph as well. Those victories tell us the effort as a team can overcome many challenges.
The Sri Lanka cricket team struggled for several months to find their rhythm. They won a few matches and lost some. Nevertheless they tried to find success. They grabbed their hands together and started to think as a team. That is the secret of their success.
The Sri Lanka coaching staff also did a good job. The cricket selection committee faced much criticism for its selection policy by some so-called experts. However, the committee led by Praodya Wickramasinghe bore all the criticism and worked hard the past couple of months and it paid dividends. They too should be credited for the victory.
Critics
International cricket commentators Joy Bhattacharjya and Harsha Bhogle said that the captain's efforts were also responsible for the success. They said Dasun Shanaka led Sri Lanka from the front, finishing games and captaining his side well. They praised Shanaka's leadership style. Several other commentators and players made positive comments on this victory.
Some of the comments: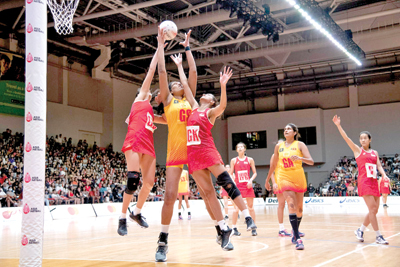 ''Pakistan outplayed by young and energetic SriLanka'' - Mohammed Azharuddin, former Indian cricketer.
Harsha Bhogle said that victory was a complete team effort.
Afghanistan cricketer Mohomad Nabi said, "Sri Lanka guys proved it to be the best team of the tournament, very balanced and rich young talent."
Mohammad Kaif, a former Indian cricketer, congratulated Bhanuka Rajapaksa. He tweeted: "Bhanuka showed he is a sharp and smart fighter and mentally strong guy."
Chamara Kapugedara former Sri Lankan cricketer said this victory was a fantastic team effort. As a national side member Kapugedara can understand the team's rhythm. "As a team, as a country we think about leadership qualities. Dasun Shanaka showed how to captain a team and unite it. It is a big lesson for any sports team or country."
Netball triumph
The Sri Lanka netball team won the Asian Netball Championship for the sixth time. Sri Lanka last won it in 2018.
At that time Thilaka Jinadasa was the mentor and coach of the team. This time Hyacinth Wijesinghe was the mentor of the winning team.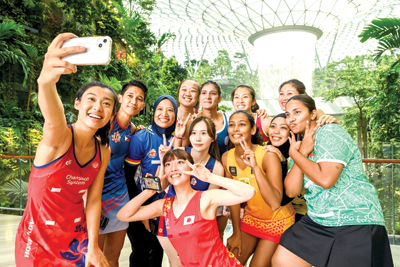 On September 9, Jinadasa posted a message on social media: "It's time for Sri Lanka Netball to repeat history! In 2018, we won the Championship. I am sure knowing your ability you'll bring glory and prove our supremacy in Asian netball. Stay focused, use all your experience, work as a team till the final whistle. Team unity definitely can win the championship. We provided it once, it's time to repeat. Good Luck Sri Lanka Netball."
The present mentor of the national netball team Hyacinth Wijesinghe said that it was not an easy journey. "I like to tell the whole world that Sri Lanka is undergoing a very difficult phase at present, with so many shortages like power and no proper place to conduct practices our girls achieved a great win today. The team has come a long way and I thank everyone who helped to make this achievement a reality and special thanks to the Singapore Netball Association."
President Ranil Wickremeasinghe tweeted: "Congratulations to the Sri Lankan cricket team on winning the Asia Cup 2022. Well played Pakistan! The second championship for today. Goes to show that, with dedication and determination we can overcome challenges as a nation. Onwards and upwards Sri Lanka!"
I think the President must put another tweet for our netball team. They also proved the determination of the country's people in Singapore. They defeated Singapore, the host country team in Asian championship on their soil. These victories proved that the Sri Lankans must believe that they can never be defeated. Sri Lankans are always fighters. If we are united we can overcome any challenge.
The Youth Observer while congratulating the T20 cricket team and the women's netball team for winning the Asia Cup believes that this triumph will be a good lesson for the country to find the path to overcome the economic challenges it is facing.