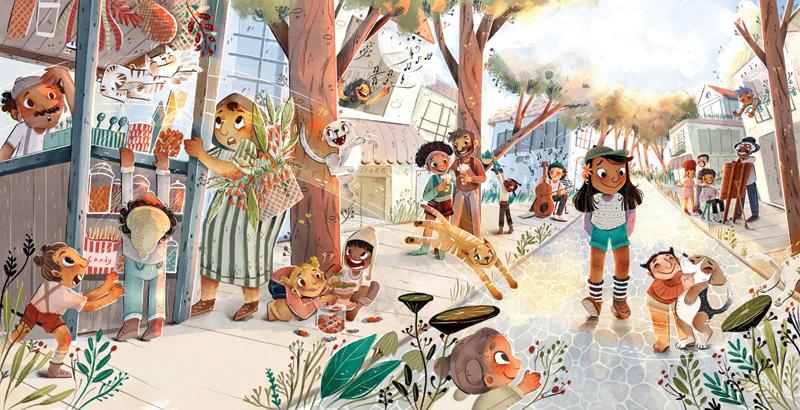 Bhagya Madanasinghe is making waves in the international arena of children's book illustrators. Her brand name 'Moving Doodles' is very apt for Bhagya's work for you feel that her whimsical illustrations are really alive, so realistic are they. And this is the reason that Bhagya Madanasinghe is able to reach out and touch the hearts of children and even adults worldwide.

'When your dragon gets too big for a bath' by C.E. White of Georgia, USA was Bhagya's maiden venture into the world of children's book illustrations. White was impressed with what she saw of Bhagya's work on social media and reached out to her. Bhagya has now been signed on by Tugeau 2, a leading USA art and literary agency. Her name appears on the Tugeau 2 website along with other reputed artists,illustrators and authors. This has given her many opportunities to work with brilliantly creative people.
Self-taught artist
Intelligence, talent and versatility are key elements in Bhagya's make up and therefore, it is no wonder that in addition to being a successful illustrator she is an architect as well. And what is really amazing is that Bhagya Madanasinghe is a self -taught artist which people who have seen her unique illustrations will find hard to believe.
Doodling and drawing held a fascination for Bhagya from an early age proved to be interesting hobbies.Having been born and bred among the tea gardens of the beautiful Uva valley,Bhagya found plenty in the natural surroundings to inspire her and also developed a keen affinity with nature.
Throughout her school days at Viharamahadevi Balika Vidyalaya, Badulla, Bhagya pursued her hobbies of drawing and doodling.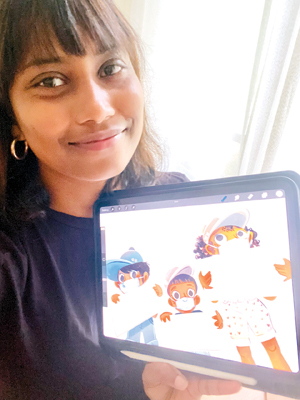 Then came the big change in Bhagya's life. She sailed through the GCE Advanced Level Exam and gained entry to the much coveted Faculty of Architecture at the University of Moratuwa.
Coming from the green hills and dales of the Uva valley into the concrete jungles of Moratuwa and Colombo brought on a wave of nostalgia for the home she left behind in Bhagya. To overcome this she took to drawing.
Unique style
Friends waxed enthusiastic about her unique style and none more so than her life's partner, Jasenthu Liyana Nadun Devinda. Nadun had studied art for his A/Levels and this knowledge helped him to recognize Bhagya's unique style. He encouraged and mentored
Her husband opened a Facebook page for her so that one day she might be able to see the progress of her own work. He is the rock in Bhagya's life standing by her and giving her all support. He is always her go to person and who pulls her out of the doldrums when she feels blue. Bhagya also appreciates the support of her parents, family and friends.
Requests came from friends for Bhagya to draw them or their loved ones and clients too began to seek her out.
While attending to all these calls on her talent and time, Bhagya continued to study illustration and practice it. For instance, she learnt how to use the Procreate app and its tools from YouTube. The You Tube was also her go to place to learn several other technologies and when necessary she also referred books and manuals to further her fast growing knowledge of illustration. At this juncture, she was very focused on composition.
Book
It was in such an environment that the USA based writer C.E. White contacted Bhagya via social media to illustrate 'When your Dragon is Too Big for a Bath'. Though she was immersed in studying, practicing and working, Bhagya was very excited about illustrating this book. "I felt it was a real challenge and I learnt a lot from this book," said Bhagya. This was Bhagya's first book of illustrations to be published.
The second book to be published with Bhagya's illustrations was the Spanish book 'Accidente con Suerte' (Lucky Accident) written by well-known author, Anya Damiron.
At first, I was afraid and nervous to work with an author of such repute," said Bhagya. "But Anya soon dispelled all this. Her appreciation of my work such as my colours, perspectives and characters really encouraged me and gave me the strength to go on," says Bhagya.
She was the model for Damiron for the main character of the book. Brown skin, black hair and round eyes were representative of Bhagya.
"It was a really fun project. Everything had to be imagined and created." The story revolved around a mobile ice cream making machine and to bring it to life Bhagya and Damiron used a concrete mixer as a model.
The story had many characters and even cities had to be created and Bhagya's imagination had to go into overdrive to bring the story alive. Damiron's philosophy of 'don't be afraid to make mistakes, you can learn much from them' also stood Bhagya in good stead dispelling her nervousness. Anya and Bhagya worked very closely via zoom to create a unique and extremely imaginative book.
The children's story, 'The Golden Sequin' by Janice Milusich and published in the USA magazine 'Cricket Media' is an interesting story enhanced by Bhagya's superb illustrations. It is an interesting story about the raiment of the tusker in Kandy's historic 'Dalada Perahera'. Bhagya being Sri Lankan was specially chosen as the illustrator for this book.
Included among Bhagya's other works are 'My Home is Burning' and 'Aiden and Gail visit Nonno and Nonna'.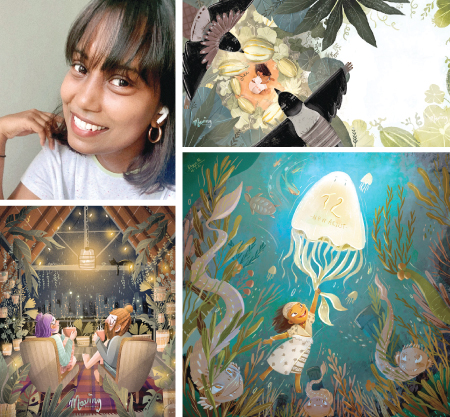 Bhagya Madanasinghe is not one to rest on her laurels. For her illustration is a constantly evolving and ongoing process. So, she makes every effort to keep up with the trends within the framework of her unique style. Any new elements she will incorporate to enhance her style. In addition to YouTube and books, Bhagya listens to podcasts,goes to websites and follows sessions by reputed artists on Instagram.
Instagram artistic community
The Instagram platform brought a whole new world to Bhagya's doorstep. She discovered that Instagram had a wide, diverse and vibrant global artistic community. She has found many friends and inspiration from them to enhance her work.
Meticulousness is a hallmark of Bhagya's artistry.For instance, when conceptualizing a child she will first take into consideration the age. This will be followed by physical features such as skin, eye and hair colour, physical structure and the emotions and expressions the character would need among other details. She would keep in constant touch with the art-director, editor, book designer,author or writer from conceptualization to the finish ensuring that their ideas too gets incorporated into her work but always maintaining the unique Bhagya Madanasinghe style.
Solitude is another element in Bhagya's artistic journey. She once mentioned during an interview that she always finds time to be alone in her studio with a hot cuppa and scribble or sketch in a sketchbook or her Ipad.
To Bhagya, discipline is a must in her work life as she has to meet client deadlines.
According to Bhagya, rediscovering the latent child in her through her artistry and illustrating is a benefit that she really appreciates.
Current projects
Currently, Bhagya is juggling five international projects. This is ample testimony to the international recognition her artistry has gained. Among these projects are, 'Something happened to our planet' by Marian Celano and Marietta Collins, 'Awe-Samosas' by Marzieh Abbas and 'My teacher has tattoos' by Darren Lopez.
At present Bhagya also works with leading American publishing giants HarperCollins (Clarion books) and Hatchette (Worthy kids). Some other publishers of international repute that Bhagya works with are Magination Press (The children's imprint of the American Psychological Association) and Soaring kites.
With her enormous and exacting work load as an illustrator Bhagya has not given up on architecture. Along with architect husband Jasenthu Liyana Nadun Devinda she is closely associated with their studio,'Jazen Architects'.