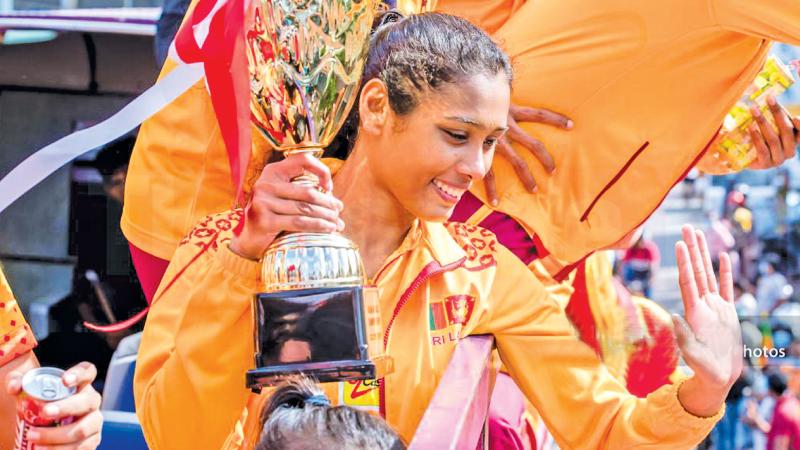 Very rarely does a Sri Lankan sportsman or woman tell his or her story from the heart for fear of ending up sacked or victimised by ego-inflated, media bloated so-called guardians of sport backed by their favourite politicians.
But early this week it was party time for the heroic sporting ambassadors of the country with two Asia Cups tucked under their belts to tell the story and tell it straight.
While the Cinderellas in the netball team held nothing back and spoke, not from the saddle but from the heart, the country's well adored cricketers had some messages for their dollar-rich employer after their bats and balls did the talking.
Although it was two different sports, what was common for both parties was that the reception they received from a people who with nothing to showcase to the world or brag about, turned an Asia Cup into a World Cup celebration.
For the holier-than-thou bureaucrats, aristocrats, politicians and their torch bearers it was time to jump on board and bask in the limelight and reveal that success has many fathers and failure is an orphan.
For them the netball captain had a clear message that her team and the budding lasses to follow will not be able to take the Cup forward unless the gormandizing keepers of sport take a good hard look at what's on their plates.
"We never had a team analyser. It is a role that is needed to gauge our performances," netball captain Gayanjali Amarawansa declared after her coach Hyacinth Wijesinghe brought to light how her charges practiced in the dark without electricity and stood for days in petrol queues in their quest to defend the title in Singapore.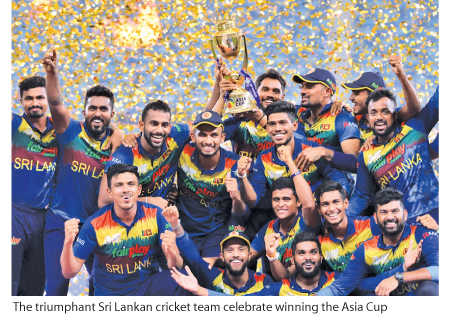 They found a true trumpet blower in Sri Lankan cricket captain, country boy Dasun Shanaka who noted and sympathised that the netball team triumphed amid many shortcomings.
"Give to them (the netball team) and all other sports the same support that you give us," Shanaka, who hails from a village in Negombo, pleaded with the media.
Shanaka will also be able to take heart from the fact that the Asia Cup exposed the shortsightedness of some officials at Sri Lanka Cricket who literally threw out a player like man of the final Bhanuka Rajapakse who turned himself from a stone that the builders rejected to become the most important pillar.
"Bhanuka's 71 was the turning point and then the partnership between Bhanuka and Hasaranga," said Shanaka who a few months ago saw Rajapakse quit the set-up and pack his bags to fly out after Sri Lanka Cricket reportedly told him to train like an Olympic sprinter.
Rajapakse being the modest role model that he is, acknowledged that Wanindu Hasaranga de Silva also stepped in to shoulder the team's heavy cross.
"I must say a lot about Naveed Nawaz our batting coach. It is the confidence that they give us and credit to Hasaranga, he got 36 in a few balls and took the pressure off me," said Rajapakse who changed his mind to stay on after a meeting with his spiritual mentor, Pastor Jerome Fernando, a former wicket-keeper batsman.
But while most Sri Lankan teams will gain inspiration from the Asian success, nothing will be able to change the scrounging culture of sports administration in the country.