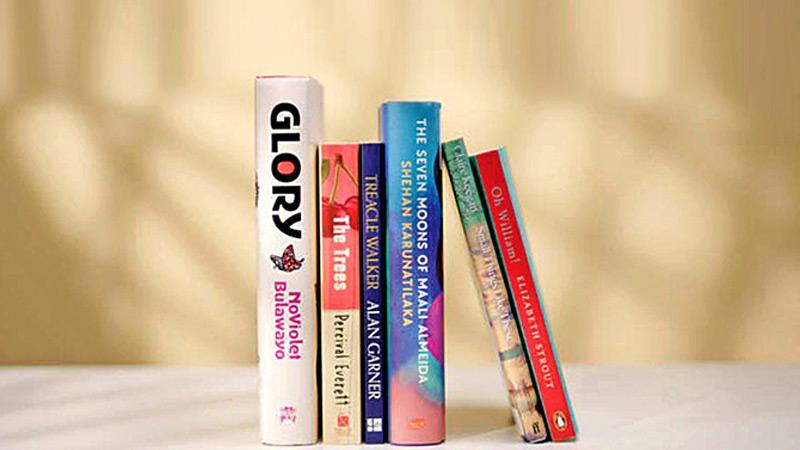 Sri Lanka is making a global position. Sometime ago it had something to do with politics. Just recently the country sported two sport-related achievements. Sri Lanka once again became a known entity in the South Asian region. But most of us seem to have missed an equally important session.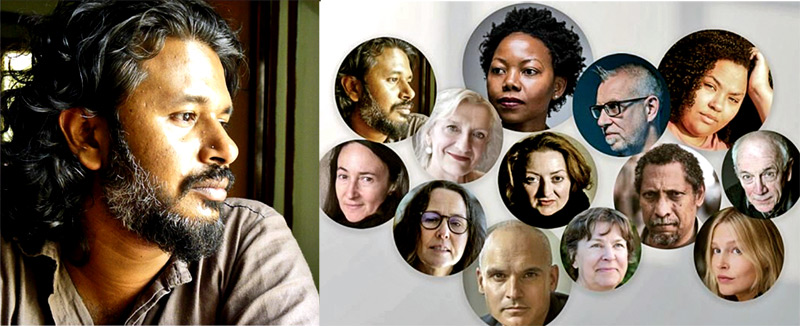 September is a feast for Sri Lanka's literature enthusiasts. The enthusiasts include both literati and connoisseurs. Our own Shehan Karunatilaka has made it to the shortlist of Britain's well known Booker award. Karunatilaka is not the first one to make it to Booker's final shelf.

Six authors, five countries, three independent publishers, three sophomore novels and the oldest-ever nominated author: there's a huge amount to be said about the Booker Prize 2022 shortlist.
Shehan Karunatilaka as the author of 'The Seven Moons of Maali Almeida' talks about the legacy of the Sri Lanka's battle against terrorism, his publisher's tough love and afterlife. Karunatilaka is one of several writers on the shortlist published in the UK by small independent publishers.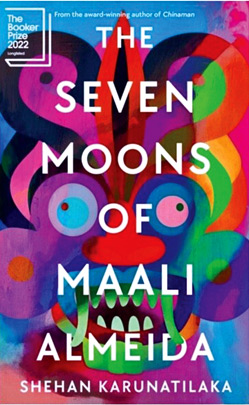 One reviewer described The Seven Moons as 'part ghost story, part whodunnit, part political satire'. Is that a fair description, or are there other significant 'parts' that potential readers should know about, question posed to Karunatilaka who responds:
"Three balls is plenty to be juggling. So yes we had the mystery, the afterlife and the politics to balance the narrative. But there's also a love triangle at the heart of this, some tender relationships and a fair bit of ghostly philosophising. Though hopefully, the reader is too caught up in the story to notice the many moving parts."
Darkest year
The novel is set in 1989, which Karunatilake sees as the darkest year in his memory. There was a terrorist battle. There was a Marxist uprising. There was foreign military presence. To top it all, there was state counter-terror squads. It was a time of assassinations, disappearances, bombs, and corpses. But by the end of the 1990s, most of the antagonists were dead, so Karunatilake felt safer writing about these ghosts, rather than those closer to the present.
Although set against a backdrop of violence, the book - like his first novel, Chinaman - is very funny. The Booker judges described it as being 'angrily comic'.
"Despite having a grim history and a troubled present, Sri Lanka is not a dour or depressing place. We specialise in gallows humour and make jokes in the face of our crises. Just look at the zany footage of the July 9 presidential pool party and the many memes surrounding the Aragalaya.
Laughter is clearly our coping mechanism. In Chinaman, I used the archetype of the drunk uncle, and for Seven Moons it was the closet queen. Both characters are known for a dark and cruel sense of what's funny."
Do you ever imagine your own afterlife? If so, how does it compare to the one you've invented here?
Strong longlist
In the course of researching this, Karunatilaka claims that he did not encounter any ghosts or have any convincing epiphanies on the hereafter.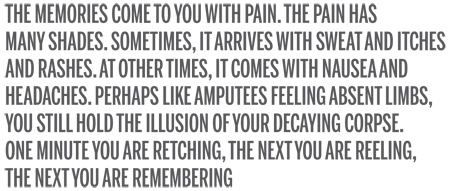 "But I'm not sure if any of the great ghosthunters or famous spiritualists have either. Who's to say my version of a disorganised bureaucratic afterlife with an absent God isn't the correct one?"
Several commentators picked up on the fact that the shortlist features two of the shortest books ever to be nominated: Treacle Walker by Alan Garner and Small Things Like These by Claire Keegan - with Oh William! by Elizabeth Strout only slightly longer. Glory by No-Violet Bulawayo is the only book on the shortlist to weigh in at over 400 pages. It's a list that shows great geographical breadth as well as linguistic and conceptual agility. Together, these six novels look at history and at the lives of individuals with wit, courage, and rage, allowing us to see the world through many sets of supremely perceptive eyes.
But it's important not to lose sight of the exceptionally strong longlist, which the judges struggled to reduce to a shortlist of six. If you haven't yet read The Colony, Trust, After Sappho, Nightcrawling, Case Study, Maps of Our Spectacular Bodies or Booth, why not try our quiz? It will recommend one of the longlisted books to you based on your reading habits – and perhaps make you laugh a little bit.
Subversive act'
In an interview for thebookerprizes.com, Percival Everett described reading as a 'subversive act'. 'There's a reason that oppressive regimes often resort to burning books,' he said. 'There is nothing more challenging to an oppressive government than a populace that can read, and therefore think.'
In the Telegraph, Anita Singh observed that 'brevity appears to be back in literary fashion, after shortlists dominated by doorstep novels'. Singh's colleague, Claire Allfree, commented that 'Nearly all the six books chosen from a lively and surprising 13-strong longlist defy any accusation of the Booker as favouring novels that are elitist or a slog'.
Perhaps the authors themselves agree. In the Sunday Times, Liam Kelly interviewed Alan Garner, who noted that 'the ways of storytelling are getting shorter'.
In the Telegraph, Singh quoted from Claire Keegan's interview with the Booker Prize website, in which the Irish author said: 'Elegance, to me, is writing just enough'.
In the Times, Robbie Millen felt that the brevity of several of the six books was 'another point in the shortlist's favour. Less is more'. He went on to nickname the 2022 selection 'the Ronnie Corbett shortlist: short and funny'.
---
Highlights from this year's shortlist
 The six books are 'set in different places at different times [and] are all about events that in some measure happen everywhere, and concern us all', according to Chair of judges Neil MacGregor
 The six authors represent five different nationalities and four continents, with an equal split of men and women on the list
 The majority of the shortlist is inspired by real events, Sri Lanka's battle against terrorism and the fall of Robert Mugabe to Ireland's Magdalene laundries scandal and the murder of Emmett Till in the US
 It features the oldest author ever to be shortlisted: Alan Garner will celebrate his 88th birthday on the night of the winner ceremony
 At 116 pages, Claire Keegan's Small Things Like These is the shortest book recognised in the prize's history – although Alan Garner's Treacle Walker contains fewer words
 Half of the list is published by independent publishers, including first time appearances from Influx Press and Sort of Books (who published Karunatilaka's Seven Moons]
---
Colombo, 1990. Maali Almeida, war photographer, gambler and closet queen, has woken up dead in what seems like a celestial visa office. His dismembered body is sinking in the Beira Lake and he has no idea who killed him. At a time when scores are settled by death squads, suicide bombers and hired goons, the list of suspects is depressingly long.
But even in the afterlife, time is running out for Maali. He has seven moons to try and contact the man and woman he loves most and lead them to a hidden cache of photos that will rock Sri Lanka.
Excerpt below:
The memories come to you with pain. The pain has many shades. Sometimes, it arrives with sweat and itches and rashes. At other times, it comes with nausea and headaches. Perhaps like amputees feeling absent limbs, you still hold the illusion of your decaying corpse. One minute you are retching, the next you are reeling, the next you are remembering.
You met Jaki five years ago in the Casino at Hotel Leo. She was twenty, just out of school, and losing pathetically at baccarat. You were back from a torrid tour of the Wanni, unhinged by the slaughter, breaking bread with shady people, seeing the bad wherever you looked, and wearing your notorious red bandanna. You had sold the photos to Jonny at the Associated Press and cashed a welcome six-figure cheque. Even in Lankan rupees, six figures are better than five.
You had outplayed the house at blackjack, whacked the crab at the buffet and washed it down with some free gin. A regular day at the office.
'Don't bet on ties, sister,' you said to the strange girl with frizzy hair and black make-up. She looked at you and rolled her eyes, which you found strange. Women usually like the look of you, not knowing that you prefer cock to cooch. A trimmed beard, an ironed shirt and a bit of deodorant will elevate you above a herd of sweaty Lankan hetero males.
'I just won twenty thousand rupees,' she said.
You noticed she was alone and that no one was hitting on her, both unusual for women in casinos in Colombo.
'And the chances of you winning that again are nine per cent. And this house only pays out seven-to-one, minus commission. Which means, follow that strategy a hundred times and you will lose, even when you win.'
'A man who knows everything. What a surprise.'