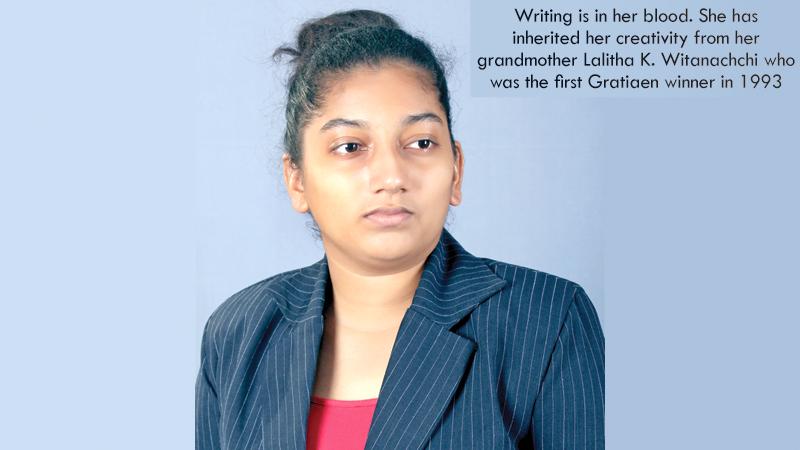 In Hemingway's words, it is sincere and unalloyed love to write even one good sentence. She excels in combining words in a superlative manner and has distinguished herself in weaving stories which take us on trips.
She is none other than Vimanka Aluwihare who belongs to the calibre of wordsmith. Having passed her GCE Ordinary Level examination with flying colours, she is pursuing her Advanced Level studies in the Arts stream at Sujatha College, Nugegoda. Her Advanced Level subjects are Art, Civil Technology and Maths. Significantly, Vimanka blazes a name for herself as the perfect head prefect at her school.
In her blood
Writing is in her blood because she has inherited her creativity from her grandmother Lalitha K. Witanachchi who was the first Gratiaen winner in 1993. Gifted with her talents, she is an instinctive writer who knows the art of combining, shaping and coining words.
Most children love to play with clay in their childhood. Vimanka started to play with words at her tender age.
"I started writing poems when I was in grade eight because I loved to live with literature," said Vimanka.
"Surely a bookworm", you might call her because of her fondness for reading a lot. You are dead-wrong. You can see a voracious reader as well as a movie buff in her. Good movies can keep Vimanka at the edge of the chair for two or three hours.
"I like to watch movies because they inspire me," said Vimanka.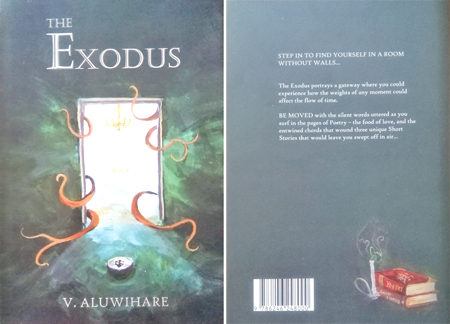 Speaking of her school teachers, she remembered her Drama and Eastern music teacher Indrani Gunawardena with much respect. In addition, she said that credit for creating a peaceful atmosphere for her to write should go to her beloved parents. Speaking of favourite writers and artistes, Vimanka said that she gets inspired by the prominent writers and artistes.
"I am interested in greatest writers like Sir Arthur Conan Doyle, J. R. R. Tolkien and J. K. Rowling, Enid Blyton."
Her enthusiasm in literature and art is being fuelled by screenwriters, musicians, actors, artists, scientists, mathematicians, philosophers and those who have excelled in various fields.
Asked about her writing, she stressed that the most powerful weapon is one's imagination. Imagination is the key not only to literature but also to science. Vimanka is an expert at weaving stories which capture the readers' imagination. Nor does she limit her readers' imagination to one perspective and nor obstruct readers' thinking.
Imagination, on one hand, is a pervasive function of human experience. You can turn rose petals into angeles' cheeks and dews into angeles' tears through your imagination. Moreover, as noted by Immanuel Kant, imagination contributes to aesthetic, cognitive and moral aspects of our lives. Creativity is born out of imagination. That is why it has occupied a vital role in our experience of art.
The book
The black and dark green cover with an opened door ; that is the collection with bold letters saying 'The Exodus by Vimanka Aluwihare'. At present, the book is available at book shops such as M.D Gunasena, Vijitha Yapa Bookshop, Rohan's Bookstore, Liberty Plaza, Barefoot, Makeen Bookshop, Colombo 3.
Her maiden collection includes nine poems and three short stories covering various themes. The beauty embedded both in her poetry and in her short stories is that Vimanka has made use of literary devices and constructed stories to cover nuances of aspects.
For instance, the poem titled 'Fallen In Debt' denotes that the language Vimanka has used is poetic and appropriate for the readers who love to indulge in poetic writing. As I felt, poems and short stories included in the collection capturing readers' imagination, create vivid pictures and evoke thoughts and emotions. Short stories revolving around human experiences flow with ease and move sequentially through the situations they describe.
Illustrations by the poetess enrich the beauty and keep the readers captivated. All in all, no doubt that 'The Exodus ' will remain your all time favourite collection. Wrapping up our interview, Vimanka conveyed her message for budding writers. "My message to all writers is that there is always a probability for possibility."
Achievements
1. First Place in the Impression Category at the All Island Annual Art Exhibition "Beyond the Horizon" 2017 organized by Royal College.
2. First Place in the Poetry Category at Amitiés 2018, an All Island Competition organised by Sirimavo Bandaranayaka Vidyalaya Colombo.
3. First Place Provincial Award in creative writing at the Western Province English Language, Drama and Singing Competitions 2018.
4. Medal Award at the State Children's Art Festival- 2020.
5. Merit Award at the State Children's Art Festival-2021.
****
Fallen in Debt…
"It was you of course all along,
which led me to this dexterous song;
of elegant vivacious pristine thoughts,
than a stumble to be fought.
To even envision anomalously,
of things to scribe on one's distinct mind;
and etch a person without your might,
and make me linger a delicate fight."