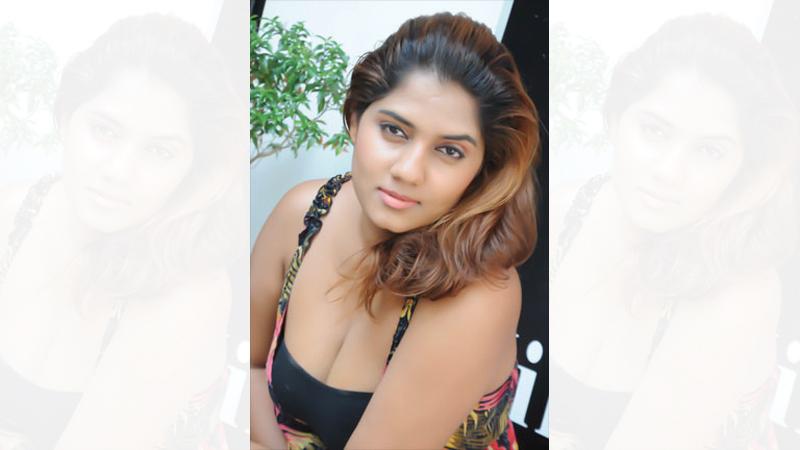 The city of Ratnapura is famous for gems. Precious, rare and eye-catching are some of the adjectives which I can use for gems.
Born in the gem city, Thilanka Lakmini Wijewardana or widely known under the stage name of 'Manik' is indeed a gem for our popular film culture. She had her education at Convent College, Ratnapura. Although Manik does not hail from an artistic family, she realizes her own inborn skills and talents.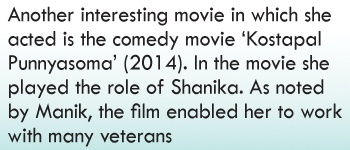 "I am not from an artistic family. None of my relatives has connections with actors and actresses. I think that I was able to enter the field by chance," she said. How Manik found her path in the acting field is interesting because she cut her teeth on acting in Nalaka Vithanage's first movie 'Anithya'. It is a divine art, acting is not for money, not for fame, not for name and not for reputation, indeed it is for self-satisfaction.
Silver screen
Manik started her acting life with the film 'Anithya' directed by Nalaka. However,even in her childhood she had no wish to become an actress.
"Malaka Weligodapola invited me to act in his friend's movie titled 'Anithya' (2013) woven around a true story. It was Malaka Vithanage's maiden cinematic creation. In this film she played the role of a cancer patient (Kaushi) whose life is hanging in the balance. She has been fighting against cancer for months and years. We could see a better combination of veterans and budding artistes in this film such as Vishwa Lanka (Milan), Manik Wijewardena (Kaushi), Kishani Alanki (Chethana), Udith Abeyrathne (Imran), Sangeetha Weeraratne (Sherine), Roger Seneviratne (Derrick), Bandula Vithanage (Milan's father), Gunawardana Hettiarachchi (Chethana's father), Milinda Madugalla (Psychopath), Aruni Kodithuwakku (Anushka), Thilini Priyanvada (Nurse). "However, I hoped that I could play the role successfully. Personally, I met the real girl and still love the character I played," she said.
Another interesting movie in which she acted is the comedy movie 'Kostapal Punnyasoma' (2014). In the movie she played the role of Shanika. As noted by Manik, the film enabled her to work with many veterans face to face: Mahendra Perera, Gamini Hettiarachchi, Ananda Athukorala, Sriyantha Mendis, Duleeka Marapana, Ravindra Yasas and so on. Perhaps, what has skyrocketed her popularity in the Lankan film industry is 'Kosthapal Punnyasoma'.
Except for the above films, We saw Manik in 'Rupanthara' (2014) directed by Nalaka Withange and produced by Arosha Fernando. Significantly, she was exposed to veteran actors like Dr. Ravindra Randeniya, Ranjan Ramanayaka and Tissa Wijesurendra.
What makes me think that Manik has deliberately tested her skills is the fact that she has applied herself in films belonging to different genres. We have seen her in comedy movies, thriller movies,romantic movies and horror movies. Seya directed and scripted by Kalyana Chandrasekara is a horror movie. Not only that, in Seya we can see only actresses. The lead roles are played by Udari Perera, Dilhani Ekanayake and Manik Wijewardena. In Seya Kalyana Chandrasekara has cast her as the spirit of a dead girl called Krishani Mendis. In addition to her performances in films, speaking of her Moriko clothing brand, she said that she has embarked on a business journey by establishing a new women's clothing brand called Moriko.
Facebook
The saddest thing that we can notice on social media platforms is that most social media users share posts and fake news without understanding its grave outcomes. When asked about the facebook users' responsibility, Manik said that in developed countries even the Tik Tok users make efforts to earn money On Tik Tok and social media. The funniest thing is that Sri Lankans specially youth can be seen wasting time on social media without earning even a cent.
"In other countries facebook users and TikTok users are making money. Tik Tok is one of the money sources for them. But here most youths are wasting time on social media,``said Manik.
Clarion call
"My goal is to live a better life without being a burden to anyone. If we can stand united we can resolve the crisis. Politicians too should forget their party politics. At a personal level we can take steps to build a better Sri Lanka. For example, my father does not store fuel by frequently going to the fuel stations. Similarly, at a personal level we can contribute to the development of our country."