Underpreviledged schools from the outstations that are looking forward to playing quality cricket were in lucks way when they were donated with cricket gear presented by Nippon Donation Foundation a welfare organization in Japan.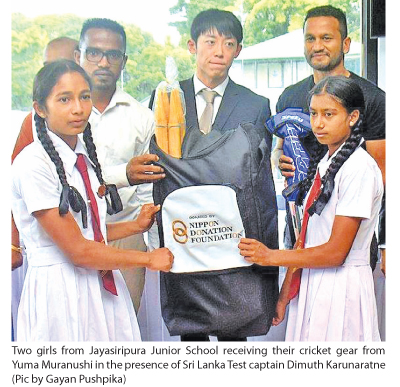 Present to make the donations was their entrepreneur Yuma Muranushi who tried his hand in cricket before coming to Sri Lanka.
The invitation to Muranushi to visit Sri Lanka was made by Dr. Ruwan Perera who is a renowed IT professional in Japan and is also the chairman of Colombo International Hotels Private Limited.
This is the first visit by Muranushi to Sri Lanka who also donated urgent medical supplies worth Rs. 10 million to the National Hospital.
"I will not stop here and will look out to extend a helping hand to more deserving Sri Lankans," said Muranushi speaking in Japanese.
Sri Lanka skipper Dimuth Karunaratne was also present at the presentation to make the donations to these schools.