Shihab Rizan is the champion of e-football in Sri Lanka. He participated in the Commonwealth Games in Birmingham recently. He plans to take part in two major tournaments in Bali Island and Turkey this year.
The Youth Observer met him to discuss e sports culture and his personal experiences of this game.
Q:You represented Sri Lanka at the Birmingham Commonwealth Games in e-sport. It is an uncommon event for people. Can you outline what this sport is? Is it a video game?
A: Yes, it is a video game. Only a very few people know that this is a video game. It began as a computer game in which anyone could participate. Gradually it became popular with the younger generation. The sports authorities the world over saw this video game growing very fast and touching most people's hearts. Then they decided to introduce it as a sports event. That is how this game grew. I represented Sri Lanka as an e sports competitor at the recent Commonwealth Games.
Q: How did you get involved in this sport? In which year did you begin?
A: In 2012 I took part in competitive e-sports games. In the early days it was a hobby for me and I played games with my friends on my personal computer.
Q: What is the sport you're involved in e-sports?
A: In my school days I was interested in football and that is why I selected football as my esports event. I have played it since 2012. However, only a limited number of Sri Lankan players are involved in esports football.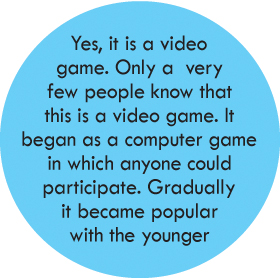 A: Game.lk, a Sri Lankan e sports conductor, announced that they need e football players to be selected to participate in an international competition. They asked those interested to come forward and participate in the section trials. I saw this announcement and I applied for it, took part in the trials and was selected.
Q: What was the year and what was the game you first represented the country?
A: I first participated in an international event in 2016. It was the Asian Games qualifying tournament. I was selected as a substitute player of the esports team. We played group stage matches with India, the Maldives but could not go to the second level. That was our first international tournament and we got plenty of experience. We could not perform well because we did not have any international exposure before this tournament. The qualifying round tournament was held online and we played in our country with our opponent. But it was a new feeling about esports for the players and it encouraged them to develop on it.
Q: Can you explain the structure of the game? Is it like a normal football match?
A: Yes. The e football player's role is similar to a real football manager's duty. We must place our players correctly and must take the ball to the opponent net. The e football player has to work strategically and use skills to win the game.
We have to read our opponent's formation of the game and react to it. We have to be totalling involved in the game using various tactics and be able to make quick decisions like in a real football game.
Q: How long is the duration of the match?
A: Normally the game is completed in ten minutes. Each half is five minutes and a two minutes break is given to make changes in the team. Normally within fifteen minutes the game is over. The winner is selected after three consecutive matches.
Q: What are the international games you had participated in before the Commonwealth Games?
A: In 2019 we were invited to participate in a tournament in China. First we had to play in the qualifying round in Thailand. That was my first trip outside the country.
Following that, the International Esports Association organised a tournament in Israel. We had to participate in an online qualifying tournament with Pakistan, the Maldives and India. The first two players were selected to participate in the tournament in Israel and I became second of the two players. The next game was conducted in Singapore. It gave me good exposure.
Q: How was your Israel e sports experience?
A: I learnt a lot in that tournament. I played with opponents from Georgia, Nigeria and three other countries. The tournament was won by Georgia and I beat that player in one round in a group stage match. That was a very happy moment I had in esports.
Q: Now that the Commonwealth Games is over will you be representing the country in any international games?
A: Yes. As the winner of the nationals games conducted by Game.lk recently I will go to Bali Island, Indonesia to take part in a tournament organized by the International e sports association and another e sports tournament is due to be conducted in Turkey this year. I will represent the country in that tournament too.
Q: Do e-football players of countries well-known as football playing countries have a better chance of winning in esports games?
A: No, it is not so. They have the talent to read the game. But a talented manager can beat them.
Q: The e-football community in our country is very tiny. What do you think about it?
A: That is a disadvantage for us. If we have a large number of e-football players we can develop our skills rapidly. Only about ten players will participate if a national tournament is held today. But in other countries the situation is not like this. We must develop our e-sports community speedily. There are many gaming centres around the country and lots of youngsters have computers. This should help to attract youngsters to this game.
Q: This is an online game like chess. The player does not have to physically go to some place to participate in a tournament but he can participate online. Do you play online friendly games often?
A: Yes, I do. I play with world players online. It is a fantastic experience.
Q: Is there a rating system for e-football in the world? If there is, what is your position?
A: Yes, this sport has a grading. I am among the top two percent in the world.
Q: How many hours a day do you practise?
A: I have a family and a job. So, I do not have plenty of time to practise. But, I spend nearly two hours per day on this sport. When a tournament approaches I spend more time on practises.
Q: OK. Now tell me a few things about your personal life?
A: I studied at Lyceum College. I passed the Advance Level examination in 2011/12. I completed a software engineering degree and worked as a marketing manager in a software company.
Q: How do you bear the touring expenses?
A: Game.lk bears the expenses. The players do not have to bear the expenses.