While the big boys playing senior cricket at Colombo's elite schools are struggling to get bat to ball to score a total of 200 in 50 overs, an under-15 boy has either become a prodigy in the world or has turned the sport into the biggest dubious joke in the world by scoring 553 runs while his team St. Joseph's College Anuradhapura whacked an insane total of 722 for 1 in 50 overs against their hometown Lyceum International School.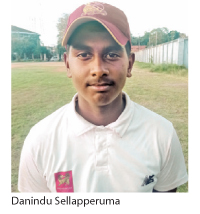 The scores were reported by the Sunday Observer's sister paper the Daily News on August 10.
It is a well known fact that Sri Lanka has the highest number of sports competition tournaments in the world where officials and administrators get more media prominence than the sportsman or sportswoman and such a feat has to be definitely scrutinized as the particular match has been declared official and part and parcel of what is called an under-15 Division Three inter-school tournament.
Whether the International Cricket Council (ICC) will want to send an official to investigate the matter could be another matter, but the parent body Sri Lanka Cricket which pumps in millions and millions of rupees into the Sri Lanka Schools Cricket Association (SLSCA) ought to call for more light into the monumental feat of Danindu Sellapperuma who made an out-of-this-world 553 runs with the help of 63 fours and 31 sixes in just 204 balls.
An old saying goes that what is reported in a newspaper is News today but folded and put into the garbage dump the following day. But what happened in the remote region of Anuradhapura that does not have an iota of the cricket facilities found in Colombo has to be put across the table for scrutiny in either fairness to Sellapperuma or for a thorough clean-up of sanctioned school cricket tournaments.
Followers of cricket will be just as curious and keen to find out how a total of 722 runs was scored in 50 overs when the official world record stands at less than 500 and the record for the individual score is less than 300.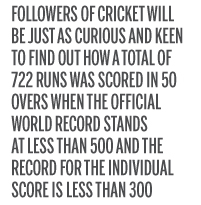 Many more followers have been left wondering how small or big the size of the ground would have been or whether the bowlers put in under-arm deliveries that even a mechanical batting machine will have to be adjusted to perform such a feat.
In March this year the Sunday Observer reported that a schoolgirl from Anula Vidyalaya, Kaushini Nuthyanga, smashed 374 in a 30 over match as her team made a total of 552 without losing a wicket in an Under-19 tournament match against Marapola MV who were bowled out for 40.
If Sellapperuma cannot find a place in the Guinness Book of world records, then the SLSCA must be taken to task to show how such school cricket tournaments or what is achieved in it can be sanitized.