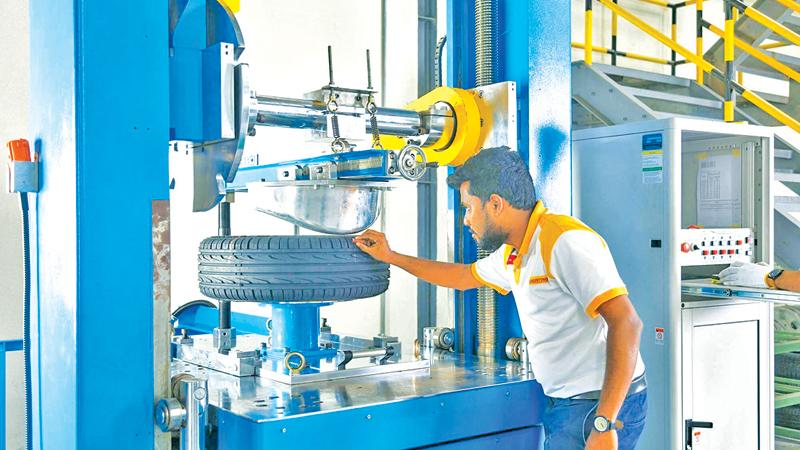 Ferentino Tyre Corporation, an exclusive Lankan tyre brand, plans to ship around 45,000 tyres within the next three months to North America, a top official of the company said last week.
Elaborating on its markets and plans for them Ferentino Tyre Corporation (Pvt) Ltd. Chief Operating Officer Ushantha Jayalal said the company has been shipping around 12 containers a month to the North American market since commencing commercial operations early last year.
"We have seen a major demand for premium tyres and a renowned brand in the South and North American region and in Europe," he said.
The Ferentino Tyre plant in Horana launched by former President Gotabaya Rajapaksa on January 14, last year was built with an investment of US$ 250 million with a capacity to manufacture around 2.4 million tyres annually.
Ferentino plans to expand its export markets in South and North America and Europe according to the COO who said the company is upbeat about its prospects in the three markets having secured the certifications for tyre exports.
The company exports to Brazil and Canada.
"We have secured the E 4 certification for exports to Europe already and are working on the R117 certification for expansion of exports in the same region," Jayalal said, adding that the company expects to obtain the certification within a month.
The Ferentino factory crosses a number of sectors including radial car, SUV, bicycle and even three-wheelers. These include a "Mythos" product line reminiscent of the Marangoni passenger car tyre range previously produced in the same location.
Of the 2.4 million tyres manufactured at the Ferentino factory annually around 80 per cent are destined for the export market under the first phase. A second phase was scheduled to be completed in March this year.
The Memorandum of Understanding was signed between the Marangoni and Onyx Groups in January and following the transaction's execution, the UAE-based company acquired all shares in four Marangoni S.p.A. solid tyre businesses. The manufacture of solid tyres will continue at the Marangoni S.p.A. plant in Roverto, Italy, under an off-take agreement with Onyx.
Onyx Group Chairman Nandana Lokuwithana said the company's success depends on its customers' trust in its products. "Our commitment is to work for them to create quality and trust, together with excellent products, services and ideas."
Onyx Group is a conglomerate company based in United Arab Emirates with activities spanning across a spectrum of industries such as construction, manufacturing, real estate, industrial catering and hospitality.
Ceylon Steel Corporation, the largest steel manufacturer in Sri Lanka, Marriott Hotel and Marriott Executive Apartments, Al Jaddaf Dubai, Onyx Industries and Onyx Building Systems are among the businesses owned by the group with nearly 2,000 full time employees working for the group.
"Our Vision is to achieve market leadership in all our business lines through an unmatched combination of innovation and technological advancement, without compromising our core values of excellence in quality and customer satisfaction," he said.