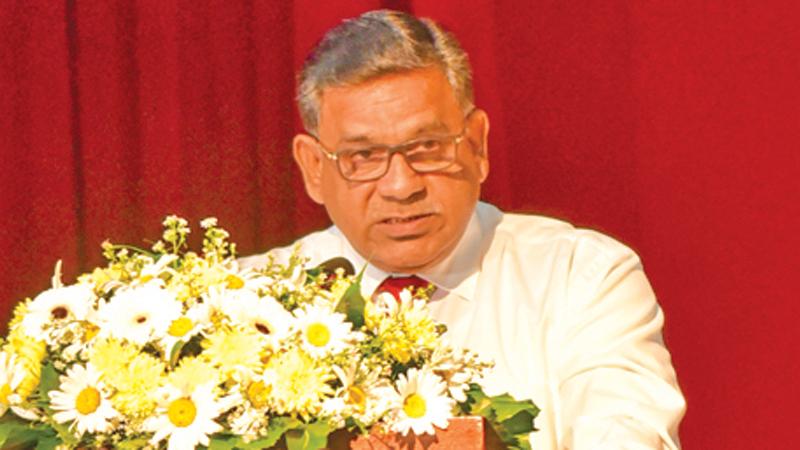 Communities are the eyes and ears in disaster management which plays a pivotal role in life and livelihood protection, said Disaster Management Center Director General Maj. Gen. (retd) Sudantha Ranasinghe last week.
The role of civil society organisations before, during, and after disaster situations is indispensable and it has to be supported through awareness and training for which the civil society action network launched recently will come in handy, Maj. Gen. Ranasinghe said.
The Civil Society Action Network was launched to enhance disaster preparedness in Sri Lanka with the objective of creating safer and sustainable communities.
The launch organised by Sri Lanka Preparedness Partnership was held recently at the Disaster Management Centre auditorium in Colombo.
The contribution of Local Non-Governmental Organisations (LNGOs) help ease the burden of the Disaster Management Centre before, during, and after disaster situations.
The LNGOs especially at the sub-national level immediately react to any disaster situation.
However, lack of technical know-how, financial constraints, lack of collaborative efforts, and duplication are some of the bottlenecks that prevent LNGOs making maximum and effective contributions to the disaster management effort. Therefore, there is a vital need for collaboration among the LNGOs to streamline and contribute to disaster management efforts.
Outlining the objectives of the Sri Lanka Civil Society Action network Maj. Gen. (retd) Ranasinghe said, the network will enhance the resilience of at-risk communities in Sri Lanka, introduce and implement systematic collaboration among working groups, donors and policy makers, and empower local civil society organisations on advocacy platforms both nationally and internationally. Our vision is to have safer and sustainable communities. Around sixty local non-governmental organisations island-wide have partnered the network.
The flagship regional platform of the Asian Preparedness Partnership (APP), was founded under the program, 'Strengthening the Emergency Response Capacity of Local Humanitarian Actors in Asia' being implemented by the Asian Disaster Preparedness Center with support from the Bill and Melinda Gates Foundation. The objective is the improvement of the preparedness and emergency response to disasters by strengthening humanitarian leadership and technical capacity of National Governments, Local Humanitarian Organisations and the Private Sector so that they can lead and better engage in the humanitarian framework.
The Sri Lanka Preparedness Partnership (SLPP) was formed with the representation of the Government (Co-chaired by the Disaster Management Centre), the Private Sector (Co-chaired by Ceylon Chamber of Commerce) and the LNGOs (Co-chaired by Janthakshan (Gte) Ltd). - LF