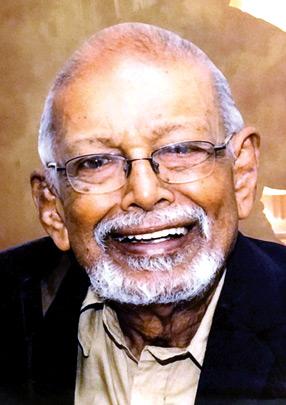 Zarook the gentleman made Zarook the journalist someone special in the congenial and circumscribed world of English language journalism in this country. 'Zoro' as he has been fondly known and as a plethora of people have reminded me after his passing, was a person who perhaps epitomized his era of easy, slow charm.
Zoro grew up in Kensington Gardens in Colombo 4, an area of the city that was known for its pretty urban charm and its urbane, charming residents. Zoro in his schooldays and beyond was one of them until he married and began living at Grero Place, Colombo 5.
He was to the manor born in terms of style and approach to life. He did not aim for anything earth-shattering but was a responsible family man and a much sought after friend. He moved in all circles, and was certainly not afanatical Muslim if that could be mentioned ever so gently in this piece in memoriam.
In his day he is supposed to have been a head-turner — being a handsome young 'rake' who would draw-in the ladies at dances. Dancing and socialising was his youthful pastime. He never took life too seriously in any event, and one could say he sailed and danced through life anyway, but did yeoman service as a scribe in the meantime.
His innate nature was of that of the fun loving gent, and this was so when he was 50 as when he was 80. This pleasantness was contagious and everybody around him was usually uplifted. What more can a fraternity of professionals ask for from a colleague in this era of cut-throat ambition and not so nice one-upmanship?
None of that for Zoro, who delighted in organising the evening roast and repast for his colleagues, whether he was in the Daily Mirror or any other newspaper.
He started life as a courts reporter in the Independent newspapers and had a stint in the old Times in that totemic building in the Fort. He subsequently worked for the Associated Newspapers, and finally for Wijeya Newspapers from where he retired. His working life straddled different eras, but he was equally comfortable in spacious or busy times.
You could say, therefore, that his entire working life he had his fingers dipped in ink. He was a raconteur and of course a Courts journalist of great repute and integrity, the latter not being something that can be said of all his Court reporter colleagues of that era, sadly. It's fitting in this context that his son Rushdi is an upstanding lawyer.
Zarook was not overly religious, or a person who imposed rules and regimens. He minded his own business, and that's a rare quality too in any kind of working environment today. Most employees mind other people's business more than their own because they want to get ahead, but getting ahead was meaningless to Zoro who didn't aspire to anything other than a good life. But a great life he had, in abundance.
That's why he was an exemplary character. It was precisely because he didn't mean to be one and didn't set himself up as an example, that he was looked upto. In an anti-hero type of way he was the life of the party. He may have made the least noise but if he wasn't present the party had a hollow air of sanctimony about it. He put everyone and everything at ease.
He was fond of discussing politics, events and vignettes that made the news but also had a special way of articulating things his own way without being sanctimonious or too involved in the topic under discussion. His understated ways were perfect. His profuse praise for me was genuine, and in this I strike a personal note. He wanted to inspire me to achieve more — and whatever his intentions were I was inspired by his genuine graceful comments that stood apart from easy blandishments of some others who excelled in artifice.
What could be said in sum is that Zarook was a gentleman who receded to the background, and was a good husband to his wife and excellent father to his two children, and a third who unfortunately died young in a tragic road accident. That Zoro was so pleasant that his pleasantness was contagious, is more than one can ask for of any individual in these intensely crowded and competitive times.
Zoro's 3rd death anniversary falls this week, and he would have been 92 this year. Notably, he was honoured with a Lifetime Achievement Award by the Editors' Guild for his long services to journalism. Zoro lived to be 89, but was mentally agile and was in a manner of speaking always in his forties. His son, daughter, wife, his daughter-in-law, son-in-law, grandchildren and his other extended family must all miss him dearly.
After all, everyone else who knew him can't get over the fact that he is no more.
Jannah tul firdausto my unforgettable friend, M.J.M. Zarook.
- Rajpal Abeynayake