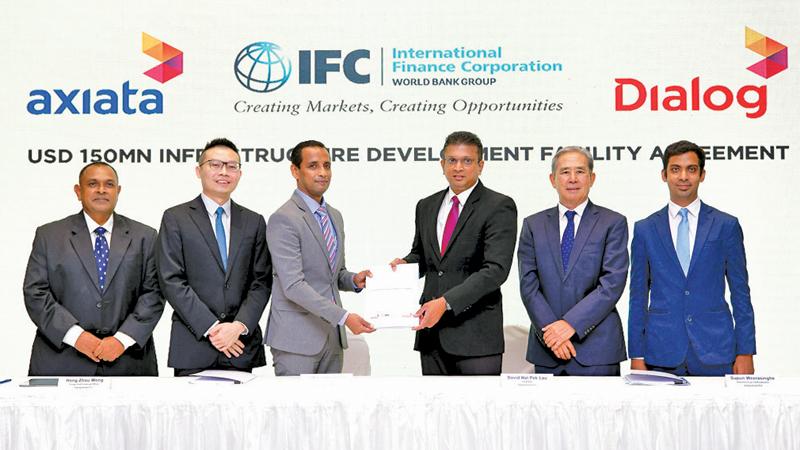 Connectivity provider, Dialog Axiata PLC (Dialog),plans to expand and improve broadband connectivity across the country with International Finance Corporation's (IFC) support.
IFC's loan of up to $150 million will help Dialog expand and improve its network capacity through the upgrading of existing sites and the construction of new 4G sites. Dialog also seeks to increase its fibre optic network footprint and implement upgrades to increase both capacities and efficiencies in core network operations.
As the leading telecommunication services provider in Sri Lanka, Dialog represents over 50 percent of both the mobile and fixed broadband market in the country and is well equipped to effectively expand quality connectivity options to underserved areas in Sri Lanka.
With over 32 million mobile subscribers, Sri Lanka has made substantial progress in terms of penetration of mobile services, with 149 percent mobile penetration versus an average 85 percent of its South Asian peers. WhileSri Lanka ranks amongst the top 20 countries for Broadband affordability,the internet quality and speed has been weak with SriLanka ranking 125thglobally (among 141 countries) in download speed.This significant quality gap in the market is mainly due to heavy reliance on mobile services for data usage and use of older technologies such as 3G.
"Quality and reliable telecommunication infrastructure has a multiplier effect on a country's economic growth. It provides the opportunity to unlock new and innovative sources of growth and jobs — spurring digital economy, trade, and entrepreneurship — while bringing communities closer," said IFC's Regional Director for South Asia, Hector Gomez Ang, adding "IFC's investment in this partnership shows our commitment to support the development of Sri Lanka's private sector, even amid current uncertainties."
Chairman of Dialog Axiata PLC, David Nai Pek Lau said, "It is heartening to note the continuing collaboration between IFC, Axiata and Dialog. We are grateful to IFC for their faith in Dialog and Sri Lanka over the years, and their steadfast support to help address some of the biggest challenges we are currently facing in our journey of advancing the country's connectivity infrastructure in line with our mission of empowering and enriching Sri Lankan lives and enterprises. IFC's funding will be critical in meeting Sri Lanka's future digital connectivity needs, which is fundamental in helping people and businesses flourish during these challenging times."
Dialog, part of a leading regional telecom service provider Axiata Group Berhad, has been a longstanding client of IFC. Apart from previous debt and equity investments in 2004 and 2007, IFC also helped strengthen the business skills of Dialog's retail distributors in Sri Lanka, benefitting more than 3,000 small business owners from rural and post conflict regions of the country. Axiata Group has been a key partner for IFC in Asia — including in Bangladesh — promoting the development of digital infrastructure and digital economy in markets where it operates.
Director/Group Chief Executive, Supun Weerasinghe of Dialog Axiata PLC said, "Dialog's association with IFC goes back to 2004, and we're grateful for their continued confidence placed in Dialog and Sri Lanka as a nation. Today, we're at a crucial juncture as a country, as well as an organisation. With the support of IFC and Axiata, we are able to initiate this next phase of connectivity infrastructure development in the country and continue our commitment to delivering uninterrupted services and world-class technology to all Sri Lankans and Enterprises."
IFC will also ensure that Dialog adopts an enhanced environmental and social management system (ESMS) according to IFC Performance Standards for their mobile network deployment, in line with Dialog's endeavors of pursuing green connectivity, supporting global climate action goals and achieving net-zero CO2 emission by 2050.
"The need to strengthen connectivity and accelerate growth is critical for Sri Lanka now more than ever. With this latest investment, IFC-Dialog Axiata synergy marks yet another significant milestone in the partnership to improve the quality of connectivity for people and businesses across the country," said IFC's Regional Industry Director for Infrastructure Asia and the Pacific, Isabel Chatterton, adding "Continuing to harness the power of technology can help drive innovation and create better opportunities for more Sri Lankans."
As the sector rapidly grows and advances technologically, IFC continues to be one of the leading development financiers in digital infrastructure across emerging markets, supporting all aspects of the ecosystem.Over the past decade, IFC committed and mobilised over $6.5 billion in digital infrastructure and services, and more than $2 billion over the past two years alone. In addition to enhancing and enabling digital infrastructure, IFC is helping its portfolio companies to align their environmental and social practices with IFC's performance standards.