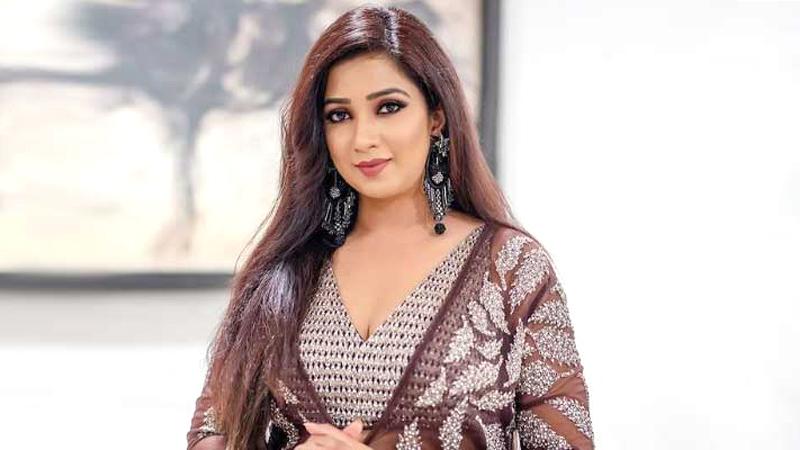 Shreya Ghoshal is a household name in Sri Lanka. As the most popular Bollywood singer now in India, she has sung so many songs with her golden voice, most of which are chartbusters. She has also travelled to Sri Lanka twice in her musical journey, and on both occasions she sang a few songs in Sinhala as well.
A happy anniversary
Recently, Shreya Ghoshal marked the completion of twenty years in the Bollywood music industry. For that, she shared a long heartfelt note with a video in her Instagram account. The video was captioned thus:
"This day, 20 years ago, the most beautiful and significant moment of my life happened. I made my debut as a Hindi Film playback singer, with the magnum opus film Devdas. The feeling of joy and nervousness that the 18-year-old felt watching her songs on the big screen is hard to capture in words. Always in gratitude to my mentor #SanjayLeelaBhansali who held my hand and brought me to the world of cinema and music and shaped me into the artist that I am today. My head bows down to my parents' feet once again today for they have given their everything and worked so hard to make their daughter what she is today. God has been kind to give me such a beautiful family of fans, friends and colleagues. Grateful."
In the video, the singer can be seen singing her first song 'Silsila ye Chahat Ka' from the film 'Devdas', which starred Shah Rukh Khan, Madhuri Dixit Nene and Aishwarya Rai Bachchan in the lead roles. Ghoshal was not even 18 when the 'Devdas' director Bhansali gave her the chance to be Aishwarya Rai's voice in the film - Rai portrayed the lead female character Paro in it. Ghoshal went on to sing five songs in the movie alongside established singers. The singer also received a National award for her song 'Bairi Piya' in 'Devdas'. The 20th anniversary of the classic movie was celebrated three weeks ago, and that also marked Shreya Ghoshal's venture into the Bollywood music industry. So while 'Devdas' production team celebrated its 20th anniversary, Shreya Ghoshal also commemorated her 20th music journey-anniversary through her above Instagram message. She dedicated that post to the filmmaker Bhansali for shaping her into the artist she is today.
New music video
Meanwhile, Ghoshal released her new romantic track 'Baarish Aayi Hai' on July 14, which features television couple Karan Kundrra and Tejasswi Prakash in the lead roles. Soon after the music video came out, fans started pouring love and affection into the comment section of the couple's post. Fans even shared sweet messages along with clips from the video. Already Bollywood celebrities have begun to praise the song, and 'Bigg Boss 15' winner Tejasswi Prakash said, "I believe it will be this season's best monsoon song. Working with Shreya Ghoshal, and Stebin Ben, makes me feel fortunate. I can only hope that this song is loved and appreciated by the people, like the past two Baarish songs."
Dance Deewane Juniors host Karan Kundrra claimed, "The last two Baarish songs were chartbusters, and we are expecting that this song will complete the hattrick."
The magic in Ghoshal
So Ghoshal's new music venture is also going to be another chartbuster. But what is the magic in Shreya Ghoshal to have such a fan base? No surprise, it is her girlish melodious voice. The Indian Express says, what makes Ghoshal remarkable among her contemporaries, is the "serenity in her voice" and the "enviable range". India West attributes it to the smoothness of her voice when flowing from "lower registers to higher notes." Another mainstream newspaper, The Times of India, says, Ghoshal maintains the "touch of versatility" with her music by singing different styles of songs from classical to pure commercial music. In 2003, Ghoshal admitted that she modulates her voice well, hence "none of the music directors have yet been able to label me."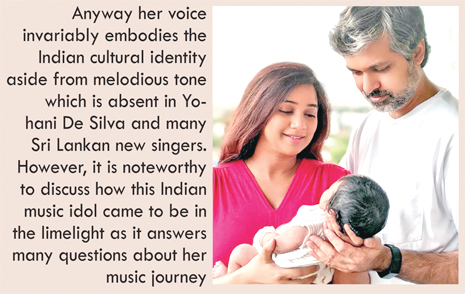 Anyway her voice invariably embodies the Indian cultural identity aside from melodious tone which is absent in Yohani De Silva and many Sri Lankan new singers. However, it is noteworthy to discuss how this Indian music idol came to be in the limelight as it answers many questions about her music journey.
Shreya Ghoshal was born on March 12, 1984 to a Bengali family in Murshidabad of West Bengal state. She grew up in Rawatbhata, a small town near Kota, Rajasthan as a traditional Hindu. Her father, Bishwajit Ghoshal, was an electrical engineer who worked for the Nuclear Power Corporation of India, while her mother, Sarmistha Ghoshal, was a literature post-graduate. Ghoshal has a younger brother, Soumyadeep Ghoshal who later became an engineer and a music producer.
Mother's desire and turning point
Right from the beginning, music was a part of Ghoshal's life as her mother also sang Bengali folk songs for own enjoyment – she could also play a few musical instruments such as Tanpura. In fact, she was the first who identified the musical talent in Ghoshal. So she began to give her daughter music training at the age of four, and at six she started to give her formal training in Hindustani classical music. She acquired training from Late Kalyanji Bhai for 18 months and continued classical music training with Late Mukta Bhide in Mumbai. Her first stage performance was made at a club's annual function.
In 2000, at the age of sixteen, she participated and won the television music reality show 'Sa Re Ga Ma' (now 'Sa Re Ga Ma Pa') on the channel Zee TV. This was a turning point in her music journey because the show was watched by Sanjay Leela Bhansali's mother. While watching the show during Ghoshal's performance, she called Bhansali to watch her performance. So it was the moment that helped Shreya Ghoshal to take the chance to sing in Bhansali's new film 'Devdas.' According to Bhansali, Ghoshal's voice had the innocence needed for the character of Paro in Devdas (2002).
Instant success
Ghoshal sang five songs in the film, namely, "Silsila Ye Chaahat Ka", "Bairi Piya", "Chalak Chalak", "Morey Piya", and "Dola Re Dola", with established singers such as Kavita Krishnamurthy, Udit Narayan, Vinod Rathod, KK, and Jaspinder Narula. She was sixteen when she recorded the first song for the film, "Bairi Piya", with Udit Narayan. As per facts in Jagran TV official website, her Higher Secondary Examinations were nearing that time and she would take her books and notebooks to the studio to study during downtime. "Bairi Piya" was an instant success and topped the charts. The film garnered her first Filmfare Award for Best Female Playback Singer for "Dola Re" (shared with Kavita Krishnamurthy) and a National Film Award for Best Female Playback Singer for "Bairi Piya". Her performance also won her the Filmfare RD Burman Award for New Music Talent.
Sharing her experience of recording "Bairi Piya", Ghoshal once said in an interview:
"I remember I was asked to rehearse the song once before finally recording it. I simply closed my eyes and sang without a break. When I opened my eyes, I noticed a lot of excitement and chaos outside the recording room. Then Sanjayji told me I had sung the song so well that they had recorded it at one go."
So this is the history of the music icon Shreya Ghoshal. This shows us talent is a must in thriving of any artistic field, but it also emphasises the fact that without the proper training and cultural consciousness you cannot create a true art work.