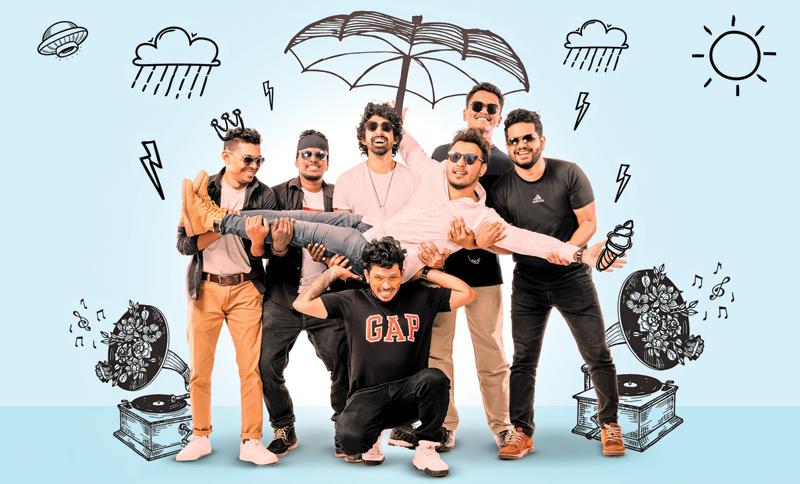 Bringing an extravagant, unparalleled and exciting musical experience to our audiences, the musical behemoth, 'Point Five' has earned a big name in the field of music. Going from strength to strength, 'Point Five' has unfurled its sails for a new journey.
To discuss the beginning and future of 'Point Five', Sri Lanka's premier youth magazine the 'Youth Observer' caught up with its artistes. Asked about the beginning of this musical band, Dilmin Perera said that young artistes deserve credit for starting this band with a solid foundation.
"There is a long story behind 'Point Five' because it was established some time ago. It has been two years since I have joined the 'Point Five' band. Currently, 'Point Five' is run by seven members: Praveen Gunarathne (Keys), Danushka Pradeep Joseph (Lead Guitar and Vocals), Kanishka Fernando (Bass Guitar), Tharindu Prasanga (Percussions), Himesh Senanayake (Drums), Nadeemal Perera (Vocals) and myself (Vocals)," said Dilmin.
Dilmin's covers
Stealing the first two letters of his mother's name (Dilhani Ashokamala) and the first letter of his grandfather's name ( Milton Perera), Dilmin hails from an artistic family. Except for songs 'Dura Aduna' and 'Ayachana', he has done several cover songs for the 'Point Five' such as 'Sihina Dew Duwe' and 'Sikuru Liya'. Fans have been bewitched by their musical creations like 'Meki Giya' and 'A kahe' flavoured by both Dilmin's and Nadeemal's melodious voices.
Future plans
When asked about the future plans guitarist Danushka Pradeep Joseph said that they intend to bring a new musical taste to the audience through their unique style." We have a unique style different from others and want to preserve and continue it. Hopefully, we can see 'Point Five' with so many improvements which means we can be satisfied with our output." Amazingly, being a young artiste Danushka has joined the band by chance. "When I came back to Sri Lanka after a tour of Dubai, Nadeemal invited me to join the band." Speaking of the competition with other musical bands, Danushka said that maintaining a uniqueness in every creation is vital.
A radiant future for guitarists
There is an exciting story behind young guitarist Kanishka Chamara's involvement in the musical band. Let's hear it in his own words.
"It has been four years since I joined the 'Point Five' musical band. It happened as if by chance. One day Isuru Praveen invited me to join the band. First, I thought that it was a joke. Nadeemal too was there and said that it was not a joke. However, that encounter with them led me to being one of their members. On that day I met with an accident on my way home. Even at present, we are working together," he said.
Being a guitarist, Kanishka said that there will be a hopeful future for talented guitarists in the country. " There are many talented artistes in our country. If trained in a proper way under good musicians, there must be a good place for them in the country. Now, we all are facing hardships because of this crisis. But, they should not give up hopes."
Kanishka's clarion call for budding guitarists
"There are talented young guitarists who can play to the ear. It is their responsibility to improve their talent with the support of seniors so that they can do something better for the music field. Not only that, there can be untalented artistes who have a craze for playing musical instruments which means they have a great enthusiasm in music. Certainly, they can reach new heights in the music field through their commitment and dedication," quipped Kanishka.
Obstacles
We are on a perilous journey to accomplish our career goals.' No pain no gain' as the saying goes on we have to overcome obstacles in order to succeed in any field. The drum player,Himesh Senanayake said that the biggest challenge they had to face was the fuel shortage." We have to travel to far away places for shows and events.
Therefore, it is hard to manage time due to the unavailability of transportation. However, we participate in events on time and never disappoint our fans." Himesh said. Speaking of unity and mutual understanding, drum and tabla player Tharindu Prasanga said that they always prioritize unity and mutual understanding with others so that they can continue the wellbeing of the musical band.
"There are seven members which means they can have many ideas and opinions. But, we ensure unity with everyone through negotiations." Speaking of young drum player Tharindu's musical journey,he has learned Tabla from Rakitha Wickremeratne up to Visharadha level.
Positive feedback
The manager's role is so vital that he can decide where the organization can be positioned in the field. Thamosha said that they receive positive feedback from audiences because they give the best to the audience through their creativity.
"We are receiving positive feedback from our audience. It is a good move. We work hard and don't postpone anything. That is the secret to our success," Thamosha said.
The cover songs they have released so far include 'Unna Eka Gangawaka', 'Sihina Dew Duwe', 'Unmadaniye Heguna', 'Everything I do' and some Hindi songs. Finally he said that they intend to embark on a long journey in the music field. No doubt that their musical creations have sent thousands of fans into a frenzy.