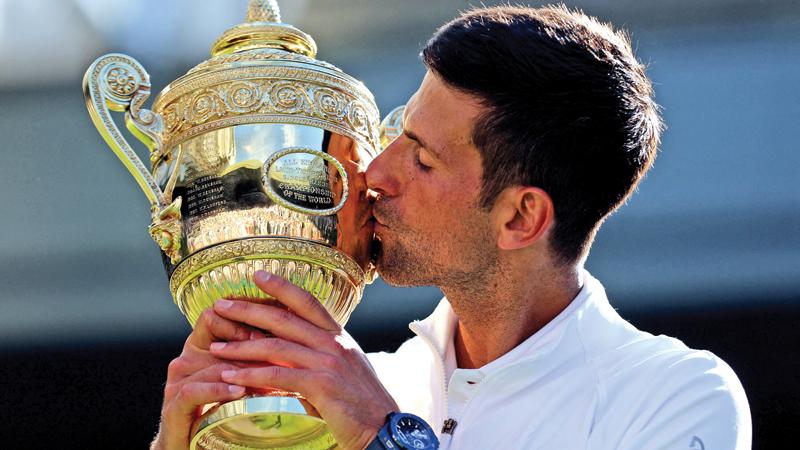 Serbia's Novak Djokovic has again proved that he is the number one tennis player in the world when he was crowned Wimbledon champion after beating Nick Kyrgios of Australia. He prevailed 4-6, 6-3, 6-4, 7-6 (3) to take the 21st grand slam title.
As stated by Tumaini Carayol for 'The Guardian', "as Novak Djokovic returned to the lawns of Wimbledon to begin a new campaign two weeks ago, he navigated the grounds with an extra bit of pressure on his shoulders. He was deported before the first grand slam tournament of the year, the Australian Open, and then he was outplayed in the second. But it is still not certain where he will be allowed to play next since he has yet to receive the Covid-19 vaccine – August 29, US Open grand slam tennis championship is scheduled to be held where the vaccination is mandatory."
21st grand slam title
However, Wimbledon is Djokovic's most awaited championship, and his second most successful grand slam. So the win records his fourth consecutive Wimbledon title, and he becomes the fourth man in history, after Bjorn Borg, Sampras and Federer, to win four consecutive Wimbledon titles. He has now won a startling seven singles titles, equalling Pete Sampras' count. And with this win, he is joint second on the men's all-time list behind Roger Federer, who has eight titles, and has broken the men's second-place tie of 20 grand slam tournament wins with Federer, moving up to 21 and within one win of Rafael Nadal in the grand slam race that never ends – Nadal got the chance to collect his 22 grand slam trophy when Djokovic was not allowed to play in the Australian Open championship earlier this year over the issue of not-vaccination for Covid-19.
Combat with two great players

Certainly, Nick Kyrgios of Australia is a very talented and competitive player. Throughout his career, Kyrgios has built a name for himself as a big match player who rises against the best. Though he got through to the Wimbledon final because of Nadal's withdrawal after reaching the semi-final due to an injury, he had twice defeated his Serbian opponent. He is still one of only five players with a winning record against Djokovic.
Throughout a nerveless first set in the final, Kyrgios served extremely well, he weaved his web of variety and even out-rallied Djokovic from the backhand corner. Djokovic, one of the best returners of all time, struggled badly to read the Australian's serve. Kyrgios unique style of play, including his occasional chuntering to his box, won over the watching crowds and it was the same for the final, with the 27-year-old receiving much of the backing. His underarm serves in his first service game were also wonderful to watch.
However, in the second set, Djokovic slowly but steadily found his feet. His experience really mattered and he made a comeback for the third consecutive match. But Kyrgios didn't give up easily in the fourth as he pushed for a tiebreaker.
An argument
Midway through the third set, there also emerged an argument over a fan's call out between the umpire and Kyrgios. Krygios was not happy with the fan's distraction - he called out during his service. So Kyrgios was arguing with the umpire about the fan in the stand who according to him was constantly distracting him. There, the umpire asked him which one it was because he did not know, and Kyrgios was quite happy to point out the culprit. But he received an audible obscenity code violation during his argument with the umpire.
As the chaos unfolded across the net, it is noted that Djokovic remained composed and his level gradually rose to the stratosphere. He played incredibly throughout the third set, committing just two unforced errors to 14 winners.
Kyrgios is a person known for his bad temper. In the past, he aimed criticism and insulted Djokovic. However, before their grand slam final, the pair had curiously spent the night publicly communicating with each other through Instagram stories, which ended with Kyrgios inviting Djokovic out for a drink. Hence, their newfound congeniality continued afterwards as they lavished praise on each other during the trophy ceremony.
"Maybe I will be back again, maybe not"
In his speech after the final Nick Kyrgios said of Djokovic: "Yeah, he's a bit of a god, I thought I had played well. I want to congratulate Novak, I don't know how now many times he has won it."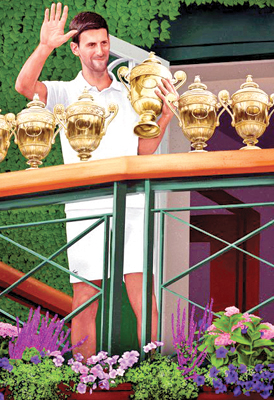 He also said: "And thank the umpires and ball girls and ball boys, I know we have a tough relationship at times. I am so tired. Our team has played so much tennis. I am really happy, it's the best result of my career so far. Maybe I will be back again, maybe not."
Djokovic spoke of his opponent: "Nick, you'll be back. Not just in Wimbledon but in many finals. You showed why you are one of the best players in the world. Congrats to you and your team. I wish you all the best, man. I really think you are an amazing talent. I never thought I'm going to say so many nice things about you, considering the relationship! OK, it's officially a bromance! Hopefully this is the start of a wonderful friendship. Let's start with dinner and drinks and we will see."
"The most special court in the world"
Speaking of his win, Djokovic said: "I am lost words for what this trophy means. It has always been and always will be the most special tournament. Realising a childhood dream of winning this trophy. Every year it gets more meaningful, I am really blessed. The most special court in the world. I am extremely happy and grateful to be here."
Holding the Wimbledon trophy Djokovic also recounted his dream of Wimbledon with Sue Barker on Centre Court:
"It always has been and will be the most special one in my heart. It motivated me to play in my small mountain resort and I saw Pete Sampras win and I asked my mum and dad to buy me a racquet.
"It was my first image of tennis - every single time it gets more meaningful and I'm blessed to be standing here with the trophy.
"It is the most special tennis court in the world and when you walk on the untouched grass and everything is so directed on the tennis, the players' ball and racquet and it has the most recognition in the world."
Prize money
Tennis is one of the most expensive games in the world. Let's look at the takings of the winners:
Following the victory in the Wimbledon final, Novak Djokovic pocketed £2,000,000 in prize money though did not win any points - Wimbledon was stripped of points after they banned Russia and Belarusian players from taking part in the event. Nick Kyrgios who finished runners-up in his first-ever Grand Slam final pocketed £1,050,000 which will allow him to pay off the fines he has accumulated during the season.
Rafael Nadal who withdrew from the tournament due to injury earned £535,000 after reaching the semi-final. The players who reached the quarterfinals of the singles tournaments earned £310,000 each while the players who reached Round 4 were paid £190,000 each. The ones who lost in Round 3 received £120,000 each while players who bowed out in the second round received £78,000. The players who bowed out in the opening round got £50,000 as prize money.