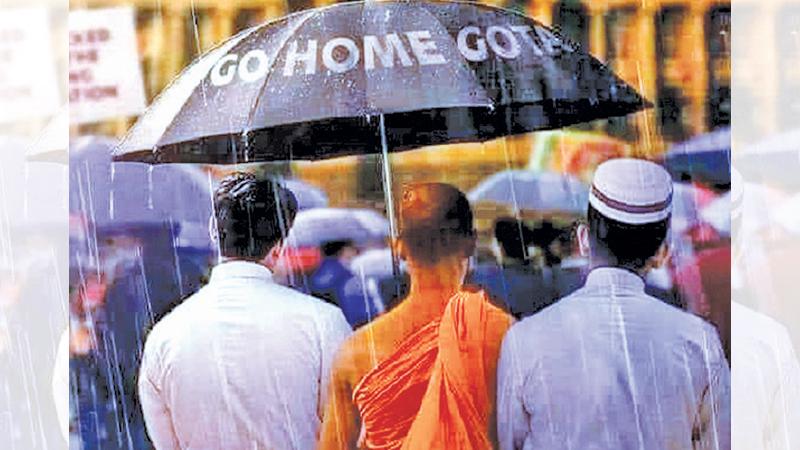 These lines will surely bring a smile to our faces and remind us of the Sinhala movie 'Madol Duwa' directed by Dr. Lester James Peries.
In this film based on Martin Wickremesinghe's novel, Upali together with his boy servant Jinna left home in search of their own world. Eventually, as if by chance,they came to an island called 'Madol Duwa' where they found everything as expected. "This is only a movie. Nothing more than that." This thought might have sprung into your mind. Not surprisingly, GotaGoGama can be pictured as such a 'Madol Duwa' of our time.
Now you might ask how and why. In GotaGoGama though evicted today, people had everything except for racism, ethnic conflicts, terrorism, disunity etc. Religious leaders representing their own religions, youths standing for different political views and artistes had converged in the city of Colombo to form GotaGoGama, forgetting all differences.

To our amazement, none of the residents in GotaGoGama have suffered from hunger, none of them starved to death, none of them died due to a shortage of medicine.
Unfortunately, in our society not a day passed without news of deaths being reported in newspapers. Why? It is because reconciliation, peace and friendliness had been built in GotaGoGama.
United we stand divided we fall
It is no secret that if we are alone and isolated, anyone can defeat us. If we stand together, no one can even challenge us. Most people think that if we have freedom we can gain anything in life. But, that theory is not practical at all. What makes us stronger is unity which can help us in many ways.
For example, if we mutually work together, our enemies shy away from attacking us. Even at your workplace you might have experienced the importance of unity. In GotaGoGama people were seen helping each other, working together and mutually sharing sorrow and joy with others irrespective of differences. Sadly we still wonder why we cannot sow the seeds of unity, togetherness and harmony in our main society as evidenced in GotaGoGama.
Writer's surmise is that we have to understand that nothing can grow alone. Even a sapling requires soil,water, fertilizer and sunlight to grow. Similarly, We have to build unity and harmony in our society for a better peaceful life by contributing to the acts of kindness and tolerance towards others.
Sadly, that most youth do not possess tolerant attitudes towards others' opinions can cause violence in the society. We have to eliminate such negative attitudes ensuring peace and harmony among others. Moreover, needless to say that unity makes us winners.
The most important lesson that we learned from GotaGoGama was unity with which we accomplished many targets. For instance, we could achieve the goal of eradicating the Rajapaksa regime, proving the power of unity. It is because we joined hands with others on behalf of a common goal, putting all differences behind us. Even journalists in the international arena had expressed their views and opinions in appreciation of GotaGoGama.
Keyboard heroes
First we should have a backbone to say 'No' to violence on social media. You might agree with me on the point that a certain level of education should be stipulated for facebook users in our country. Only the spectators of the non partisan protest are seen spreading distorted news on social media,creating political conflicts in the society.
Such keyboard heroes fueling violence among people should be responsible for dividing our society by labeling people as 'Bayya', 'Toyya' and 'Jeppa'. How can we be united under a common goal in this backdrop? Our goal is to transform Sri Lanka into a Madol Duwa where there are no divides, ethnic conflicts and corruption. For this to bear fruit we have to learn lessons from GotaGoGama.