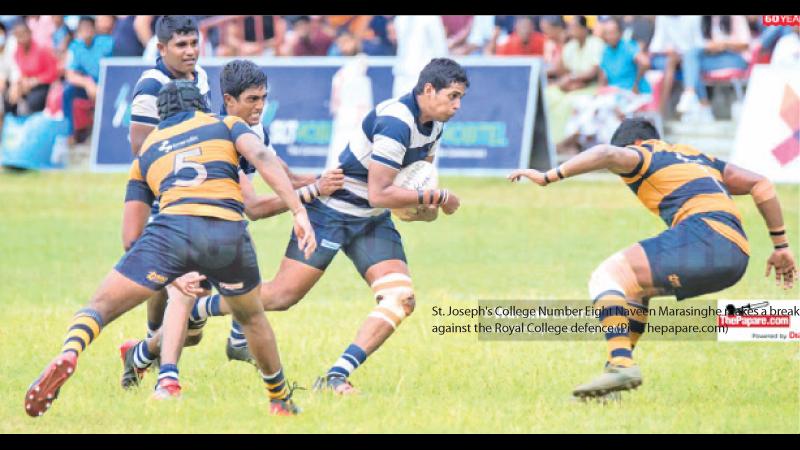 The defending League champions, Royal College broke the unbeaten run of St. Joseph's College with a sensational 17 points to 3 win in their inter-school League rugby encounter played at Havelock Park last week.
The scoreline does not do justice to what both teams displayed on the field as it was a magnificent defensive tactic from Lewke's Royalists while the Joes fell short in the last quarter of the game.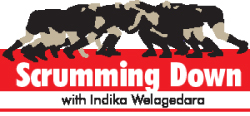 With this win, Royal College tops Group 1A and advance to the Super Round of the competition.
The most anticipated game of the week commenced with a good crowd attendance from both schools.
For the winning Royal team, second row forward Rahil Wijesekara, Danuja Samanarathne and Hansaka Higgoda scored one try each with Nabeel Yahiya making one conversion while for the losing Joes their fly half Dilhara Subash put over the two penalties.
Vidyartha down Science 13-9
Vidyartha College Kandy, having beaten St. Peter's College, Dharmaraja College and Science College in three consecutive wins, kept alive their hopes of qualifying for the Super Round as they beat Science College 13-9 in the latter's own den after a lapse of nearly two years.
Winners Vidyartha scored their two tries through prop forward Kavishka Wijerathne while Menuka Thilakarathne fired across the solitary penalty.
For the losing Science College, Nadun Kavishka slotted in the three penalties.
Isipathana outplay Dharmaraja 26-12
Isipathana College made it four out of four to book their spot in the Super Round of the Dialog Schools Rugby League 2022 after beating Dharmaraja College by 26 (4T, 3C) points to 12 (2T, 1C), at Havelock Park.
Isipathana went in after a morale–boosting win over St Peter's College last week, but they missed a few of their key players owing to injury. However they managed to play together as a team using their forwards and got the Rajans to commit in the middle.
Isipathana's four tries were scored by Wewela Pandith, Kavin Tharusha, Shahid Zumri and Kenula Mihisara while Malith Mihisara put over the three conversions.
Fly half Saumya Wijesiri and Shehan Rajapakse scored the tries for the Rajans with Wijesiri making the conversion.
St. Peter's hold Wesley to 17-17 draw
Emith Jayaweera's failed conversion of the final try scored by St. Peter's College forced them to settle for a 17-17 draw against the formidable Wesley College at Bambalapitiya.
Both teams missed several early opportunities as indiscipline and many an unforced handling error were the main drawbacks of the game.
For St. Peter's their three tries were scored by winger Vishenka Silva, Ashene Madugasge and winger Chathumina Nethsara while Emith Jayaweera made the solitary conversion highlighting the fact that a capable goal-kicker would have taken them to victory.
Rigesh Muralidaran and Tharusha Jayaweera scored the two tries for Wesley with Jayaweera making the two conversions and knocking over the only penalty.
Trinity in 53-6 runaway win over Kingswood
Trinity College have made it four wins out of five games as they thrashed a lackluster Kingswood College outfit with a runaway 53-6 win in Pallekele.
The hosts came out with a super display in their own den in the one-sided game as Kingswood finally gave up the challenge.
For Trinity they scored a total of nine tries and four conversions to Kingswood's two penalties.
S. Thomas' beat St. Anthony's 32-25 in thriller
S. Thomas' College beat St. Anthony's College by 32 points to 25 at Havelock Park last week.
The match was a thriller from the first half as both teams played some entertaining rugby from the opening whistle till the end.
Eventually the Thomians had what it takes to live up to the occasion. For the winning Thomians winger Jaden Koch, Viviyan de Silva, Shanal Fernando and Mahith Perera scored the tries with fly half Yehan Bulathsinghala making three conversions and firing across two penalties.
Somitha Dissanayake, Jeyan Amarasekara and Sahan Keerthisiri scored the tries for the losing St. Anthony's team while Keerthisiri slotted in the two conversions and the two penalties.