Sri Lankan athletes received new high tech clothing that is expected to enhance their performance and stand out among athletes from other countries.
They received these kits from MAS Bodyline who will be the official clothing partner for Sri Lanka Athletics (SLA) until the Paris Olympics to be held in 2024.
The kits were presented by Dinesh de Silva the CEO of Bodyline to Maj. Gen Palitha Fernando president of SLA at a ceremony held at the Sports Ministry Auditorium on Thursday (28).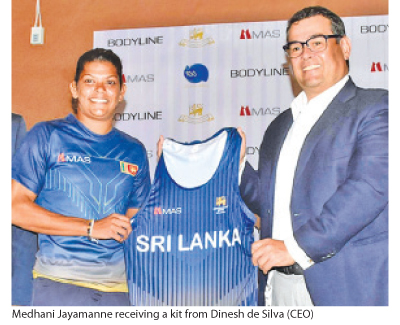 These kits are designed using the latest in apparel technology, to support their training and performance at international events.
"This year was a tantalizing year for the athletes. They did very well in local and foreign meets. We now have Yupun Abeykoon who has become the number one in Asia clocking under 10 seconds in the 100 metre dash.
"The talent we see in our young athletes is truly inspiring. But it is not an easy journey for them. Our athletes face many difficulties outside their training and put in a lot of hard work to be here," Maj Gen Fernando.
"When underprivileged and talented athletes come from rural areas of this country to reach the doorstep of the international arena, they should be supported. Providing them with running kits in important as it gives them confidence and is a great strength for them."
"On behalf of every athletic enthusiast in Sri Lanka, I appreciate this huge step taken by MAS Holdings," he added.
"This is a momentous moment for us and we are excited about providing game day and training kits to our teams and as the official clothing partner for SLA, we are excited to work with our national athletes with a product after having carried out studies that contribute to enhancing and innovating better, more superior products." said Dinesh de Silva, CEO of Bodyline.
"It all started during the pandemic for a period of 18 months when the athletes did not know what to do. We wanted to support them with kits so that they can elevate their performance through kits made out of very light breathable fabric, with moisture wicking capabilities and soft feel for augmented comfort," said Dilshan Mohamed, Director Marketing and Business Development at Bodyline.