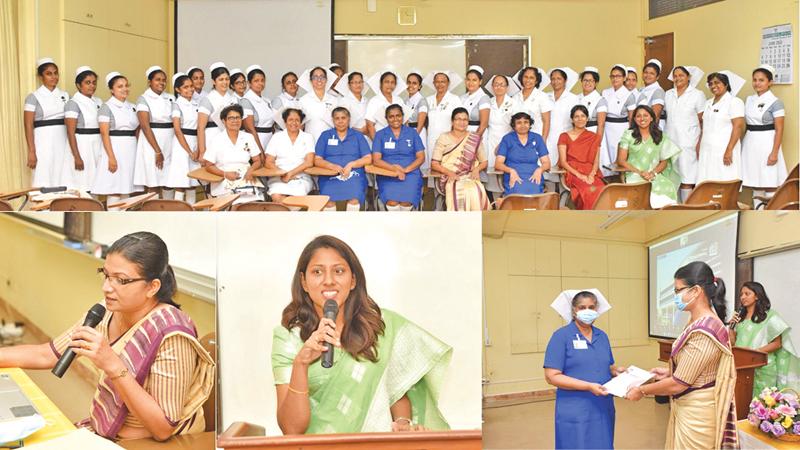 Edith Cowan University (ECU)–Sri Lanka, which offers full Australian degree programs in Sri Lanka, hosted a workshop for the nursing staff of the Sri Jayewardenepura General Hospital recently.
The event was conducted to promote professional development in the nursing profession, as Sri Lanka's medical system comes under strain due to the presently emerging crises.
Over 50 nursing personnel from the Hospital participated in the program, which was held on June 29, 2022 at the Hospital Auditorium. The Nursing Workshop was conducted as part of ECU's wider social sustainability and sustainable skills development programs, and also to support the Institute's own Nursing Program.
Academic Program Convenor, Nursing at ECU – Sri Lanka, Mayumi Perera said, "Our healthcare sector is facing multiple challenges at this time. Therefore, the role of the nurse has become very challenging and crucial. Thus, professional development should be a key focus area for nurses, particularly for our nurses to be involved in the decision-making and patient care process, hand-in-hand with doctors and other health care professionals.
"The aim of these educational interventions is to support and inspire people to grow into smart individuals to help uplift the development of Sri Lankan Health Care and Nursing. As a premier educational institute offering Australian qualifications in Sri Lanka, we believe that we have a moral duty to ensure sustainable skills and professional development and the creation of new opportunities. Thus, we are pleased to have been able to conduct this workshop, and we look forward to many other initiatives in the future," she said.The ECU–Sri Lanka Workshop for Nurses was conducted by a panel of professional speakers with expertise in the field, including Prof. Thamara Amarasekara of the Department of Nursing, Faculty of Allied Health Sciences at the University of Sri Jayewardenepura, Dr Tania Beament, International Director at the School of Nursing and Midwifery at Edith Cowan University and Mayumi Perera, Academic Programme Convenor, Nursing at ECU–Sri Lanka. Edith Cowan University–Sri Lanka (ECU Sri Lanka) is the fourth campus of Edith Cowan University and is a complete campus that provides world-class Australian university qualifications, including degrees, right here in Sri Lanka.