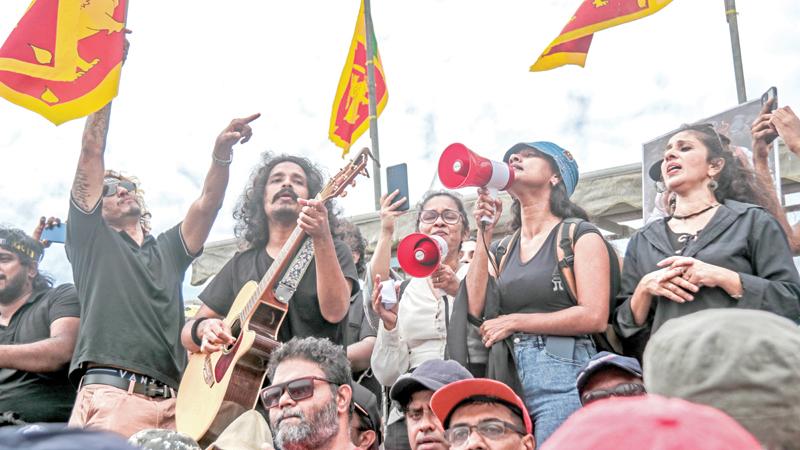 Recently, the non-political 'Aragalaya' movement reached its 100th day. 'Aragalaites' whose goal is to eradicate the corrupt system are still fighting against the corrupt political mechanism.
Among those non-political 'Aragalaites' there are artistes, singers, actors and writers who have added an aesthetic value to the 'Aragalaya' (Struggle).
Indeed, such heroes who have won esteem and pride for their commendable contribution to the 'system change' are always in the sacred place of our hearts.
However, sadly, we cannot lose sight of the fact that a few people indulging in party politics can be seen making attempts to lower the esteem won by the protesters but the aragalayaites preserve their reputation lest their tremendous efforts be sullied by the acts of such mobs.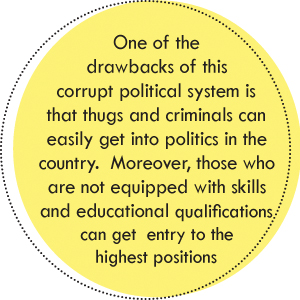 In battlefields revolutionary songs motivate and awaken youths to achieve the goal. It would not be an exaggeration to say that GoHomeGota Struggle began to bear fruit thanks to the dedication made by youths and artistes in the country. Young artist duo Dinupa Kodagoda and her husband Nadika Waligodapola are such singers who boosted youths' morale through their continuous artistic involvement with the nonpolitical 'Aragalaya'.
In order to discuss the artistic approach to the Aragalaya (struggle), TheYouth Observer caught up with Dinupa Kodagoda and her husband Nadika.
Dinupa studied at St. Joseph's College, Nugegoda. After her schooling she joined the Kalabhumi to study Low Country Dancing under Beatrice Weerasinghe and Sanath Abeykoon. With the blessings of Sarasvathi, she was fortunate to be selected to the university of Visual and Performing Arts where she specialized in Kathak Dancing.
Going down the memory lane, she started the conversation thus,"I had a passion for music and stage plays. Currently, I am playing the role of Geethika in the 'Peethruu' teledrama and have released my musical creations as well."
Speaking of her childhood, Dinupa had studied music under the guidance of giants in the music field. After having discerned Dinupa's singing skills, her mother enrolled Dinupa at Visharadha Nanda Malini's Sangeethashramaya. At that time she was only four years old. Now, Dinupa, as an actress who had won both stage and small screen through her creative spirit, has earned a big name in the industry.
Achievements
If you kick a roadside bush, you will find thousands of actresses and dancers. But, many who appear on TV do not stay in our memory because they do not stand out from others. At the Raigam Tele Awards Dinupa won the award for the Best Supporting Actress for the role of Vishakha in the teledrama titled Veeraya Gedara Avith.
The amazing fact is that her versatility enabled her to win the merit award for the same role at the Sidney Awards ceremony. What testified her passion towards theatre is that she won the Best Actress Award for the role of King Kashyapa's Queen in the stage play 'Giri Kuta Kashyapa' at the Stage Theatre Festival in 2017.
What propelled her rise to stardom was the 'Hapan Pedura' program produced by Jackson Anthony.
Later, Dinupa started to study Hindusthani music under Manjula Seneviratne. She stabilized herself in the music field by obtaining the Visharadha qualification. That giants in the music field such as Dr. Rohana Weerasinghe and Dr. Premasiri Khemadasa fostered her creativity can never be forgotten. Dr. Rohana Weerasinghe had given Dinupa opportunities for playback singing in teledramas like 'Sathpura Wesiyo' and cartoon programs. Dr. Khemadasa, after recognizing Dinupa's skills and potential, invited her to join the Premasiri Khemadasa Foundation.
System change
The onus is on us to make Sri Lanka another Singapore. One of the drawbacks of this corrupt political system is that thugs and criminals can easily get into politics in the country.
Moreover, those who are not equipped with skills and educational qualifications can get entry to the highest positions. We still wonder whether the wheels of our administration and social mechanism would operate within this corrupt system.
Asked about Dinupa's take on the Struggle, she said that she had felt the need for an immediate change in the country's sociopolitical system.
"I have experienced the grave consequences of this long established system. What we don't have is freedom in whatever we do. In this system democracy, freedom and equality are beautiful words that are beyond the reach of ordinary people like us. We need to change that system which worsens our lives. What we demand is a better country where people,animals and nature can flourish well. We don't have a right to raise our voices against the Government because they are trying to suppress our voices by imposing curfews. Tell me where our democracy exists?"
Political interference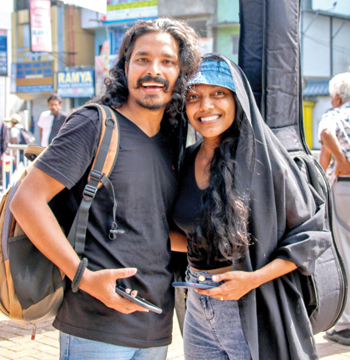 Most head nodding pundits on social media are creating an impression in society that protesters are in favour of certain political parties and are fully supported by NGOs.
Dinupa said that spectators who do not have an understanding of the protest try to mislead the public.
"The non-political struggle was not funded by organizations and not dominated by political parties." Speaking of the goals of the struggle, there are major goals like forming a better government, encouraging educated people for politics, abolishing the executive powers and so on.
Message
"We have to change our attitudes before going for a system change. If we are not ready to change our mindsets,we cannot expect a system change. For example, if you devastate people's properties, you cannot ask politicians not to devastate public properties. First change your attitudes and then change the system."
Nadika's contribution
Nadika had his education at Dharmapala College, Pannipitiya and found his niche in dancing. Nadika's Guru Deva was Malathi Somabandhu under whom he mastered Kandyan dancing.
It was Sarath Lal Panawela who laid the foundation for him to be a dancer. Later, he began to study different styles such as Up Country Dancing and Drumming at the Ravibandu Dance Academy. Many doors opened for him to explore many styles under Ravibandu Vidyapathi Ashramaya. Now, Nadika is working as a sound engineer under Ozy Nugara at Q Audio Studio.
"I got many opportunities to participate in international festivals thanks to Ravibandu sir," said Nadika.
Speaking of the commendable contribution made by artistes duo Nadika and Dinupa, both had made gargantuan efforts to add artistic as well as aesthetic values to the protest with the intention of awakening people's minds towards the system change.
They added a musical flavour to the slogans in such a way that anyone can chant them easily with joy.
"Chanting slogans requires a lot of effort. Therefore, we decided to create musical slogans so that people do not feel fatigue and tiredness," said Nadika.
In addition, both have composed songs for Aragalaya, attracting more youth.
"I composed music for certain poems and songs penned by youths. Among them were songs on the Easter Attack as well. Not only in Colombo we had to cover many places like Padukka and Batticaloa. What is of significance was harmony among people at protests. All the people gathered together with good faith," he said.
To my question about the future of protests, he said that we cannot heave a sigh of relief now due to several reasons. "I do not think that we can celebrate this achievement now. It is because the 'Rajapaksa regime' has not come to an end and might take different forms. Sometimes, another Rajapaksa can haunt the country again. Not only that, such a corrupt system can be established again. Therefore, we have to change our attitudes not to allow any corrupt politician to dominate the country."
Political interference
You might have noticed fb posts containing false information on Aragalaya, when scrolling up and down on social media platforms. What is hilarious is that only the spectators of the Aragalaya can be seen thus misleading the public by spreading fake news.
In order to open your minds towards the light, I asked Nadika about the political interference in the protests.
"It is no secret that different people have different opinions and ideas. However, what is the most common is the goal. We are demanding the same goal. What makes us united is our goal. We do not have personal agendas. Protesters are fighting against this corrupt system and do not belong to any political party. This youth uprising cannot be dominated by a political party, but within this diversity there can emerge protesters who are in favour of certain leftist political parties," said Nadika.
TV channels
Knowingly or unknowingly, we rely on TV channels without having a better understanding of their personal agendas. Most TV channels are showing only the acts of violence which occurred on certain occasions among protesters. As a result, those who have not taken part in the protests might have a negative image about the protests." Aragalaites always try to build harmony and reconciliation among themselves so that conflicts might not occur. The saddest fact is that some TV channels show us as violent mob. We were singing songs and exhibiting stage plays at GotaGoGama, but media covered only the acts of violence," Nadika lamented.
What is this system change
To my question about this system change, the response I received from Dinupa and Nadika is an eye-opener.
"Our dream is to make Sri Lanka a beautiful country free from corruption. What we need is freedom. Breathing in and out does not define life. Life is more beautiful than what we are experiencing now. Do we have a right to criticize this government? No. Can we express our opinions in public? No. Is this life? What has been drilled into our mindsets is a very narrow picture about life. When the gas and fuel are available at the nearest shops, most people undoubtedly would think that Aragalaya is over because we have everything now. But, we have to repay the foreign debts when the country has been incurred in debt," they said.
Message
"Let's come together with good faith and rebuild our country, eradicating this corrupt system. Guide the country on a good path for a better future," said Nadika.