It was a long queue and I was about one-hundred-fifty metres away from the filling station. It was so crowded that I could not drive mine. I was supposed to report to the hospital within two hours of time. I decided to be in the queue at least for two hours (I knew that it would take more time than that).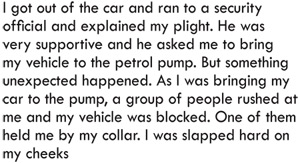 All of a sudden I received a call from the ward in which five teenagers were hospitalized and the condition of one of the youths was critical. Thus, I had to be there as soon as possible. I looked for a taxi, but there wasn't any to be seen.
I got out of the car and ran to a security official and explained my plight. He was very supportive and he asked me to bring my vehicle to the petrol pump. But something unexpected happened. As I was bringing my car to the pump, a group of people rushed at me and my vehicle was blocked. One of them held me by my collar. I was slapped hard on my cheeks.
"You can't have it just because you are a doctor. We've been in the queue for two days. Go back," they threatened me. Of course, I realized their situation. I was helpless. I did not have any other option other than taking my car backwards.
"Sorry, sir", the security person said as if he had done something wrong. I treated him with a smile. My phone kept ringing again and again.
"Hurry up, Sir."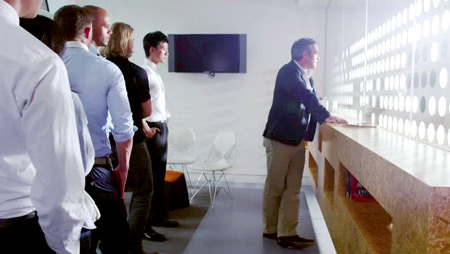 I parked the car in the opposite direction. I got out of the car and ran towards the hospital as fast as I could since there were no options remaining. A young motorcyclist stopped and he was a person who had gotten treatment from me a couple of weeks ago.
"Please, take me to the hospital," I begged him. He readily agreed and took me there as quickly as possible. He dropped me at the main entrance of the hospital. I was in such a hurry that I could not thank him. I rushed to the operation theatre on the double while the staff of the theatre were waiting for my arrival impatiently.
The surgery was successfully completed after two hours,. The youth thanked me immensely while holding my hand tightly. His eyes were full of tears.
"Now you're ok. Be careful when riding your motor bicycle hereafter", I advised him before making a move. As soon as I opened the door his mother came to me. She was crying as if she had lost everything.
"Don't worry. He's fine."
Her husband too came to me. He was surprised to see me there because he was the person who threatened me at the filling station. He was the guy who blocked my car. He was so guilty that he could not talk to me at once.
"Sorry Sir. Please forgive me. I made a big mistake. It can never be forgotten", he went on telling me with a heavy heart. I just treated him with a smile. I patted his shoulder and left the place to be in the queue till my turn came. [email protected]