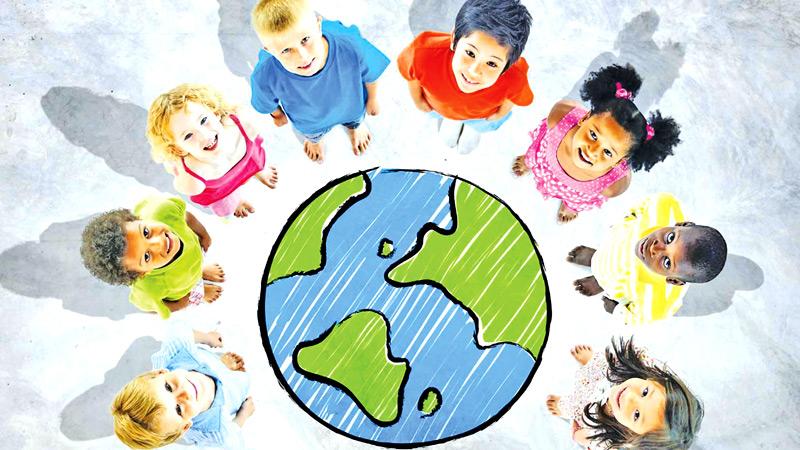 Children are called sweet scented flowers because they have untainted thoughts and hopes. Hence, it is our responsibility to create an appropriate atmosphere for children to express their thoughts so that we all can reap a better harvest.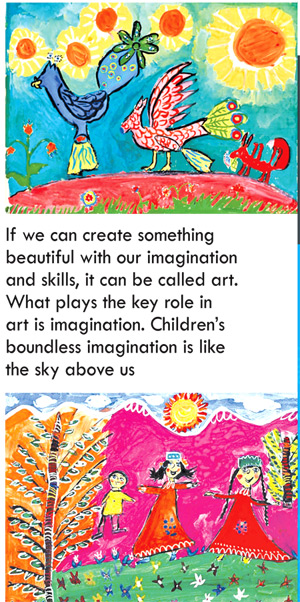 The Department of Probation and Childcare Services has taken measures to organize a short film competition on the theme 'Ape Lokaya Ape Desin' and a painting competition themed 'Kiyanna Beri De Adinna Theli Thudaka Asiriya' under the guidance of the State Ministry of Women and Child Affairs, Pre school and Primary Education, School Infrastructure and Education Services.
The event will be held at the Nelum Pokuna Mahinda Rajapaksa Theatre on October 1. Those who are interested in applying for the competitions may download the applications via the following websites probation.gov.lk or probation.gov.lk/download.
The main objective of this program is to create a better platform for children to express their thoughts. In an interview with the Sunday Observer Assistant Commissioner Sudheera Nilanga Vithana discussed the significance of this program.
Significance
"Children have new ideas and thoughts which can contribute to social development. But most parents and teachers turn a deaf ear to their words. For example, the school playground,where students love to spend time, is designed under the adults' opinions which are inconsistent with the children's ideas.
"Some parents who take children's ideas for granted are not ready to accept their opinions. Our goal is to value the murmur in their hearts by creating a better platform. During the covid-19 global pandemic we received many artworks based on new concepts and ideas. It means that children's creativity cannot be damaged by external factors. We can sharpen their hidden creativity by giving them opportunities," Sudheera said.
Short film competition
The short film competition is under two categories, open category and limited category. The limited category which will be conducted by the Department of Probation and Childcare Services will cover children under 18 years old. The open category will be open for all. The main objective of the short film competition is to value and integrate Children's opinions into the national program on ensuring child rights.
Guidelines
01. Only one entry will be accepted per individual.
02. The maximum duration must be 15 mins.
03. Short films can be either animated films or live action films.
04. The cinematic creations should be based on the given subject areas.
05. You may use your smart phone for making your film.
06. HD Resolution : 1280×720.
07. You may either use dialogues in all three languages( Sinhala, Tamil and English) or refrain from using any dialogue for your cinematic creation.
08.You must certify that the content in your short film is your own.
09. Submit your short film on DVD or CD to the following address: Commissioner, Department of Probation and Childcare services, 3rd Floor, Sethsiripaya Stage II, Battaramulla.
10. The deadline for submission of short films is July 25.
11. Entries will be judged by an independent and non-partial panel.
12. The winners will be awarded certificates, prizes and cash prizes.
13. The top two short-films will be screened at the event.
Short films should be based on the subject areas such as children's safety and internet, children's contribution to social development, right for education, children's world without drug menace and parents' impact on the development of children's personality.
Painting competition
If we can create something beautiful with our imagination and skills, it can be called art. What plays the key role in art is imagination. Children's boundless imagination is like the sky above us. They always think out of the box and try to do something new beyond the reach of adults.
The painting competition which has been organized by the Department of Probation and Child Care Services will become the voice for children's untold thoughts. This painting competition will be held under the categories such as primary category ( 5~6), post primary category ( 7~9), Junior category ( 10~12), senior category ( 13~15) and senior secondary category( 16~18).
Children representing all districts can submit their creations to: Commissioner, Department of Probation and Child Care services, 3rd Floor, Sethsiripaya Stage II, Battaramulla.
The deadline for submission of creations is July 25. You should write "World Children's Day Painting Competition 2022" on the upper left corner of the envelope.
Guidelines
01. Artists may decide the medium for their art works.
02. Only the expressive paintings will be accepted.
03. The maximum dimension is 18× 14 inches.
04. Certify that the content in the artwork is your own.
05. Don't present previously submitted artworks.
06. Your application must be correctly filled out and attached to the back of your artwork.
07. An independent and non-partial panel will judge your artworks.
08. Winners will be presented certificates and cash prizes.
As noted by Sudheera, both events organised by the Department of Probation and Child Care Services parallel to the World Children's Day will stimulate children's creativity.
One of the main objectives behind these events is to awaken the sensitivity in children's minds through their paintings and short films.
There are talented children in far flung areas who do not have a platform to showcase their skills. From their perspective, the above events can guide such children on the right path.
On the other hand, this event will become an opportunity for children to console their hearts disturbed by the global pandemic and the current economic crisis. All in all, we have no doubt that the younger generation, if guided in the proper manner, can elevate the country's name up to the highest level on the world map.