The National Olympic Committee (NOC) of Sri Lanka celebrated Olympic Day with a group of young and old people walking for about two kilometres at Torrington Square on Thursday. The number of participants had to be limited due to the chaotic situation faced by the people in the country, but they went through the celebrations in keeping with nearly 204 other countries worldwide who celebrate the birth of modern Olympics on this day. French ambassador Eric Lavertu as the chief guest during the 74th anniversary celebration.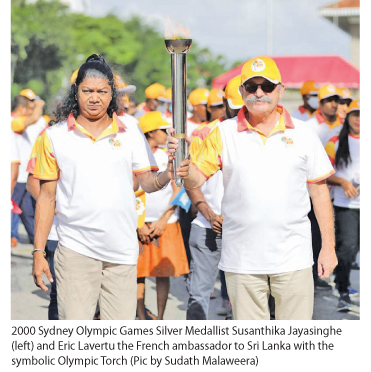 The Olympic Torch was carried around by Olympic silver medallist Susanthika Jayasinghe and three-time Olympian Niluka Karunaratne to the tune of a band that accompanied the group. On their return to the NOC headquarters the torch was handed over to NOC president Suresh Subramanium and secretary general Maxwell de Silva to be placed on the podium.
Subramaniam said that they were gathered at this venue together to celebrate the symbolic anniversary of the birthday of modern-day Olympics.
"By adding the word together, which is the latest addition to the Olympic motto, means to Reach faster, higher, stronger together'.
"The celebration in Sri Lanka provides us a strong commitment to bring athletes, National sports federations and other organisations to stand together and achieve a better future for Sri Lanka through sports and Olympism," said Subramaniam.
"IOC President Thomas Bach explained his commitment by changing the original motto 'solidarity fuels our mission to make this world a better place, through sport. We can only go faster, we can only aim higher, become stronger by standing together," he added.
Another significant feature was the quiz programme conducted under one of the Olympic Day pillars of Move, Learn and Discover. There were 275 participants altogether. The winners of the contest were Rahul Jeyanthan, Akarshana Premkumar and Lemuel Pathmapuvanendran.
The French ambassador spelled out the significance of June 23 and the Olympic Day Run.
"We are gathered today in the NOC of Sri Lanka, more than 10,000 kilometres from France and 85 years after the death of Pierre de Coubertin – father of modern Olympics. Could Coubertin have imagined that one day his will and his heritage would be celebrated in Sri Lanka?" he said.
"His ideas have indeed crossed the planet. The sport values he wanted to promote are universal and timeless: sharing, friendship, joy in effort, always doing your best… Of course, it would be easy to refer to Duncan White and his silver medal in 400 metres hurdles at the Olympics Games of London in 1948, or Susanthika Jayasinghe and her silver medal in 200 metres at the Olympic Games of Sydney in 2000. They are, of course, great athletes," noted the ambassador.
"I am aware that the Commonwealth Games are coming soon and I would like to take this opportunity to wish all Sri Lankan athletes good luck and a good competition," he said.