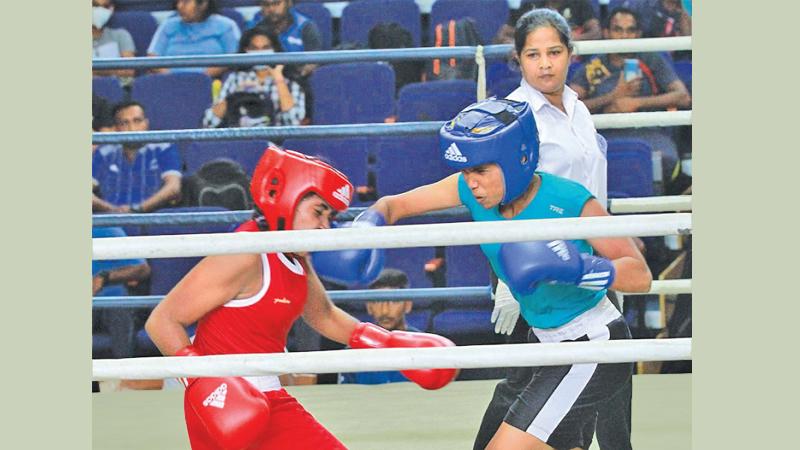 A high standard of competition was witnessed over five days at the Novices Boxing meet for men and women conducted by the Boxing Association of Sri Lanka (BASL) at the Royal MAS Arena where some bizarre decisions also took place.
Starved of competing for almost three years, there was plenty of fire in the bellies of pugilists in a tournament meant to unearth new talent. However, the standard of officiating came under fire as usual with boxers and coaches alike being perplexed by some weird and bizarre decisions despite the best efforts of international star-class officials to maintain standards.
Police pugilists were a revelation displaying superb technique and fighting skills to bag a total of 16 medals comprising four gold and five bronze (men) and one gold and three silver (women).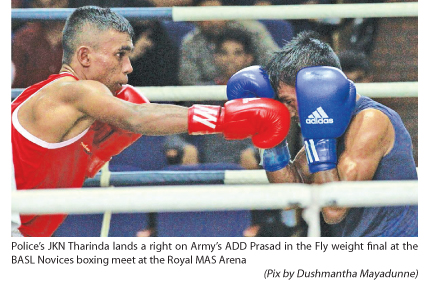 They also produced the Best Boxer (men) of the meet in Kavinda Chethiya Ekanayake, a two-time Stubbs winner who won a split decision against Navy's Samarakoon in the Light Welter weight class to be awarded the Danton Obeyesekere Challenge trophy. Samarakoon received the Best Loser's award.
Army women dominated the women's division bagging three gold, four silver and three bronze medals including the Best Boxer (women) of the meet BA Nethmini who won a split decision against Police's Sewwandi in the fly weight contest. Sewwandi received the Best Loser's award. The Army men pugilists also won four gold medals, four silver and seven bronze medals.
Navy had eight finalists (men), winning four gold and four silver medals with Light weight champion southpaw Dayarathne prevailing over a tough Army fighter Kumara in the feather weight final.
Although it was a tournament meant for novices, it was surprising to see the silver medallist at the Nationals also taking part. "Sri Lanka is perhaps the only country where boxers who have won medals in a major meet taking part in a lower meet. The novices meet is meant to be a qualification to take part in a major meet but they don't get a fair chance to do so. The BASL should bring a regulation barring medal winners of major meets (Clifford Cup, Layton Cup or Nationals) from participating in a novice meet," quipped a coach.
Former national champion and Sri Lanka boxer from Air Force Srilal Gomes was more forthright in his observations. "Favouritism is the bane of boxing in Sri Lanka. Some boxers are at the receiving end of bad decisions because judges are partisan. Also, our aim should be to produce scientific boxers and not fighters," said Gomes.
In one instance, a boxer who dominated the opening round was denied a possible medal when the referee failed to stop the bout and did not even count after his opponent was dropped to the canvas with a barrage of blows. It got even more curious when the ringside doctor who is empowered to 'inform the Technical Delegate to stop the Bout if a competing Boxer appears unable to continue' intervened when a boxer bounced back after receiving a single blow and not "multiple blows" as deemed by the medical officer even though the referee signalled the bout to continue stunning even the judges. Strangely this was the only bout which was stopped by the ringside doctor without any sign of facial injury or profuse bleeding.
"They are killing boxing instead of encouraging newcomers by giving such decisions. Boxers are seasoned to receive punches during training just like a cricket bat is to a ball. If the doctor can give such decisions, he should qualify and sit on the panel as a judge," said Gomes.
"The rules have changed for the safety of boxers but what's the criteria for the medical officer (MO), just judgemental? His decisions could trigger due to over-reaction. If it's so it's detrimental to the boxer. It's worth probing into the methodology used in MO's decision process," said Commodore Edward de Silva (Rtd), a former referee/judge and national selector.
Final results
WOMEN
Minimum weight (48kg) – WN Sandeepani (Police) beat WIM Wickramasingha (Police)
Light (50kg) – WWNL Kumari (Upcountry Lions) beat PM Vidanagamage (Police)
Fly (52kg) – BA Nethmini (Army) beat WADI Sewwandi (Police)
Bantam (54kg) – LIN Malshani (Air Force) beat KL Sadareka (Army)
Feather (57kg) – KBSL Ratnasiri (Army) beat MDP Manathunga (Army)
Light (60kg) – M Menuka (Vavuniya District Boxing Association) beat AGAW Ratnayake (Army)
Light Welter (63kg) – S Thanusha (Vavuniya DBA) beat HHM Sankalpani (Army)
Welter (66kg) – YGAM Aamarathunga (Army) beat K Kokula Vathani (Vavuniya DBA)
MEN
Minimum weight (48kg) – MAT Sandeepa (Army) beat Bookic Prabath (Navy)
Fly (51kg) – ADD Prasad (Army) beat JKN Tharindu (Police)
Bantam (54kg) – HJC Lakshan (Police) beat DRVM Bandara (Police)
Feather (57kg) – EWA Sadaruwan (Navy) beat GJKRJ Kumara (Army)
Light (60kg) – MGPKP Dayaratna (Navy) beat NBASN Kumara (Army)
Light Welter (63.5kg) – HMKC Ekanayaka (Police) beat SMCS Samarakoon (Navy)
Welter (67kg) – IPK Ilangarathna (Police) beat DMG Dilshan (Western Ringside Revolution)
Light Middle (71kg) – SHTU Kumara (Navy) beat WAM Abeyrathna (Air Force)
Middle (75kg) – GW de Silva (Air Force) beat WDK Jayasingha (Navy)
Light Heavy (80kg) – PSP Deshapriya (Navy) beat SK Jayasena (Army)
Cruiser (86kg) – ARSD Thilakarathna (Army) beat AWA Madushan (Navy)
Heavy (92kg) – GMPD Bandara (Police) beat J Tharshihan (Police)
Super Heavy (92+kg) – UA Avishka (Army) beat DSL Senevirathna (Army)