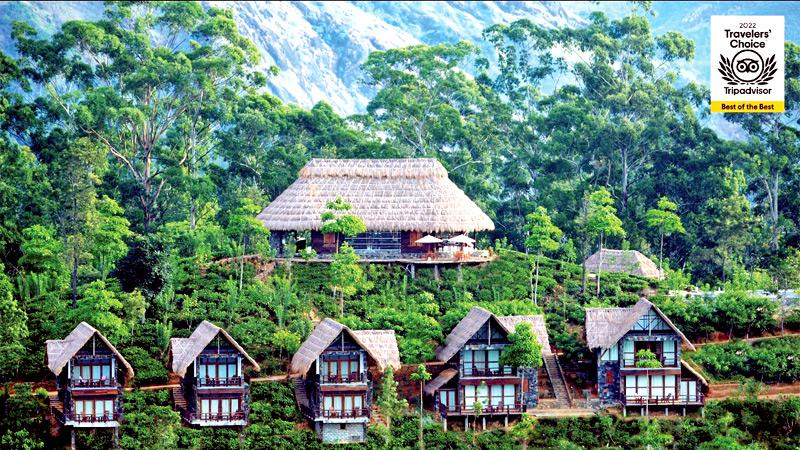 98 Acres Resort & Spa, a subsidiary of UHE Group, was recently recognised as one of the 'Best of the Best' in the 2022 Travelers' Choice Awards, under the category 'Best Romantic Hotels - Asia' by TripAdvisor.
The list included 19 other winners from the Asia region, including luxury properties from Maldives (10), Thailand (05 - including one property from the Phang Nga Province), Malaysia (02), Singapore (01) and one other property from Sri Lanka. 
The luxury resort & spa continues to pique the interest of international travelers. The recent addition of the 'Ravana Pool Club' - Sri Lanka's first international Pool Club, along with 'Flying Ravana' - the mega zipline and adventure park, to the 98 Acres repertoire are part of an extended leisure experience available to both in-house guests of the property as well as visitors to Ella. The famous property that continues to garner praise across the globe has played a pivotal role in promoting and expanding Ella's tourism prowess - making it a noteworthy and aspirational holiday region that many believe will soon rival Bali as a luxury leisure destination
98 Acres Resort & Spa, Group General Manager Inthikab Alam said, "98 Acres Resort and Spa has always been dedicated to pave the way for Sri Lanka Tourism as a beacon of excellence in hospitality. What started off as a tea estate turned boutique hotel, has now evolved into a regional phenomenon, with many local and international tourists flocking to 98 Acres, as it is considered a vital part of the Ella (and luxury Sri Lanka) experience."
With Sri Lanka's current economic climate, tourism has become a vital industry to aid in the country's recovery through revenue boosts, job creation, infrastructure development in particular for digital nomads and the traveling millennial and zoomers. Through the continued efforts of brands such as 98 Acres Resort & Spa, the increase in tourism flow is expected to bring positive economic outcomes for Sri Lanka (short-term and long-term), particularly where Gross Domestic Product (GDP) and employment opportunities are considered.