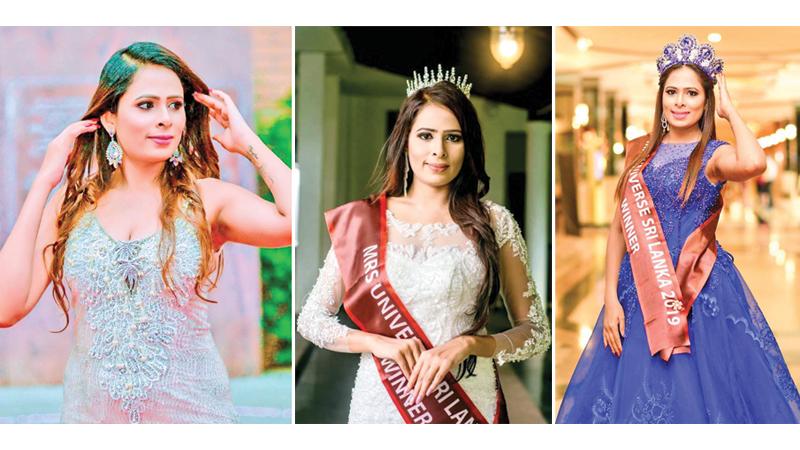 Youth Observer had the pleasure of talking to a woman, who was able to give her crown a voice over the years in the pageant industry winning on international platforms and is currently the National Director of Mrs. Tourism Sri Lanka 2022 – Thilini De Silva
She being a crown holder of various titles nationally and internationally has always brought value to that position as well as the crown she bears by performing great services to the society and working dedicatedly for the needy, women and children throughout the years.
Sri Lanka holds a top position in the tourism industry. Climate, topography, beaches, ancient heritages, food and beverages, and sanctuaries are all places where Sri Lanka stands attractively to the world.
The value and purpose of a Mrs Tourism pageant is to attract tourists to a country as well as to take a country's locality, culture and cultural elements to the international platform.
Sri Lanka presents the daring and eternal queen, MrsThilini de Silva, who was crowned Mrs Tourism International in 2019 for the invaluable mission of showcasing Sri Lanka on an international arena.

Besides, she is a truly fortunate woman who has realized that the value of going international representing her country remains in her hands, even in the midst of epidemics and economic issues.
Thilini receives immense support and encouragement from her family continuously.
Even when the country and the rest of the world as a whole were battling against the corona pandemic, Thilini had a genuine desire to ignite the ashes and give light to others, by revealing the world about our Sri Lanka, which is nurtured by our unique food patterns, history and an overwhelming knowledge system that plays a significant role in attracting foreigners to visit Sri Lanka.
Thilini holds a degree in Bachelor of Human Resource Management. She had received her education from Ananda Girls' School, Colombo and St. Paul's Girls' School, Milagiriya. In addition she has studied beauty and hairdressing in Sri Lanka and internationally. She is currently the owner of a beauty salon as well as holds the Director title of Gold Ray Productions.
As a social activist, she aims to play a dignified role in society for the well-being of women and children as well as religious co-existence. She was once the crown bearer of Mrs. Tourism Sri Lanka International 2019, Mrs. Universe Famous China 2019, Mrs. Tourism Ambassador Philippines 2019, Mrs Universe Sri Lanka 2019, and Mrs. Best Catwalk 2019. She has been instrumental in elevating Sri Lanka to international prominence throughout the years.
Thilini's commitment in uplifting the Sri Lankan tourism industry has become her main objective of life. She presents her vision and suggestions on that; "The existing education system in Sri Lanka needs to change. Education must be equipped with a goal that can even be geared towards international employment opportunities.
"The promotion of local products should also be encouraged. Looking at the challenges we face as a country today, we can gain international attraction by building the future of Sri Lanka.
"No other country in the world has a unique and different climate, food and beverages, endemic flora, clean water and a cultural heritage such as ours. If we understand this situation and manage it properly, we can make our country a tourist paradise without any hindrance. Everyone in our country, big or small, has a responsibility to make a commitment in uplifting the nation. We Sri Lankans, who are born with the highest level of hospitality, will no doubt be attracted to tourists," she said.
Thilini sets a unique example for all married women with her grace and intuition.
Asian married women don't have many pleasant and beautiful stories within. Therefore, Thilini brings this good news to women who are committed to the nutrition of their children in the midst of domestic violence and persecution.
Mrs Tourism Sri Lanka 2022 pageant is open for all those beautiful married, divorced, widowed and even separated personalities living in all parts of Sri Lanka to experience and win internationally and to be a part of the Mrs. Tourism Sri Lanka 2022 pageant powered by Gold Ray Productions. Thilini de Silva, the National Director of Mrs Tourism Sri Lanka 2022 pageant, is shouldering the responsibility of mobilizing women to bring fame to her motherland with the love and care of a 'mother.'
Thilini is fulfilling her duties and responsibilities by sharing her experience of the local and international crowns she has won so far with the married women who will be a part of this year's Mrs Tourism Sri Lanka 2022.
It is no secret that at present there is a need to strictly implement strategies to uplift the living standards of Sri Lankan women and children. As the Mrs Tourism International Sri Lanka 2019 crown bearer, Thilini de Silva focuses on all such areas, with a passion of improving the living standards of oppressed women and children. She is at the forefront of equipping a country's population with 'knowledge' about natural beauty as well.
The art of challenging obstacles feels like Thilini's lifestyle, based on the depth of the questions given to the women who auditioned in the first round of Mrs Tourism Sri Lanka 2022 pageant.
Truly a woman is not as naïve as she looks on the surface. We live in an era where there is a strong need for a generation of women who are endowed with wisdom, combined with a woman's innate ability to endure, persevere and wipe away her tears. Thilini strongly believes that one's life will begin to change positively from the moment she begins to value herself.
The National Director who is committed to crowning married, divorced, widowed and even separated ladies and mothers armed with beauty and wisdom, extends a very cordial invitation to challenge all your life challenges to represent Sri Lanka on an international platform through taking part and winning the title of Mrs Tourism Sri Lanka 2022. If you have not yet applied to take part in the pageant, please submit an e-application through the Mrs. Tourism Sri Lanka 2022 Facebook page.
"Auditions of the pageant are all set to take place," Thilini said.