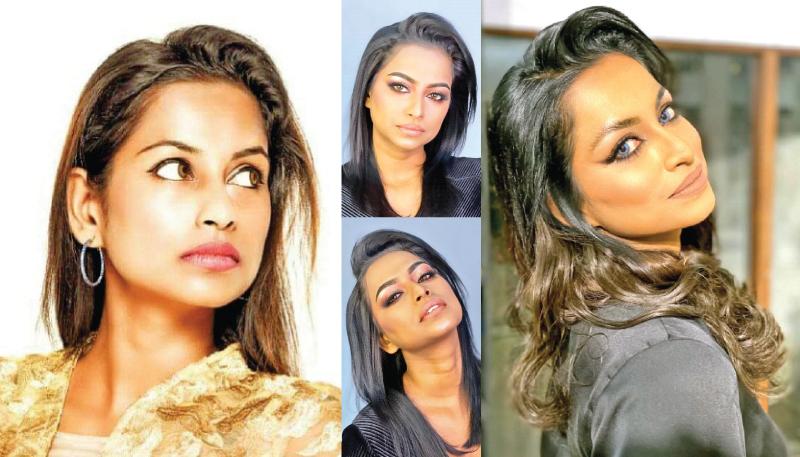 Girls with beauty and brains are as rare as diamonds. Sri Lanka's flagship youth magazine , the Youth Observer caught up with such an amazing girl who positioned the country's name on the world map. She is Sabeetha Ruwanmali Wanniarachchi is endowed with beauty and intelligence. Having brought glory to the mother land , she has become a radiant hope for the country's modelling industry. Let's see how she embarked on her journey in this extremely competitive field.
Born on December 15, 1995 in Colombo , she had her education at Sri Piyarathana Central College, Padukka and Visakha Vidyalaya, Colombo. Sabeetha completed her Bachelor's degree at the University of Northumbria, Newcastle, UK and her MBA at the University of Gloucestershire, Uk. At present, she is getting ready for her DBA while working at the IDM Kandy Campus as the Operations Manager.
Achievements
Sabeetha, who represented the country in the Miss Tourism World 2017 Pageant was fortunate enough to win the title of Miss Tourism World Sri Lanka 2017. She was selected to the top six in the Miss Grand International Sri Lanka 2016. Amazingly, Sabeetha wowed the audience by winning four mini pageants in Miss Tourism Sri Lanka 2017.
It is significant that it was Sabeetha who c won the most titles such as Miss Personality, Miss Intelligent, Miss Best Cat Walk and Miss Talent at the event. In addition, proving her skills and endless dedication, Sabeetha won the title of Miss Lumiere International World 2018.
Her childhood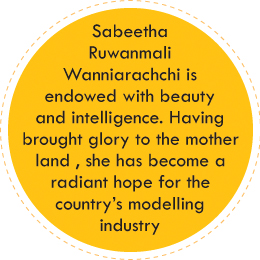 Going down memory lane , Sabeetha recalled her childhood with much love. She was a distinguished student in her studies and sports. "I played netball and vollyball and worked for many clubs in my school." We know that Sabeetha who has made a name for herself as an energetic model is an active character. Obviously, now is the time to drag yourself from your chair to the garden. Don't be afraid of the sun's rays. You can do many physical activities to improve your health. How doesSabeetha improve her health?
"I always drink water as much as possible and walk as much as I can. I often use natural ingredients like aloe vera and sandalwood" she said . Sabeetha never uses artificial cosmetic products to maintain her skin colour.
As noted by Sabeetha, the natural ingredients can boost skin health and reduce the risks of skin cancers. Some of the natural ingredients that people love to use for skin care include aloe vera, tea tree oil , argon oil and etc. The reason why people use them is crystal clear.
Natural ingredients unlike chemical products have healing properties and they are effective in treating skin conditions. Sadly, most young girls are in the habit of using chemical cosmetic products for quick results. However, regrettably, most youngsters are unaware of the side effects of such artificially anufactured products.
Speaking of the support from her parents, it is evident that the great pillars behind her success are her parents. " Not only do our parents protect us but also inspire us. "
"Without my parents' support I would not have been able to win my life's goal. It was a long journey. The support from my parents and friends are always with me." Sabeetha said.
Sabeetha speaks Sinhala, English, Tamil , Hindi and Malayalam.
It is clear that you can broaden your horizon if you can speak more than two or three foreign languages. If you can communicate in more than three languages ,you are a polyglot.
"I have realised that different people have different qualities and attitudes towards each other. I wanted to learn languages to get to know everything and everyone. Learning languages will enrich you with a profound knowledge because language is the main tool with which we share knowledge with one another in any part of the world. Without language, we will not be able to reach any level of success. So, I will learn more languages, as many as I can.
"Sabeetha said. She always tries to use her inborn skills. To my question as to whether she has a passion for the cinema , she replied, "Yes, of course. If I can get a good character through which I can showcase my talents, I will definitely work for the big screen."
Unforgettable memories
We all have beautiful memories in our lives. To my question about Sabeetha's memories, she said," The day when I graduated from the university, the day when I completed my MBA and the day when I became Miss Sri Lanka are the unforgettable memories in my life. The moment when I knew that I won the international crown in Miss Lumiere International World 2018 held in Malaysia and Singapore is also one of my unforgettable memories.
In 2021, on my birthday, I got a boat ride in Nuwara Eliya. That experience was amazing for me.
" There are lessons that we can learn from her. In our society we find many nay sayers and day-dreamers. Sabeetha, has made her parents proud. "I am buiding my own home. Construction work is nearing completion. When I get my salary I never forget to buy new clothes and essentials for my parents. That feeling is something which I cannot explain. So, I have achieved so many things."
Importance of education
Sabeetha started her career as a model after she graduated from the University of Northumbria, Newcastle, UK and did her MBA at the University of Gloucestershire, Uk. At present, she is getting ready for her DBA. As noted by Sabeetha ,the most important asset is one's education. True, that if you are well educated , there will be more avenues for you. " I was crowned as a beauty queen. I could win the crown not only because of my beauty but also because of my education.
Education is the first priority." She stressed.
Her message
"Modelling is my passion and my desire. I balance both my career and modelling life. Life is what you have done for the society as a whole. Educate yourself, work and earn money in lawful ways. Be kind to everyone."
Sabeetha though crowned as a top model in the country is humble and a well grounded person. "I walk to the town in slippers and talk with homeless people to treat them within my capacity. Titles that you can win are not permanent. Be a nice person to everyone within your life time. Don't forget to enjoy your life without harming others living on this planet."