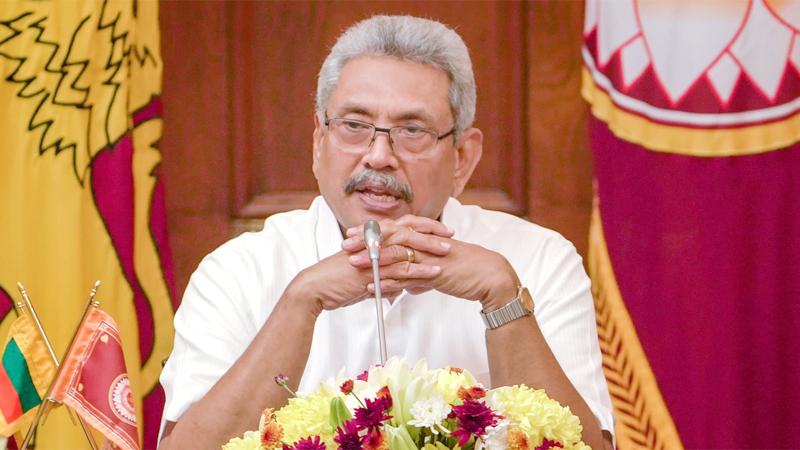 President Gotabaya Rajapaksa has called upon the Pakistani Government to ensure the safety of Sri Lankans in Pakistan, in a statement issued after the cold-blooded murder of a top Sri Lankan executive in Lahore by religious fanatics on Friday. The President who is in Abhu Dhabi attending the Indian Ocean Conference (IOC), said the incident, an act of barbarism, was a shock to all Sri Lankans and everyone who values humanity. "Such incidents remind us that the world must unite against extremist forces," he said, expressing deep condolences to the Engineer's family.
The leader of the mob which killed the Sri Lankan executive in Lahore and a hundred others were reportedly arrested by the Pakistani police on Saturday after Prime Minister Imran Khan vouched maximum punishment for those involved.
Taking to twitter, the Pakistan PM said, "The horrific vigilante attack on a factory in Sialkot and the burning alive of the Sri Lankan manager is a day of shame for Pakistan.
I am overseeing the investigations and let there be no mistake, all those responsible will be punished with full severity of the law. Arrests are in progress."
Engineer Priyantha Kumara Diyawadana, 49, who worked as a General Manager of a garment factory in the Sialkot district, 100 kms off Lahore was lynched and his body was burnt by an angry mob of religious extremists in front of his workplace.
The horrific footage of the brutal torturing and the subsequent burning of the body, while hundreds looked on, was captured on cellphones and shared widely on social media. The police arrived at the scene after everything was over.
International media reported that he had torn a poster with Quaranic verses, put up on a wall next to his office by a hardline Islamist party and was accused of blasphemy.
However, his friends believe there is another side to this incident.
"He had been living in Pakistan since 2009 and he was aware of the religious extremism prevalent there. It is highly unlikely that he would do a thing like that," Chairman, Sri Lanka Insurance Corporation and a batchmate of Priyantha at the Peradeniya Engineering Faculty, Vijitha Herath said.
"We want justice for Priyantha Kumara," he said, adding the Engineer, whom he had associated with since 1995, was known for his decency, honesty and integrity.
"Priyantha spoke to his wife the day before but did not mention anything about unrest at the factory," Herath said.