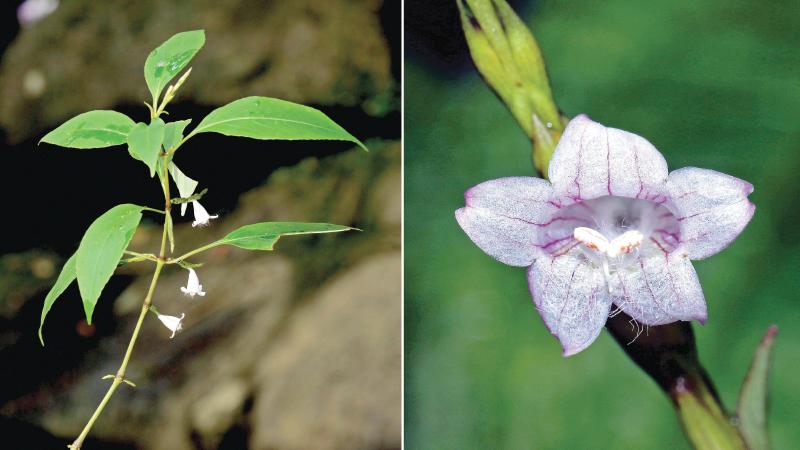 It has long been established that the environment around us is wonderful as ever. What happens in and around the environment, particularly the plant-related events that are a major component of the environment, is sometimes unbelievable.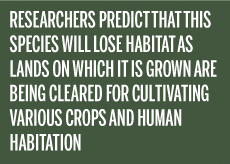 Against this backdrop, what a wonderful event it was to rediscover a plant species, which is endemic to Sri Lanka and that had previously been recorded decades ago.
A group of researchers have been able to discover a rare plant species, which is endemic to Sri Lanka in the Gulawita North Grama Niladhari Division adjacent to the Nawalakanda Forest System in the Walallawita Divisional Secretariat Division.
Kalutara
The species, scientifically known as Strobilanthes Rhytisperma, was last reported in the Central Province in 1867 and in the Ranwala Forest Reserve in the Kalutara District in 1971, but no living specimens were found.
Although this species has been identified as a species restricted to research notes as it has not been recorded anywhere else in the country, it has been identified by Peshala Pasan Karunaratne, an environmental researcher who has been studying the species.
Strobilanthes Rhytisperma
Following the discovery of the plant by Karunaratne, a research team including Himesh Dilruwan Jayasinghe, Renuka Nilanthi Rajapaksa and Nuwan Chathuranga Jayawardena, who are conducting research on plant species at the Department of Wildlife Conservation, confirmed that this lotus species is Strobilanthes Rhytisperma.
The name of this plant in Sinhala has not been identified yet and as it is endemic to Sri Lanka, there is no name for this species in English or any other language either. Therefore, it has been scientifically named as Strobilanthes Rhytisperma.
Species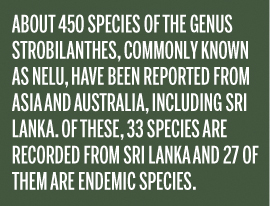 About 450 species of the genus Strobilanthes, commonly known as Nelu, have been reported from Asia and Australia, including Sri Lanka. Of these, 33 species are recorded from Sri Lanka and 27 of them are endemic species. Although no live plant specimens have been found so far, researchers believe the species may have been more widespread in the past, and the new findings confirm the evidence.
According to research notes, this species was recorded about 50 years later. According to the 2020 International Union for Conservation of Nature (IUCN) Red List, this species is listed as a critically endangered species.
Researchers predict that this species will lose habitat as lands on which it is grown are being cleared for cultivating various crops and human habitation.
The forest system where this plant was found is also a small forest area inhabited by human settlements with lowland wet zone forest features such as Sinharaja and Kanneliya. These small forest systems, which are home to a number of extremely rare plant and animal species, have not yet been formally studied, and it is hoped that if such a formal study could be conducted, many previously unknown species could be identified.
This will enable the conservation of such rare and endangered species and pass on these species to future generations.