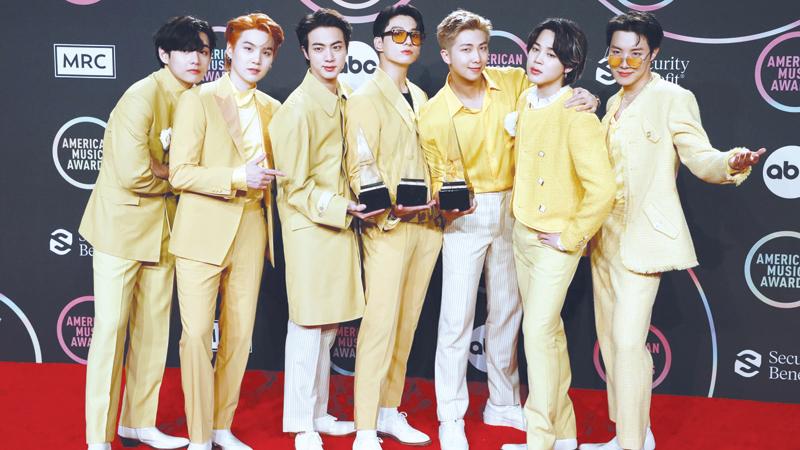 Yes, that was right another American Music Award edition. The American Music Awards 2021 was held on November 21, in Microsoft Theater at Los Angeles. The Ceremony was hosted by Cardi B who was dressed in several attires for the show.
The function was attended by artistes all around the world, including Becky G, JoJo Siwa, Maneskin, BTS, Coldplay and Bad Bunny. The fabulous night included performances of Olivia Rodrigo with "Traitor", Giveon bringing back his "Heartbreak Anniversary", and Chole Bailey spicing it up with "Have Mercy". Never to forget Queen Jelo with "On My way".
The Award show was a crystal win for Boy Band BTS who took away three Awards home, with two head blowing performances.
BTS secured Favorite Song for "Butter", Favorite Duo or Group as well as the most Sophisticated Artist of the Year. They paid their gratitude to their beloved ARMYS, who had been excited since the previous week for their appearance. "This whole thing is a miracle. Seven boys from Korea united by a love for music met the love and support from all the ARMYs all over the world. This whole thing is a miracle. Seriously, we'll never take this for granted. Thank you so much," said Leader RM after winning the Artiste of the Year award.
BTS created history by becoming the first Asian Artiste to win the Artiste of the year.
Taylor Swift won two awards, Favorite Album for "Evermore" and Favorite Female Pop Artist. As she wasn't present during the show, she joined through video conference technology to address her fans.
With the ongoing pandemic, Jason and Carrie Underwood had an pre-recorded performance of "If I didn't Love You". Favorite Hip Hop Male artiste was captivated by all time legend Drake, whereas Its Female award went to Megan Thee Stallion. The Weeknd, Doja Cat won the Favorite R and B Artiste Male and Female. Remarkable yet Cardi B won the Favorite Hip Hop Song for her "UP". This time too Becky G lifted the title for "Favorite Female Latin Artiste of the Year".
The fact that she, Bad Bunny as well as BTS Suga spoke in their native language in an American Award Show speculated the media making fire.
BTS staged their collaboration with Coldplay "My Universe", which was really heartfelt. Amid this performance, BTS fan chants were louder than ever portraying the power of their fandom.
American Music Awards this year was basically a whole different experience in the Microsoft Theatre. Although not whole lot personas participated, the award show as a unit was powerful and mind blowing.
Olivia Rodrigo brought in a whole new run with her win as "New Artiste of the Year". Considering the performances of this night, Chloe takes a special place too.
Nevertheless, the award show had a bit of controversy over not letting country singer Morgan Wallen to include in the show by any means. It was stated by a statement "Wallen is a nominee this year based on charting. As his conduct does not align with our core values, we will not includ him on the show in any capacity (performing, presenting and accepting). We plan to evaluate his progress in doing meaningful work as an ally to the black community and will consider his participation in future shows."
Initially it was announced that BTS were taking part for butter with Meghan Thee Stallion, but it didn't work as planned, due to Meghan's personal reasons.
Despite these, the ceremony gained a huge attraction for its unbinding performances and wins. It must be said that Cardi B hosted the show flawlessly, which indeed created it to become one of the greatest ceremonies this year. The show ended with an energised Butterfull performance of Favorite song "Butter" by BTS, brushing up the ceremony smooth like butter.