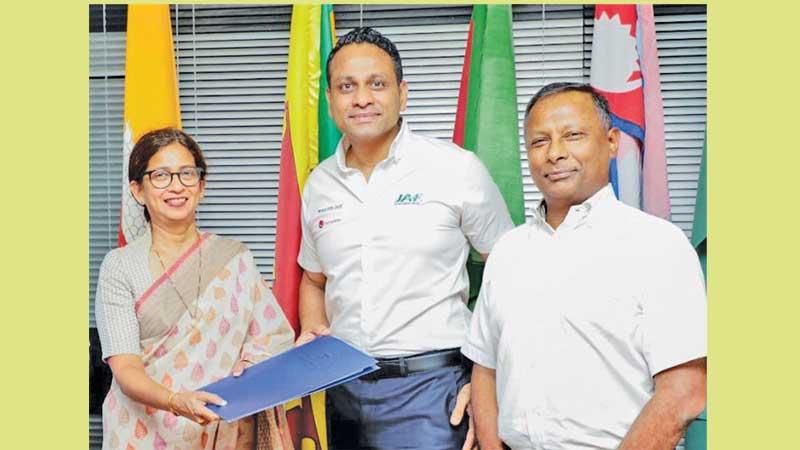 In a move to stamp out bullying and predation in basketball, the Basketball Federation of Sri Lanka (BFSL) signed the 'Safe Sport' policy in sport mooted by the National Olympic Committee of Sri Lanka under the auspices of the International Olympic Committee at the NOC headquarters this week.
Like several sports where predators and maniacs carry on with impunity, the BFSL is confident that by signing the groundbreaking agreement they are hopeful of making the sport safe for the players to enable wider participation.
Explaining their stance, newly elected SLBF President Aelian Gunawardena said: "Basketball like any other sport particularly a sport that is played by both females and males, require that the players are kept safe when it comes to the coaching staff, management staff and the parents. Essentially it has to be a safe place for all participants.
"It also has to be safe among the players as well. You have to be mindful of seniors bullying the juniors and harassing them in other ways. It is important that it has to be a safe place for the juniors to be in the sport.
"Even in schools the younger players may be competent to play alongside the seniors, but are weary owing to the said reasons.
"But if there is a laid down policy which spells the way that a player or anyone connected to the team could be penalised by the Federation through the National Olympic Committee of Sri Lanka, it might be a good way of making players feel safer and I believe this is the whole purpose of it. Then even if there is a predator they would be mindful and back off".
Gunawardena further said that he was elected to the chair two months ago and one of the very first acts of the new body was to appoint a new code of conduct taking the salient points from institutions like the NOC and other sports bodies.
He said that when there is a policy laid down on paper there is a mechanism to address particular situations.