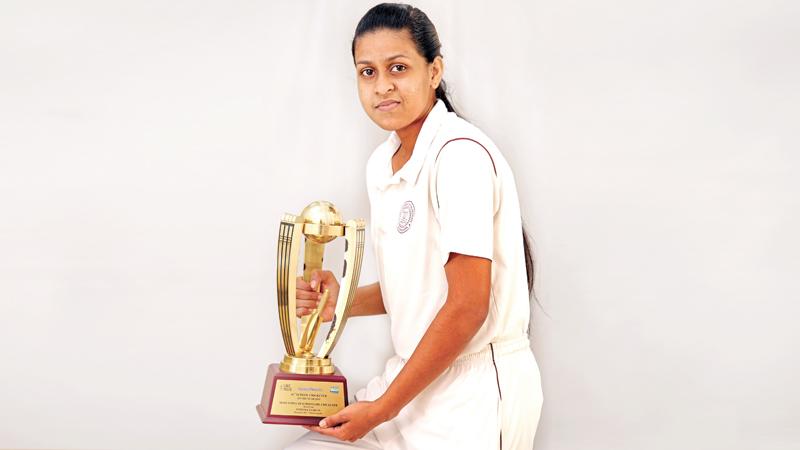 Somewhere behind the athlete you've become and the hours of practice and the coaches who have pushed you is a little girl who fell in love with the game and never looked back… play for her – Mia Hamm
Playing a sport to the best of one's ability, not only needs a great amount of practice but also needs dedication, patience and the ability to balance one's emotions and actions.
The aforementioned quote by the American soccer player, Mia Hamm perfectly describes the young and shining, sportswoman Nimesha Tharuni Wijesundara. Nimesha, who hails from Minuwangoda in the Gampaha district has dreamt of playing cricket ever since she was a little girl and never gave up on her dream.
Through hard work and dedication, the young and inspiring sportswoman proved to society that balancing the life of a young person and working tirelessly towards one's dreams is something that although tough, is definitely not impossible, by winning the title of Observer Mobitel Most Popular Schoolgirl Cricketer of the Year - 2020.
Speaking to Youth Observer, Nimesha Wijesundara shared her experience throughout her inspiring journey as a young cricket star and her beliefs on the game, sports in general and the life of a sportsperson.
Q: You received 60,003 votes for the Observer Mobitel Most Popular Schoolgirl Cricketer of the Year 2020 title. How does it feel to hold such a title?
A. I am so happy to have achieved this title. When I competed last time, I was able to secure the second place and since then I was confident that with a little harder work and dedication, I would be able to secure first place and the title. I am very happy that that dedication resulted in achieving what I expected.
Q: What sparked your interest in cricket? Has playing the game always been a dream of yours?
A. Playing cricket has always been a dream of mine. My interest in the game began when I was a little girl and I would spend time watching children in the neighborhood play cricket.
Q: Do you have a role model whom you look up to with regard to the sport?
A. Yes. Just as many other young people and sportsmen, I too have a role model in cricket to whom I look up to. The legendary Sri Lankan cricketer, Mahela Jayawardena is my role model and I aspire to be able to play the game like him in the future.
Q: Who has been your inspiration within or outside the game of cricket to play the game as well as you do?
A. The people in my life who have encouraged and helped me in countless ways to achieve the heights that I have achieved so far are my parents, my coaches who have trained and helped me on the field all throughout, the principal and teachers of my school and the officials of the school cricket board.
Q: As a sportswoman, what qualities do you think are essential for a good cricketer or sportsperson in general?
A. I believe that any good sportsperson should first and foremost possess the quality of patience. Unity and togetherness, being able to accept victory and loss equally and of course the ability to respect and help one's teammates and fellow sportspeople, are also qualities that I believe should be inculcated within a person in order for that person to truly become a great sportsperson.
Q: What are the main and best life traits that sports has taught you?
A. Playing this sport has taught me the best way to face challenges that come my way, in life.
Q: What are the main reasons you like to be a part of team sports?
A. When you are a part of a team and when the team is united, facing challenges and overcoming the challenges is easy and fulfilling.
Q: How do you cope with the pressure you feel during or before tournaments?
A. When I take part in tournaments, I face a lot of pressure and stress. That is a part of the game and life in general and the way in which I personally cope with these pressures is by taking deep breaths to calm myself down and console myself by having heart-to-heart conversations with my teammates.
Q: What is your favourite reason to compete in tournaments and against other teams?
A. Competing against other teams, although is stressful and tough sometimes and requires a lot of practice and dedication in order to win, what I most enjoy about doing so is being able to prove to myself and others that once I put my mind to it, there isn't anything that I cannot achieve.
Q: As a star player and/or captain of your school team, how have you learnt to shoulder the weight of the team and the other players on the team alongside you?
A. As a captain, it is not easy to carry the weight of the team on your shoulders as sole responsibility of the team, on the field and off rests on you. However, I was able to win the hearts of my teammates and through the rapport I built with them, I was able to get their attention, dedication and help to work as a team and improve the overall skills of the team.
Q: How were you able to dedicate yourself to the sport to reach the heights you have reached?
A. Of course, it was not a simple feat to handle my life as a sportswoman while also being a student. It was a huge amount of dedication, on my part that helped me to balance my studies and school life along with my training and the life of a cricketer. To maintain this balance, I worked tirelessly day and night.
Q: As a young person, how were you able to balance the other aspects of your life with your dedication to the game?
A. Something that is common to most young people today is the difficulty of navigating their day-to-day lives due to the large number of external factors that play a part in them. However, I was able to do so by playing the sport with mental clarity and discipline and balancing my life as a young person, simultaneously.
Q: Have you ever experienced any bias or discouragement inflicted upon you as a result of your gender or personality within the field of sports? If so, how did you overcome them?
A. Yes, I have faced many burdens and challenges especially in the field of cricket. However, I overcame all such burdens by enduring all the negative feelings that I felt and facing issues directly.
Q: What has been your support system while growing up and in cricket?
A. My support system comprises people in my life who have truly been there for me and helped me through all that I faced in life and with regard to cricket there are several including the principal of my school S.A.S Pushpakumara who provided me with all the resources I needed and gave me the opportunity to achieve what I have achieved, my first coach S.B. Senanayaka who created the foundation of my cricket career, my current coach Miss Thilini Lakshika, the teacher-in-charge of sports in my school, Miss Priyanka Ranasinghe, the teacher-in-charge of the female cricket team, Miss Gayani Lalanthika as well as two of the most unforgettable teachers in my life, Dayal Pathirana and Irosh Godallawatte.
I am also grateful to all my teachers, the members of the school cricket association, my fellow students, my teammates and Vijitha Bandara who was a great pillar of strength to me. Of course, I owe everything to my parents, siblings and relatives.
Q: Is there any specific sportsperson or team that you would like to meet or play against in the future?
A. Yes, in the future I really hope I get the opportunity to play against the incredible Sri Lankan cricketer, Sanath Jayasuriya.
Q: What do you hope to achieve in the near future with regard to your personal dreams and your passion for the sport?
A. One day I hope to be a member of the Sri Lankan women's cricket team and represent my country and also let my talent shine in the Indian Premier League (IPL) cricket tournament. My dreams, however, are not limited to playing the game and representing the country as a great cricketer. I also want to fulfill my dream of providing free coaching to cricket teams of rural schools with less facilities.