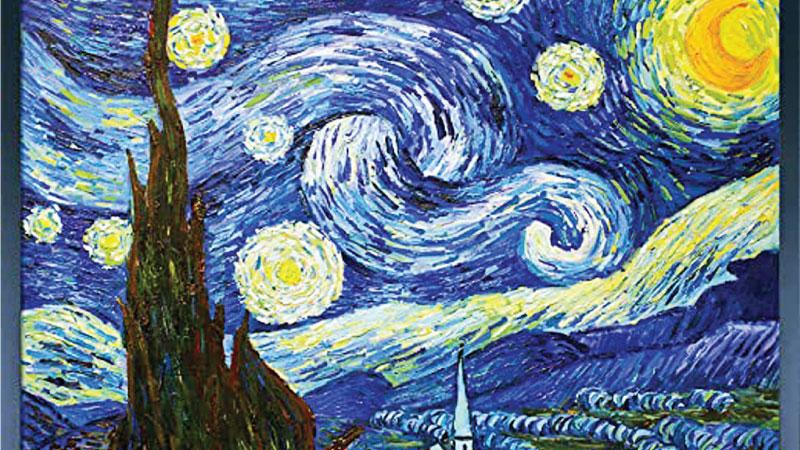 'The Starry Night' by world renowned artist Vincent van Gogh, is his most celebrated painting. It is a moderately abstract landscape painting of an expressive night sky over a small hillside village where Van Gogh stayed at the asylum of saint-Paul-de-Mausole near Saint-Remy-de-Provence in France in 1889.

'The Starry Night' is one of the most renowned pieces of art in the world and sometimes there is a feeling that the painting's fame has exceeded that of its creator.
It is a magnificent piece of art that resonates its glory for so many generations, and is a testament to how its beauty is timeless and universal.
Van Gogh lived a miserable life and suffered from depression most of his life. He painted The Starry Night during his 12-month stay at the Saint-Paul-de-Mausole asylum, several months after suffering a breakdown when he severed a part of his own ear with a razor.
While at the asylum, he painted during bursts of productivity that alternated with moods of despair. As an artist who preferred working from observation, van Gogh was limited to the subjects that surrounded him—his own likeness, views outside his studio window, and the surrounding countryside that he could visit with a chaperone.
At the asylum, van Gogh observed the night sky from his barred bedroom window and wrote a letter to his brother Theo describing a magnificent view of the morning star very early one morning in the summer of 1889. Because he was not allowed to paint in his bedroom, he painted the scene from memory or possibly drawings and used his imagination for the small village that did not actually exist. Being hesitant about working from his imagination, van Gogh later regarded the finished Starry Night as a failure, and Theo frankly indicated that the painting favoured style over substance.
The painting was one of van Gogh's late works, as he committed suicide the following year. His artistic career was brief, only 10 years, but it was very productive. He left over 800 paintings and 700 to 850 drawings to his brother. When the Museum of Modern Art (MoMA) in New York City purchased The Starry Night from a private collector in 1941, it was not well known, but it has since become one of van Gogh's most famous, if not one of the most recognised, works in art history.