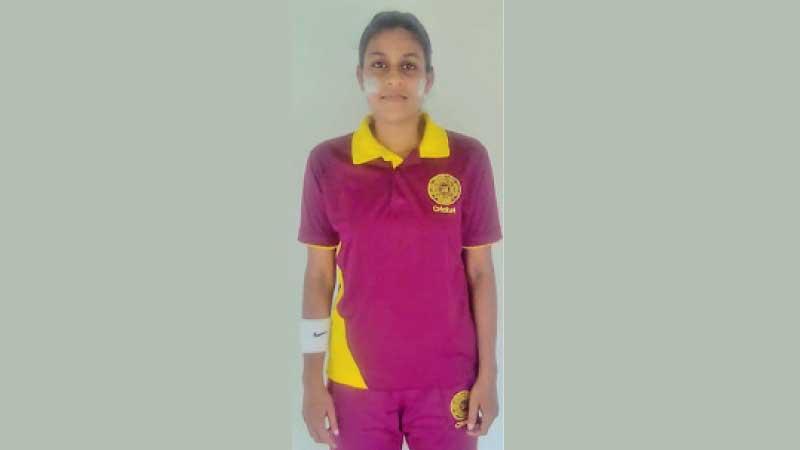 The 2020 Observer-Mobitel Most Popular Schoolgirl Cricketer of the Year Nimesha Wijesundara, the captain of Marapola Maha Vidyalaya, Minuwangoda said that she was delighted to climb on top after she finished runner-up last year.
The 19-year-old lass from Minuwangoda in the Gampaha district was the runner up in the Observer-Mobitel Most Popular Schoolgirl Cricketer of the Year contest in 2019 when her team was ranked sixth among cricket playing girls schools in the country.
But her schoolgirls young and old and the well wishers were not content from that win and rallied around once again to make sure she wins the Observer-Mobitel Most Popular Schoolgirl Cricketer of the Year 2020 title with a record number of votes.

On her way to the 2020 Observer-Mobitel Most Popular Schoolgirl Cricketer of the Year title, Wijesundara polled an aggregate of 60,003 votes. She has always been within the top three places in the 42nd Observer-Mobitel Most Popular Schoolgirl Cricketer of the Year contest and had a sweet lead in the last few weeks.
As the polling finished, there were no positional changes in the other places of the Observer-Mobitel Most Popular Schoolgirl Cricketer in the last month. Emerging runner-up to Wijesundara was Renuka Damayanthi of Bandaranayake MV, Gampaha with 55,098 votes.
Suranja Lakmali of Gonapola BMV polled 54,107 votes to finish third in the final placing, followed by Janadi Anali (Anula Vidyalaya - 45,801), Sachini Nethmini (Wadduwa Central College - 41,569), Umsha Himeshani (Devapathiraja Vidyalaya - 33,624) and Kavisha Dilhari (also Devapathiraja Vidyalaya - 25,561).
Wijesundara, who captains her school team, has been playing as a useful all-rounder – an attacking left-handed one-drop batsman and a penetrative right-arm leg spinner. She said winning the most popular crown was a huge backing for her career as a schoolgirl cricketer.
"This is a big hurdle. I am really happy to win this as I had to be content with the second place in the most popular contest last year," she said.

Her aim is to represent the Sri Lanka women's team in the near future. "That remains my ultimate dream. I also have a dream of playing at international Premier league T20 championship in the future.
"But most importantly, I want to give back what I have achieved from cricket, become a coach one day and teach girls in remote areas free of charge," she explained.
Born on June 6, 2001, Wijesundara took to school cricket in 2017/18 in the Under-17 tournament. "It was our first tournament in 2017 and we were playing on a turf wicket for the first time. At school we only have a matting wicket and did not have any previous experience how the ball would come on a turf surface.
"Our then coach advised us really well and I was able to score a century in that very first outing. With just two months into my cricket career, I scored 123 not out off 61 balls against Kirimatiyana Balika," she recalled.
On her way to that majestic century, she reached 50 in only off 21 balls which accounted for a new girls' schools record.
It was a hard path Wijesundara had to clear since she started cricket at her school after facing the GCE O/L exam in 2017. "We had to face many obstacles. When I joined the team three years ago, we did not have even cricketing gear. Some even collected empty coconut shells and sold them in the market to make a little money to finance our cricketing gear," Wijesundara recalled the bitter beginnings of her team.
"But once our team started performing well, there was some support coming our way. Our school masters and well wishers went out of their way to assist the team," said Wijesudara who is also the Games captain of her school as well.
Following her speckling 123 not out in the first outing in 2017, she mustered 88 against Holy Angels College and also a superb 58 not out against Kantale MV. She also scored 43 for Gampaha District against Colombo District in the inter-district tournament.
She was going great guns in the following 2018 season which was decorated by another unbeaten century – 108 not out against Nugawela Central. Following two identical unbeaten innings of 41 not out against Wadduwa MV and Nugawela Central, Wijesudara cracked 63 against St. Anthony's Balika, Kandy. In their annual big match against Wadduwa Central played at Bandaragama, she exposed her skills as a spinner capturing 6 for 37 to be adjudged best bower.
She had loads of people to thank as they have helped her and the team to come this far. "I would like to thank the Principal of our school, SAS. Pushpakumara, Vice Principals and tutorial staff my school, especially the AL teachers, who have always helped us in many ways," she said.
She paid a glowing tribute to her former coach SB Senanayake, who has taken all the trouble to sharpen the raw talents of their team. She also thanked the present coach Thilini Lakshika Randunuge who has been a tower of strength to all of them. She said teachers Dayal Pathirana and Erosh Godallawatte helped in numerous ways along with Prefect of Games Prinka Ranasinghe, cricket master in charge Gayani Lalanthika, treasuer Vijitha Bandara and his wife Nadee.
She said this herculean achievement for her and the team would not have been possible if not for the support given by friends and well wishers including her home front – beloved father, mother, elder brother and two younger sisters. She paid a special tribute to Champika Roshan and also the boys' team of the school for helping at the start with cricketing gear.
The 42nd Observer-Mobitel School Cricketer of the Year 2020 is organized by Sri Lanka's flagship English newspaper the Sunday Observer and sponsored by the country's national mobile service provider Sri Lanka Telecom Mobitel.
Sri Lanka's flagship English newspaper - the Sunday Observer, understood the need to recognize the raw talent of the country's schoolboy cricketers at a time when there had been no organized inter-school cricket tournaments, apart from the traditional First XI matches of the so-called leading schools.
But the introduction of the show and its expansion to have a separate segment for outstation schoolboy cricketers went a long way in inspiring the talented cricketers in the far flung areas.
Under the directions of the Chairman of Sri Lanka Telecom and SLT Mobitel Rohan Fernando, the Chief Executive Officer of the SLT Mobitel Nalin Perera has made a lavish contribution towards the success of the event during the past decade.
Thanks to the longstanding association of the Sri Lanka Schools Cricket Association (SLSCA), the Sri Lanka Cricket Umpires and Scorers Association and Sri Lanka Cricket (SLC), headed by Shammi Silva, the Observer-Mobitel School Cricketers of the Year contest has gone from strength to strength.
Over the past 42 years, all top Sri Lanka cricketers have commended the exemplary role played by the Observer-Mobitel School Cricketer of the Year.
The Lake House Chairman and board of management have always given their best possible support to keep the Mega Show alive and kicking.
Chairman/CEO of the Associated Newspapers of Ceylon Ltd, President's Counsel W. Dayaratne, together with Director Editorial Dharma Sri Kariyawasam, Director Legal and Administration Rakhitha Abeygunawardhana, Director Finance Janaka Ranatunga and Director Operations Canishka Witharana have helped this show to go from strength to strength.