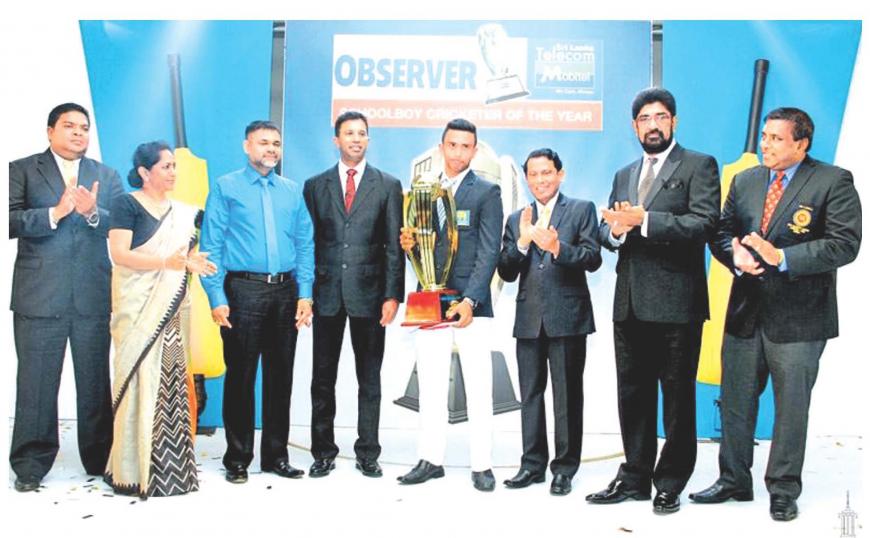 The 42nd Observer-Mobitel School Cricketer of the Year is likely to be postponed after the Covid-19 pandemic bounced back as the Brandix cluster produced more than 1,000 corona virus positive cases.
About a week ago, Sri Lanka was gradually returning to normalcy with some 140 odd Covid-19 positive cases after the mid-March breakout of the deadly virus. Hence, the health authorities had given to green light for the Mega Show with the Colombo Municipal Council too granting its approval.
Accordingly, all arrangements have been finalised to hold the 2020 Observer-Mobitel School Cricketer of the Year awards ceremony at the BMICH on November 18. But the unexpected Covid-19 breakout of the virus from the Brandix cluster forced health authorities to caution the public once more and even postpone mass scale public gathering.
We even picked the BMICH to host the show as it is the only place authorized to accommodate 800 guests. The BMICH has a capacity to host 1,600 but when a one-meter distance is maintained, we could have invited up to 800 people.
But now, we have no option but to put off the 42nd Observer-Mobitel School Cricketer of the Year awards ceremony. But it all depends on how sooner we could tackle the new wave of the attack.
It is too early to predict anything since there is more than a month left for the originally fixed date of the Mega Show, November 18. If things move fast, we cannot rule out the outside chance of getting health clearance so that we may even go ahead with the original plan.
Meanwhile, the Most Popular Observer-Mobitel Schoolboy Cricketer and Schoolgirl Cricketer contests are going on rapid pace in the last stage.
Ananda College's Anuda Jayaweera and Marapola MV, Minuwangoda's Nimesha Wijesudera continued to lead in the Most Popular Observer-Mobitel Schoolboy Cricketer and Schoolgirl Cricketer contests.
With a few more weeks to go, Jayaweera still takes the lead in the boys contest with 3,935 votes ahead of his closest rival Lohan de Soysa of Dharmasoka College, Ambalangoda.
But Ashan Wickramasinghe of Royal has climbed a step ahead to be in third place with only a 163 votes lead over fourth-placed Shehan Fernando of St. Benedict's College. Fernando was placed third last week.
Nimesha Wijesundara maintained her lead in the Most Popular Schoolgirl contest. She has a 2,898 votes lead over second placed Renuka Damayanthi of Bandaranayake MV. In fact, Damayanthi was in the third slot last week but displaced Suranga Lakmali from the second place in the latest round.
Ex-Sri Lanka captain and former ICC Match Referee Roshan Mahanama, was the first to win the prestigious Observer Schoolboy Cricketer of the Year on successive occasions. Having first won the title in 1983, he also won the crown in 1984 to lead as one of the greatest stars who had emerged through the Mega Show.
Mahanama, who turned 51 last month, has represented Sri Lanka in 52 Tests to aggregate 2,576 runs with four centuries and 11 fifties.
His career-best innings of 225 was registered against India in 1997, sharing a then record partnership of 576 runs with Sanath Jayasuriya (340) at the Premadasa Stadium in Colombo as Sri Lanka recorded the highest team total in a Test.
However Mahanama despite winning the glory on successive years was not the first to win the title twice. It was Sri Lanka's World Cup winning captain Arjuna Ranatunga who won the Observer Schoolboy Cricketer of the Year twice – in 1980 and 1982. Ranatunga narrowly missed what would have been a hat-trick of wins but he was the runner up to Rohan Buultjens in 1981.
Ranatunga first won the coveted title in 1980 after Ranjan Madugalle but failed to repeat it the following year which was carried away by Buultjens of St. Peter's College. However, Ranatunga bounced back during his final inter-school First X1 season for Ananda and was crowned Observer Schoolboy Cricketer of the Year in 1982.
Following Ranatunga and Mahanama to join the select band of schoolboy cricketers to win the Observer Schoolboy Cricketer of the Year title twice were Thilan Samaraweera (1994 and 1995), Lahiru Peiris (2004 and 2005), Bhanuka Rajapaksa (2010 and 2011) and Charith Asalanka (2015 and 2016).
The last of those six rare occasions was witnessed last year when Richmond's emerging hero Asalanka won back to back titles.
The Observer-Mobitel Schoolboy Cricketer contest, Sri Lanka's oldest and premier school cricket awards show, is now on for the 42nd year.
Simultaneously, the newly introduced Observer-Mobitel Schoolgirl Cricketer of the Year 2020 will also be conducted for the third year, as women's cricket in Sri Lanka too is reaching new heights.
There has been a tremendous interest in all corners of the country ever since the beginning of the contest, making it the Mother-of-All-Shows and inspired by the initiative given by the Sunday Observer there has been a couple of similar events that emerged.
It is extremely happy to see more school cricket awards coming up to reward schoolboy cricketers. After all, it is the country's budding schoolboy cricketers who will be rewarded at the end after a strenuous season.
Sri Lanka Telecom Mobitel is the principal sponsor of the Mega Show for the 13th consecutive year. SLT Mobitel's partnership with the Sunday Observer has opened horizons for school cricketers.
Apart from increasing prize money by big margins, it has also helped to reward coaches and masters in charge who put a lot of hard effort.
A special thank you should go to SLT Chairman Rohan Fernando and SLT Mobitel Chief Executive Officer Nalin Perera for their financial backing. If not for their efforts, a mega event of this magnitude would not have been possible
The ANCL Chairman and board of management too have always given their best possible support to keep the Mega Show alive and kicking.
Chairman and President's Counsel W. Dayaratne, together with Director Editorial Dharma Sri Kariyawasam, Director Legal and Administration Rakhitha Abeygunawardhana, Director Finance Janaka Ranatunga and Director Operations Canishka Witharana have helped this show to go from strength to strength.