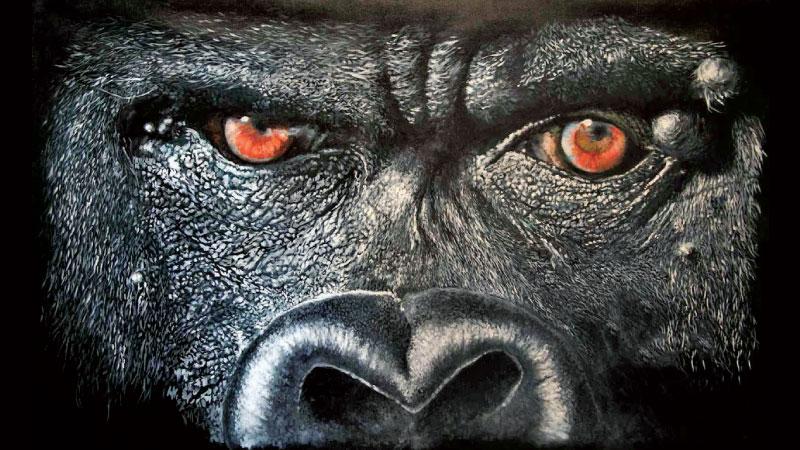 Chamindra de Silva is a self-taught, naturalistic, wildlife painter with a great passion for wildlife conservation. Nature is the muse behind his creativity and his immense love for nature since childhood led him to become a wildlife painter in adult life.
As he recalls, the love for wildlife grew in him from a very early age. He remembers vividly the countless days he spent helping his grandmother in the garden and this instilled a bond with nature.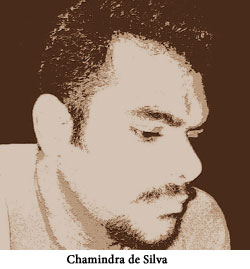 Intrigued by plant and insect life, he used to draw them as a hobby in his teenage years, even going to the extent of drawing wildlife as gifts for his family members who encouraged him greatly in his drawing and painting. So, at the crossroads of deciding a genre for his artistic career it was natural for him to focus on this subject.
Chamindra has been painting professionally since 2017. Although he has been drawing ever since he can remember, and his mother encouraged him to continue his passion for art. Initially though he started with crayons and watercolours during his school days, he says that crayons and watercolours were not his medium to express what he really wanted to express.
Being frustrated he grew to dislike colours altogether and was discouraged and intimidated by the lack of skill and quality in his work. That insecurity in him, limited himself to pencil and paper work which he has been truly good at. However, few years ago, he was inspired to try his hand at painting again. That's how his journey began and since then, there has been no turning back.
Chamindra has no formal academic background in the field of fine arts but using the modern day online library he keeps learning and expanding his knowledge of fine arts. He learnt the technique for the oil medium, which triggered his first painting and led to create his own unique style of painting.
"I am also venturing into other mediums to expand my experience and knowledge and to search for what works best for me. From an early age, the pencil or graphite drawing has been sharpened to a non-orthodox style and technique which is unique to me. I strive to achieve a detailed naturalistic style in all my paintings," Chamindra told the Youth Observer.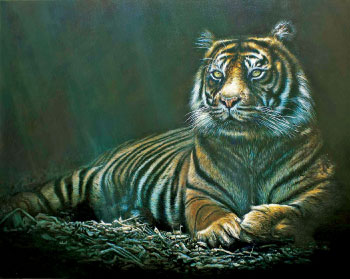 Speaking about the influencers behind his creativity, he recalls with gratitude, "I would say my greatest influencers are my parents, especially, my father. I deeply admire him for living the exemplary life of a passionate and loving human being. I learnt to respect, love and protect all life, which triggered the flame in me to start painting for a greater cause like conservation and protection.
"In the world of art, I was inspired by a realistic artist named Andrew Tischler. His quality of art is something that I strive to achieve in my paintings. A few of the other modern-day artists that I admire are Robert Bateman, David Shepherd and the many famous classical, realist artists of the past," he said.
Unorthodox experience
Chamindra used to work as a non-linear video editor for over two decades among some of the reputed stations in Sri Lanka and overseas. The highlight of his post production career is working with the Discovery Channel. "It has been an unorthodox experience similar to my experience with fine art gaining experience on the job.
My love for visual creativity drove me to the path of an digital post production artist working on all aspects may it be animating, compositing, 2D and 3D designing not forgetting the audio medium too," he added. As a digital media artist it was his dream to direct and produce 3D movies. With the arrival of his daughter in 2007, there's a twist in his professional life and all his dreams took a backseat as he decided to give up his full-time post production career and go freelancing to take care of his daughter.
As just as he predicted, the sailing was not easy as a freelancer as the freelance culture in Sri Lanka was not such a popular practise at that time. "So, I wanted to venture into other avenues of making a livelihood. At this point, I stumbled on some paintings done by an artist in New Zealand which inspired me to try out my talents in painting. He had a few short videos describing his easy, simple method of oil painting. I purchased a small set of oil paints and using some raw cloth I conjured up a couple of boxed canvases. Also I custom built a table easel which I use up to this day, merging it with an old, wooden set of drawers. After which I set out to make my dream of creating a change for the endangered wildlife a reality," he said passionately.
Gorilla eyes
Shuffling through reference material to paint, he stumbled on one amazing Gorilla eyes, as he says which spoke to him loudly. The suffering, pain and anger in those eyes tugged at his heart strings very strongly. With no hesitation, he took the biggest canvas he had made and started on his first oil painting.
What it turned out to be in a couple of months just blew his mind and those of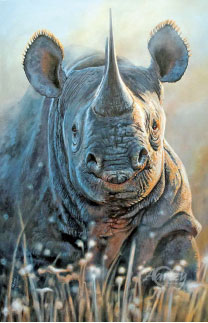 his family and friends too. "I just couldn't believe that for all these years I had it in me unknowingly. I was ecstatic and disappointed at the same time. Ecstatic for finding the pot of gold in the form of talent to paint and disappointed in being so naive to think that I couldn't paint for so many years. Since then I have never looked back, I expanded my knowledge and did various experiments in many other mediums such as Tempera, Gouache, Watercolour and acrylics. As an artist it is very important to keep evolving and fine-tuning and improving one's self," Chamindra says confidently.
Chamindra is consistently engaging in new artistic adventures. His striving need to help conservation and educate about Sri Lankan endemic wildlife is key endeavour right now in his mind. Therefore, he pays more attention to wildlife and nature scenes which are in danger of disappearing. He has already been started a series of paintings promoting rare and indigenous wildlife and nature.
As he stressed, evolution with time is crucial for an artist in order to achieve his best outcome in his artistic journey. Being a realistic painter inspired by nature and its beings, Chamindra considered is his utmost duty to safeguard and protect it through his work.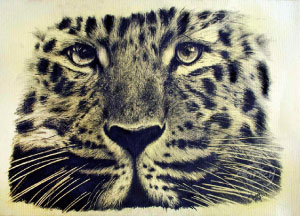 Being an artist who always thinks out of the box, Chamindra is a strong believer of marketing art to the right audience which will help to build sustainability in the market. As he believes in this modern era taking advantage of the internet to market or promote your work would be the most effective marketing tool available. Showcasing your work through online galleries would instantly increase reach of target audience and potential clients by many aspects.
"Although it is a gruelling task to reach the target audience mainly through art exhibitions which is highly expensive, today there are more online options available to reach out for target audiences. One such example is Aartzy online platform which is one of the biggest online platforms available for local as well international artists. That is the advantage of Aartzy and their impressive services provided for the benefit of the artists and their work as an online gallery," he further added.
Chamindra's artistic work can be accessed in Aartzy.com online gallery.