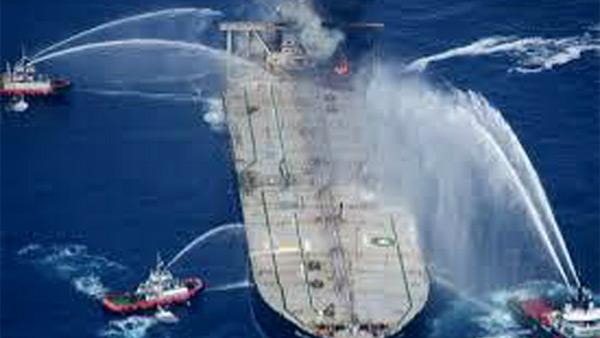 The laboratory report by the Government Analyst on the oil samples collected from the stricken MT New Diamond vessel will be presented to the Attorney General's Department on Monday, the Chairman of the Marine Environment Protection Authority (MEPA), Attorney- at -Law Dharshini Lahandapura said.
Sri Lanka is seeking compensation for its efforts to combat the fire on the MT New Diamond and averting a large scale disaster.

Sri Lanka has put the preliminary estimate for the compensation at nearly USD 2 million.
This includes the costs and efforts by the Navy, Coast Guard, Air Force, Ports Authority, the Marine Environment Protection Authority, and others.
It is also expected that the Captain of the ship will be charged after it was revealed through crew member statements that he had failed to take any action to extinguish the fire at the initial stages.
The Attorney General's Department is reportedly pursuing charges against the ship owners, captain and crew under the Marine Pollution Act as well as for criminal negligence.
The vessel sailing under the flag of Panama carrying 270 000 metric tonnes of crude oil and 117,000 metric tonnes of diesel caught fire in Sri Lanka's Eastern seas nearly 38 nautical miles from the Sangaman Kanda Point on September 3.
Summons were issued on the Captain of the MT New Diamond by the Colombo Chief Magistrate this week ordering him to appear before the courts on September 28.
The summons were issued by Colombo Additional Magistrate Priyantha Liyanage, after considering the facts presented to the court by Deputy Solicitor General, Dileepa Peiris. During the proceedings, Peiris told court that the Captain and crew of the MT New Diamond had abandoned ship when the fire broke out and their irresponsible actions had, in fact, resulted in the disastrous situation.
The court was also told by the DSG that the Criminal Investigations Department had requested to record statements from the Captain of New Diamond who was named as a suspect, and the crew as part of the ongoing investigations.
However, based on legal instructions given to the suspects, the request had been turned down.
Peiris told the court that therefore, the CID has been forced to seek a court order to obtain statements from the suspects. Noting that the Captain, now a suspect in the case, has failed to cooperate with law enforcement, summons were issued on him by the Magistrate's Court. An oil slick covering an area with a diameter of two nautical miles surrounding the crude oil tanker was reported recently.
Later, it was revealed that a portion of the 1,700 metric tons of diesel required for the use of the tanker had leaked into the ocean. The Sri Lanka Navy has taken steps to contain the leak. The authorities are currently estimating the damage caused by the oil leak to the marine environment in the area.