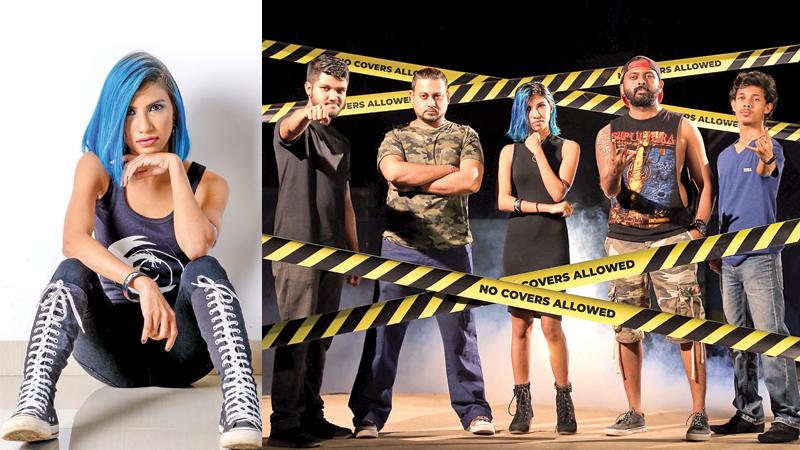 She's a fighter. Obviously for one who is into heavy metal music, she can't be weak. Shehara Jayatilaka-Napoleon, is one of such a rare-breed who has been fighting for almost a decade now – with her hyper creative soul because she loves what she's doing and curious to know what will come her way in the future.
Her recently released debut album Fountain of Memory shows the real Shehara and one can see her mystic self through her unique tone of voice which is supported by beautifully penned, meaningful lyrics mostly her own.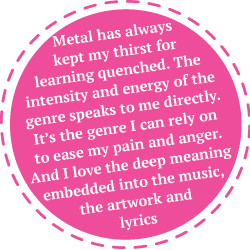 Shehara's debut album is Sri Lanka's first female metal soloist's album in the heavy metal genre. It's not hyperbole to call her a sturdy soul with a love-driven, ambitious dynamic career and a strong believer in positive vibe.
In an interview with Youth Observer, happy bubbly, Shehara Jayatilaka speaks about her recent artistic milestone Loved for Eternity, her debut music video which happens to be the first ever heavy metal music video released by a female soloist in Sri Lanka now available on YouTube.com/Shehara.
Explaining the process of making her debut music video, Shahara says, "The process was a great and humbling experience. Ash, Rewan, Izzy, Dimi and I recorded the video with Shameem Ismail and the absolute beauty of it was that all the help and support we received to make the video, the styling, makeup, dress, motivation and all the hard work to help us get the instruments onto the roof, getting the drums, stands and cymbals, to hold a fan to our hair, to throw tamarind leaves from the roof to make it look like rain were all by my family and friends!
We couldn't have done it without them. We learnt a lot about the process of making a music video and it was awesome!"
Being able to engrave her mark in the Sri Lankan heavy metal music scene which is a male dominant industry, while fitting in as a freelance graphic designer and a mother of two adorable children, Shehara's journey is undoubtedly inspiring and counting for more glorious milestones on her way.
Excerpts from the interview and and a preview of what to expect from her new music video.
Q: What drew you to the music industry?
A: The energy, the passion, originality, creativity, the sense of community.
Q: Who are you inspired by?
A: Everyone who emphasizes the will to always persevere, no matter the circumstance. Anime characters such as Naruto, certain musicians and people in my life.
Q: What made you choose metal music as your genre?
A: Metal has always kept my thirst for learning quenched. The intensity and energy of the genre speaks to me directly. It's the genre I can rely on to ease my pain and anger. And I love the deep meaning embedded into the music, the artwork and lyrics. When there's more to what meets the eye, I find it always interesting!
Q: Could you explain your creative process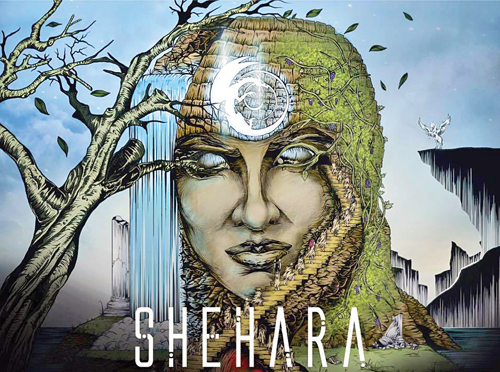 A: Experiences and challenges are overcome by putting pencil to paper. I usually end up singing the song I've written, the lyrics and melody, a few times before the music is composed. That's when I finetune the harmony and variations of the song.
Q: How interested are you in knowing the history of your genre?
A: Oh, I love learning about the bands that influenced the beginning of genres and subgenres, the countries they originated from, the cultural elements that bands incorporated into songs. I love learning about the history of metal!
Q: What are the other genres that interest you?
A: J-rock, rap, hip hop, country, old pop.
Q: You are the first female IN SRI LANKA to release a heavy metal music album. How does that make you feel?
A: Makes me feel grateful and blessed.
Q: What's an average day like for you?
A: The daily routine with the kids, cleaning, cooking sometimes, gardening, baking, playing outdoors with the kids during the day and then working on designs and web designing in the night, while finalizing things for my music.
Q: Is there a hidden meaning in any of your music?
A: The songs revolve around facing past experiences and using them to journey to a better life, that's more peaceful and loving.
Q: Do you collaborate with others? What is the process?
A: Yes I do. I have as well. All of the musical collaborations have been those that I've been approached by others to be a part of.
If someone sends me a track or a concept and I find it really interesting and if the quality is guaranteed, we work it out.
Q: How do you interact with and respond to fans?
A: I love hearing from them and connecting with people who are on the same kind of frequency.
Most of us keep in touch through Instagram and Facebook.
Fans who have subscribed to my website get discounts and access to my music when they sign up and we keep in touch via mail.
Q: What is your favourite part about this line of work? Your least favourite? Why?
A: Favourite: The fact that I can do something in this life for myself and others with the talent and skills I've been gifted with.
Least favourite: That many people don't believe in buying music CDs anymore.
Q: Have you ever dealt with performance anxiety?
A: Of course! I had it the most in the beginning. But that faded away with practise and spending time on improving myself and I learned about myself and found confidence in what I do.
Q: Tell me about your favourite performance venues.
A: Performing at the Viharamahadevi amphitheatre has always been fun. I love the space there is to jump around. The British School auditorium is cool too! I'd love to perform at Wacken Open Air, Download Festival and the Royal Albert Hall.
Q: What advice would you give for someone wanting to follow in your footsteps?
A: Don't ever give up! And if you ever need help achieving your goals, don't be afraid to ask for help and advice.
Q: How important is it for a performing artist to maintain his/her looks? Any fashion trends you usually like to follow?
A: I think it's important to maintain your HEALTH and hygiene first, irrespective of whether you are an artiste or not. Fashion comes second.
I've coloured my hair. So, in order to maintain it, I use a colour protection shampoo and conditioner. I also swear by a particular brand of nail polish.
Q: What are the milestones in your artistic career?
A: My second live performance in TNL onstage.
Performing in Kandy for the first time.
Finishing the recording of songs with Tennyson Napoleon, Azlan Shariffdeen and Izzy Wildchild.
Releasing Sri Lanka's first metal album by a female.
Releasing the Loved for Eternity music video with a full band.