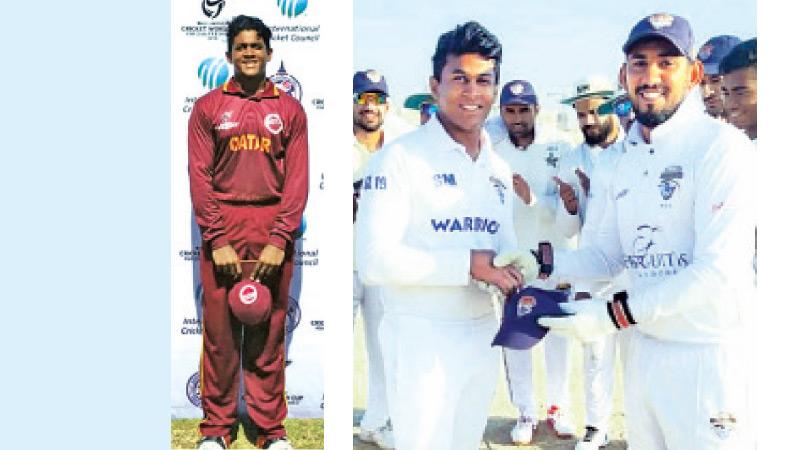 It appears that Sri Lanka has plenty of cricketing talent to start an export business and one of them to have put his hand up for qualification and succeeded has been Khalith Amarasinghe who represented Qatar in the Under-19 World Cup qualifiers.
Khalith was just six years old when he moved to Qatar with his father, the former St. Sebastian's College product Indika Amarasinghe and has not looked back having joined an academy at the age of seven with his coach Aruna de Silva.
He was the Emerging Player in the Qatar Cricket Association's inter-school tournament and received his school's Special Award for cricket three years in a row besides the ambassadorial award from the ambassador of Sri Lanka to the state of Qatar for representing the country as a Sri Lankan in the 2018 Under-19 World Cup qualifiers.
"My father is the one who made me take an interest in cricket by entering me for my first coaching session when I was eight years old.
"In Qatar at that time it was difficult to find cricket coaching for children, but he found one and registered me and that is how it all started," Khalith told the Sunday Observer in an interview all the way from Qatar.
Khalith was initially at the Stallions Academy under the guidance of coaches Sidath Tennakoon, ex-Peterite Ashan Perera and Saman Fonseka and is currently at the Warriors Academy with coach, the former Josephian Shenal Warnakula.
But Khalith has also matured beyond his years and knows how to take up criticism and learn from his shortcomings, an aspect that most budding cricketers don't have.
"It takes a lot of effort and discipline to do what I am doing," he said.
Khalith, having represented Qatar, is now hoping that some day he will be able to play for Sri Lanka and with so many coaches and his father by his side it will not be an impossible dream for the youngster.
He has also toured England and can count his laurels with one of them being reaching his first ever century (103) in just 47 balls in a match.
"My most unforgettable moment would be scoring my maiden century. It was memorable because I did not realise I was headed for a century until I was in the 90s and then I became determined to make that century," he recalled.
Taking four wickets for 12 runs in just four overs also sticks well in his mind.
"Even though I have been living in Qatar it will be a huge honour to represent Sri Lanka as a Test playing nation," said Khalith.
"The closest I have currently come to playing cricket in Sri Lanka is when I got an opportunity to play in a Sri Lanka 'B' division match at the SSC."
Khalith's bowling has been a bonus to his prowess as a cricketer having switched from pace to spin that has made him a solid allrounder.
He is presently faced with having to take both cricket and studies along the same path.
"Right now I want to finish my final year at school and get into university but at the same time to succeed in my cricket.
"My choice of where to go for university is based on where I can continue playing cricket and further my training and career in cricket," he asserted. Khalith's role model is Mahela Jayawardena whom he adores after he met the retired super star recently.
"I like to be my own self, but if I am to choose someone I will be proud to be like Mahela. He was so humble even though being one of the best players in the world. He spent some time advising me and giving me some important guidance," revealed Khalith.
Has Khalith been able to achieve what he set about to do in his early steps. When the question was posed to him he replied: "I am happy with my current achievements but I am not even 18 yet, so I hope that what I have achieved up to now is only the beginning and I believe I can achieve a lot more."