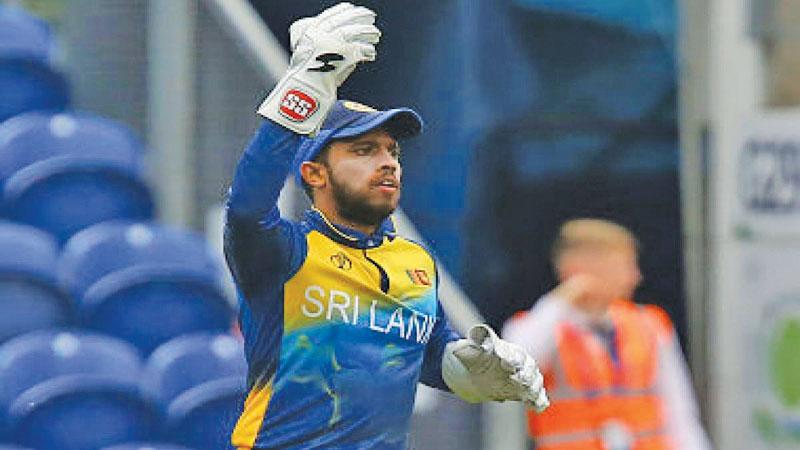 Dawn of June has brought fresh hope for everybody around the world, especially after over three months of agony due to the Covid-19 epidemic.
It seems the deadly coronavirus is going to stay with us for some for time, at least till the world finds a vaccination to counter it. Hence, all human activities would gradually commence following health guidelines.
Thus, the wonderful world of sport is ready to bounce back after months of deadlock. In Sri Lanka too, we are now in a position to start sports practices. It is a welcome sign that Sri Lanka gets into action commencing the national squad practices.
The Most Popular Observer-Mobitel Schoolboy and Schoolgirl Cricketers of the Year contest has commenced and gradually reaching its peak.
The Number Three batting slot is always considered to be a make or break link for any team. The batsman, who occupies this all-important place, should have some unique qualities which are hard to find. 
The Number Three batting position is a vital link to any cricket team. When it comes to a national team, it is even more important as it could eventually carry the hopes of a nation.
It was 1985 Observer Schoolboy Cricketer of the Year Asanka Gurusinha who shouldered this great responsibility and provided that much needed stability and reliability to the Sri Lanka team in the 1990s.
Another Observer-Mobitel Cricketer of the Year award winner emerged to serve in that pivotal one down slot in the Sri Lankan batting order. He is former Cambrian cricketer Kusal Mendis, the winner of the prestigious Observer-Mobitel Schoolboy Cricketer of the Year title winner in 2013.
Mendis stamped his mark as an emerging star from Prince of Wales College, Moratuwa. The greatest moment in his school career was the day he was awarded the Observer-Mobitel Schoolboy Cricketer of the Year title in 2013.
Ever since, he has proved his credentials to fit into that vital No.3 position which fell vacant after the retirement of veteran Kumar Sangakkara.
Mendis may have a long way to go to emulate the feats of Sangakkara. But during the short period he has been with the Sri Lanka team, he has already proved that he is capable of following the footsteps of former greats such as Gurusinha and Sangakkara who had served in that position with distinction.
One of the biggest moments in Mendis' impressive Test career so far was witnessed a few years ago when he had a marathon knock of 194 in a Test against Bangladesh in Galle. Thought he missed what would have been a dream double century by unsuccessfully attempting to signal it with a six, his innings had all the significant characters. His superb knock, which included four sixes and 19 boundaries, provided the backbone of the Sri Lankan first innings.
Spending more than seven hours in the middle and facing 285 balls, Mendis showed qualities of a mature Test batsman, although he was playing in only his 15th Test at that time, becoming only the third Sri Lankan to aggregate over 1,000 Test runs before reaching 23 years of age, behind Arjuna Ranatunga and Mahela Jayawardene.
Mendis became only the second Cambrian to win the Observer-Mobitel Schoolboy Cricketer of the Year award in 2013 after Sahan Wijeratne was judged as the winner in 2002.
From his early days as a Cambrian cricket star, many identified him to be future Sri Lanka material. Winning the Observer Schoolboy Cricketer of the Year title is widely regarded as an unofficial passage to the national team and Mendis is another cricketer who had proved that this common belief among schoolboy cricketers is right.
It took only two years after winning the dream title for Mendis to make his Test debut for Sri Lanka in the second Test against the West Indies at the Premadasa Stadium in October, 2015.
After his crowning glory in 2013, Mendis said his initial aim was to represent the Sri Lanka Under 19 team in the following year's Under 19 World Cup in the UAE. Even at that stage, Mendis said the "Observer-Mobitel Schoolboy Cricketer of The Year Award is a launching pad" for his future cricket career. In less than seven years after winning the title, Mendis has proved this right beyond reasonable doubt.
Paying a glowing tribute to the organisers of the show the Sunday Observer and Mobitel, Mendis said that the contest was a tower of strength for cricketers.
"There are many past winners who had gone to represent the country. That shows how valuable the contest is for the budding cricketers. The talented players outside Colombo could be identified better and that augurs well for a better tomorrow," he was quoted as saying.
Mendis, who turned 25 last February, has so far aggregated 2,995 runs in 44 Tests with two centuries and three fifties averaging 36.97 with a career best 194. Overall, he has seven centuries and 11 fifties in his career so far.
In 76 ODIs for Sri Lanka to date, Mendis has aggregated 2,167 runs with eight half centuries to average 30.52. He has scored two three-figure innings and 17 fifties in ODIs.
The Observer-Mobitel Schoolboy and Schoolgirl Cricketers of the Year contest is conducted by Sri Lanka's flagship English newspaper Sunday Observer and sponsored by Sri Lanka Telecom Mobitel.
Incidentally, this will be the 13th consecutive year that SLT Mobitel will be sponsoring the Mega Show which has a rich history of producing legendary cricketers, including Sri Lanka's World Cup-winning captain Arjuna Ranatunga, world's highest Test wicket taker Muttiah Muralitharan and the Chief ICC Match Referee Ranjan Madugalle.
The voting for the most popular segments of the 42nd Observer-Mobitel Schoolboy and Schoolgirl Cricketers of the Year contests continues is full swing. Voting for the Observer-Mobitel Most Popular Schoolboy Cricketer of the Year contests could be made through voting coupons which continue to appear in the ANCL papers.