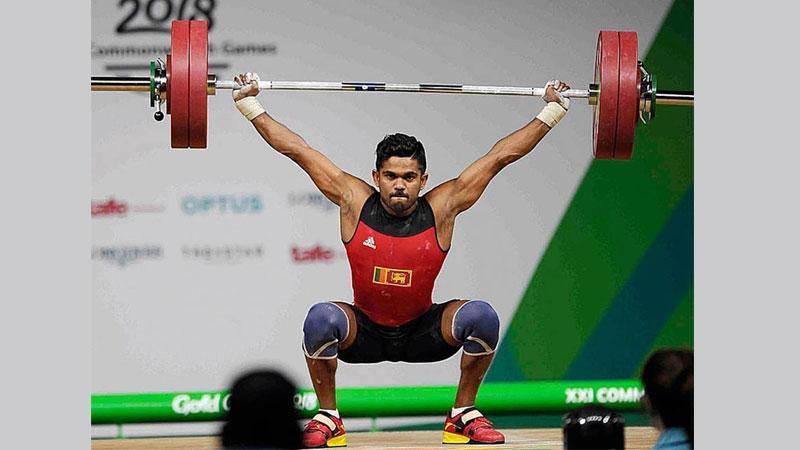 Indika Dissanayake the Commonwealth Games silver medal winner in 2018 is once again working hard for Olympic qualification and very keen to start his regular pool practices next week.
Dissanayake said he went through a tough period of lockdown but never gave up practices to maintain his fitness.
"I have a dream to go to the next Olympics and want to work hard to get that qualification first and foremost," he said.
"On some occasions I got down some gym equipment and did my necessary practices at home. I missed a few tournaments for the Olympic qualifications due to the coronavirus."
Following the postponement of the Olympics for next year, Dissanayake will have to contest a trial at the World Championships which is scheduled to be held in January 2021.
The Commonwealth Weightlifting Championship in December followed by the Asian Championships are also events to be contested.
Dissanayake won a silver medal  at the Asian Games in 2016 and another silver at the last Commonwealth Games in 2018. Both medals came from the 69 kgs weight class and Dissanayake has changed his weight class to 73 kgs while focusing on the Olympics.   
Dissanayake who is in the Navy set three new National records at the last World Weightlifting Championships in Thailand that inspired him to go for the 73 kgs.
He set up new records lifting 134 kgs in the  Snatch and 164 kgs in the Clean and Jerk for a total of 298 kgs. A total of 302 kgs would bring him an Olympic qualification.
His previous record was a total of 291 kgs.
He is currently coached by RB Wickremasinghe. Dissanayake has already missed the Asian Championships that could not be held as scheduled in April.
"We are very proud weight lifters who have won several medals recently at international meets and sometimes we were the only Sri Lanka medal winners at these meets," said Dissanayake who like all weight lifters find it hard to attract sponsors.
"We all know that cricket and rugby have sponsors but a weight lifter has to do a lot of hard work. We have to maintain our weight class as well as fitness with proper training. Nutrition is very important and in addition international exposure is always vital as it is with other sports," said Dissanayake.