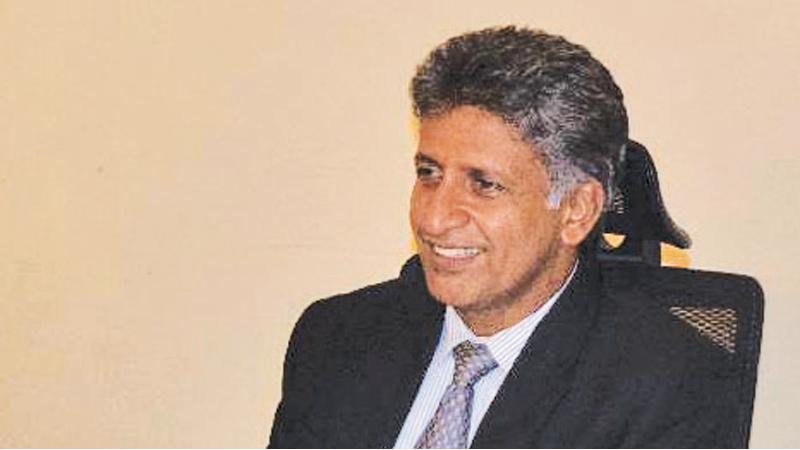 Former Sri Lanka batsman and Ananda College consultant coach Sanjeeva Ranatunga has implemented a comprehensive work plan to train their schoolboys during the Covid-19 epidemic.
In an exclusive interview with the 'Sunday Observer', Sanjeeva, a younger brother of Sri Lanka's World Cup winning captain Arjuna Ranatunga, said he has set a novel plan in motion to train Ananda cricketers in their homes during the preset lockdown period.
"I have told all coaches – batting, bowling and fielding, to give the boys their training schedules. In some schedules, the boys must record their workouts and send in the video clips. They must ensure they do their full training schedules at home and feed us the information ratified by their parents or guardians," he explained.
He said the break due to the Covid-19 epidemic should be used in a productive manner while the cricketers maintain their physical fitness.
He also said that present day school cricket has been badly influenced by some parents and school authorities. "It is not like in our time where the most deserving 11 players were chosen to play. I have always made it a point to give the best deal to the players strictly on merit," he said.
He also said present day coaches should refrain from trying to win at all costs while giving priority to playing in the spirit of the game at all times.
He said that the time is now opportune to abandon winning at all cost, which has been the practice most of the time. "Everyone must keep in mind that it's not winning or losing that matters but how one played the game. Competitiveness will be good to keep the games alive but at the same time, unnecessary competitiveness also ruins the game," he said.
The former Observer Schoolboy Cricketer of the Year said schoolboy cricketers must play only for the love of the game "Ugly practices ruin the game. During our playing days, these ugly practices were not heard of ," said Sanjeewa who has just begun a stint at his Alma mater as head coach in an honoury capacity.
"It is with profound gratitude that I remember among the many coaches Lionel Mendis. They taught us not only the game but also its values. They were interested in building teams with values, not to win at all cost," he said.
He was keen on becoming Observer Schoolboy Cricketer after seeing his elder brother Arjuna winning glory for the second time in 1982 after his first triumph in 1980. "I was there to witness my brother winning this unique title for the second time in 1982, emerging out of a make-do cricket ball. That inspired me and I thought that l too should go for that glory," he said.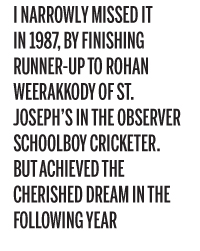 "I narrowly missed it in 1987, by finishing runner-up to Rohan Weerakkody of St. Joseph's in the Observer Schoolboy Cricketer. But achieved the cherished dream in the following year," he said.

Sanjeewa Ranatunga became the second Anandian to win the prestigious Observer Schoolboy Cricketer of the Year award in 1988 after his elder brother Arjuna in 1980 and 1982. He played in only eight matches excluding the big match out of 12, as he was playing for the Sri Lanka youth team in 1988 but still aggregated 900-plus runs.
The left-handed batsman, Sanjeeva had the honour of leading the Sri Lanka 'A' team and also represented the country in Tests and One-day Internationals.
He made his Test debut for Sri Lanka on August 26, 1994 in Kandy against Pakistan. His short nine-Test career had only an aggregate of 531 runs but included two centuries and an equal number of fifties.
Ranatunga made his ODI debut for Sri Lanka, just days ahead of Tests, on August 3, 1994 also against Pakistan. His career-best innings in Tests was 118 while his top knock in ODIs was 70.
"To be frank, I really earned my place in Zimbabwe. I scored a century in the three-day practice match and the selectors on tour were compelled to give me a place in the Test team," he pointed out explaining his success story.
"The two Test centuries I scored in Zimbabwe were really great. The penultimate day was disappointing on the ground as well as off it as the then SLC President and Minister Gamini Dissanayake had passed away in a bomb blast. We were keen on saving the match for him," he recalled.
"All of us wanted to save the match on the final day. Moreover, my brother (Arjuna) gave me a strict order. Don't ever return to the dressing room without completing a century and l just did that," he said. But he rated the twin fifties he scored in the Adelaide Test as his best. "It was under more challenging circumstances against a far superior Australian bowling attack," he pointed out.
The talented left-handed top order batsman who celebrated his 51st birthday last month (April 25) had a rich harvest of runs in club cricket. Unlike his famous elder brother Arjuna, Sanjeeva hardly hit mighty sixes at international level, but he was a talented left-hand batsman at domestic level.
He had a rich harvest at inter-school level for Ananda to be adjudged Observer Schoolboy Cricketer of the Year in 1988, six years after his elder brother became the first to win the title twice.
He then represented Sri Lanka 'A' on several occasions, after which he was picked for the home series against Pakistan in 1994. Sanjeewa began well in the one-day series, scoring 70 in only his second match, but his form dropped and he played the last of his 13 ODIs in January 1996.
In contrast, he showed more promise in Test cricket, with back to back centuries in Zimbabwe in his second and third matches - his average after seven Tests was 59.71 - and was given the chance to tour New Zealand, Pakistan and Australia.
However, his international cricket career proved a difficult hurdle and he was dropped from the side. A somewhat controversial recall came in June 1997, for Sri Lanka's tour to the West Indies, but one poor match ruined his international career.
The Observer-Mobitel Schoolboy Cricketer of the Year completed its 40 years two years ago with the most deserving chief guest – the 1979 Royal College captain Ranjan Madugalle.
Former Trinity skipper Hasitha Boyagoda was awarded the Observer - Mobitel Schoolboy Cricketer of the Year 2018 at the 40th Observer - Mobitel Schoolboy Cricketer of the Year show. Former Sri Lanka captain and present ICC Chief Match Referee, Madugalle was the chief guest at the 2018 event.
Boyagoda who set up a world record in the World Cup was awarded the Under-19 Division I Schoolboy Cricketer of the Year award. He scored 597 runs in seven games at an average of 85.29 in the 2017/18 school season and went on to captain Sri Lanka U-19 in the 2018 Under-19 World Cup and his team managed to win the Plate trophy.
Incidentally, Boyagoda would have felt even more proud to get the trophy from the chief guest who too learnt his cricket at Trinity before switching over to Royal from Grade 6.