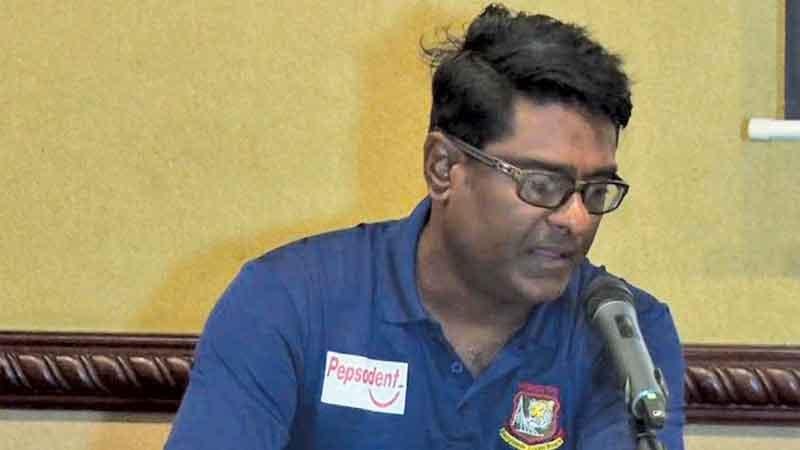 The prevailing Covid-19 epidemic continues to confine the masses to their homes, not only in Sri Lanka but in almost all other countries.
The Coronavirus brought activities in most parts of  the world to a standstill. When it came to sports, all sports activities were either cancelled or postponed and well over one hundred and fifty thousand lives have been lost so far.
Among the global sports events postponed were the showpiece of world sport – the Olympic Games. The 2020 summer Olympic Games in Tokyo were forced to be postponed by one year, although hosts Japan tried their level best to keep their hopes of conducting the games alive until it finally proved futile.
As former Sri Lanka cricket captain Sanath Jayasuriya said last week, sportsmen and women cannot afford to neglect their physical fitness altogether. True they will be without their training workouts at gymnasiums but all sportsmen and women are compelled to have their daily workouts in their homes.
Meanwhile, the grand finale of the Observer-Mobitel Schoolboy and Schoolgirl Cricketers of the Year too has been put on hold due to the prevailing situation. But no sooner the situation improves, probably by next month, we should be in a position to recommence the voting for the most popular contests.
It is exciting to go down memory lane and take a look at another outstanding cricketer who  emerged through the Observer Mobitel School Cricket contests. He is none other than former Sri Lanka cricketer Naveed Nawaz, who won the Observer Schoolboy Cricketer of the Year mega title in 1993.
In fact, Nawaz was the first and only cricketer from D.S. Senanayake College to achieve that cherished honour. Nawaz was a household name with some aggressive batting and several big scores during his illustrious career at D.S. Senanayake College.
Nawaz, after his excellent school career, scored consistently for his club Nondescript Cricket Club (NCC) for a number of years.
But he was another top cricketer to get a raw deal from the national selectors of that time. Although maintaining a superb average of 99.00 in the only Test he played in, his international opportunities were curtailed only for reasons known to the selectors
Nawaz made his Test debut against Bangladesh on July 28, 2002 but was unfortunate to be later demoted to the Sri Lanka 'A' team after scoring 21 and 78 not out in his two Test innings on debut.
Following a surprise recall to the Sri Lanka team for the Nat West series in England in 2002, he made just a solitary one-day appearance - against Zimbabwe. However, he failed to impress at No. 3 position on that occasion, scratching around for a 23-ball five runs.
Following the demotion to the feeder pool in March 2004, Nawaz led Sri Lanka 'A' in its unofficial Test tour of New Zealand. His strong team included five fast bowlers, an all-rounder and a solitary spinner on the five-week tour, in which Sri Lanka 'A' played a series of three five-day unofficial Tests and three one-day matches against New Zealand 'A'. The Lankan team included Lasith Malinga, who later made waves in the game.
Nawaz then played the role of Consultant Coach for the Sri Lanka women's team and in May 2009, he was named Sri Lanka Under-19 coach. But one of the most unforgettable moments in his coaching career was when he guided Bangladesh to win the ICC Under-19 World Cup last year.
Sri Lanka's first ever awards show for schoolboy cricketers, which has produced many champion Sri Lanka players, is back in the true spirit of the game to continue its role in fostering school cricket and it is with pride and honour that we plan to conduct the 42nd Observer-Mobitel Schoolboy and Schoolgirl Cricketer of the Year 2020 event.
The proud principal sponsor of the Mega Show is Sri Lanka Telecom Mobitel, Sri Lanka's national mobile communication network. Thanks to the untiring efforts of Chief Executive Officer of Mobitel, Nalin Perera, the contest has always grown from strength to strength and is the most looked forward to event.
This is the 12th successive year that SLT Mobitel is sponsoring the show, at a time when the company is heading towards new horizons under the dynamic leadership of SLT and Mobitel, Rohan Fernando, the former Thomian ace rower. It has been enjoyable working with Fernando who has a tremendous sporting record, including being the President of Sri Lanka Sailing Association and ex-President of National Olympic Committee of Sri Lanka.
It is encouraging to see more and more school cricket award shows  emerging, following that great initiative of Sri Lanka's flagship English newspaper – the Sunday Observer way back in 1978/79.  It was the ANCL which inaugurated the Observer Schoolboy Cricketer of the Year contest at a time when there wasn't a single awards ceremony to recognize the talents of schoolboy cricketers.
Neither the school cricket governing body - Sri Lanka Schools Cricket Association, nor the national governing body for cricket - Sri Lanka Cricket or then BCCSL, had a program to reward outstanding schoolboy cricketers.
There were no inter-school tournaments for First X1 cricket either. But 42 years ago, the Sunday Observer, as the country's undisputed English newspaper since 1928, realized the need to recognize talents of budding schoolboy cricketers who could step into Sri Lankan teams and become international stars by organizing this show of shows.
This initiative has proved fruitful as the Observer Schoolboy Cricketer show winners have gone on to hit the top as international cricketers. It was the then Royal College captain Ranjan Madugalle who was adjudged Observer Schoolboy Cricketer in 1978 and 1979. That inspired Madugalle to go places, captaining NCC in club cricket, leading Sri Lanka with distinction and currently holding the top post in international cricket as the Chief ICC Match Referee.
Sri Lanka's 1996 World Cup winning captain Arjuna Ranatunga had the honour of winning the Observer Schoolboy Cricketer of the Year title twice – in 1980 and 1982.
During the past four decades and more, the Observer Schoolboy Cricketer of the Year contest has gone from strength to strength, producing some of the best Sri Lanka cricketers – Asanka Gurusinha, Roshan Mahanama, Muttiah Muralitharan, Kumara Dharmasena, Marvan Atapattu, Sanath Jayasuriya, Thilan Samaraweera, Dinesh Chandimal, Niroshan Dickwella and Kusal Mendis, to name a few.
All these cricketers have entered the big league after their 'graduation' as Observer-Mobitel Schoolboy Cricketers. The success and immense popularity of the Observer-Mobitel Schoolboy Cricketer of the Year contest has persuaded some to follow our great initiative and conduct schoolboy cricketer awards shows but none of them would ever be able to emulate the Observer-Mobitel Schoolboy Cricketer of the Year contest which continues to maintain its rich traditions.
We are delighted and honoured to see more school cricket award shows emerging because that eventually meets our initial goal. We are happy to see others following the Sunday Observer example because it helps the country's budding schoolboy cricketers who would ultimately benefit from all these shows.
Hence, the Mother of all Shows – the Observer-Mobitel Schoolboy Cricketer of the Year contest continues for the 42nd time, breaking new ground and serves as a talent search for tomorrow's cricketing heroes.
Although the 2019-20 season came to a premature conclusion due to the Coronavirus, you could still vote for your favourite cricketer from any school in the Observer-Mobitel Most Popular Schoolboy Cricketer of the Year contest as well as for your favourite Schoolgirl Cricketer once we recommence publishing voting coupons.