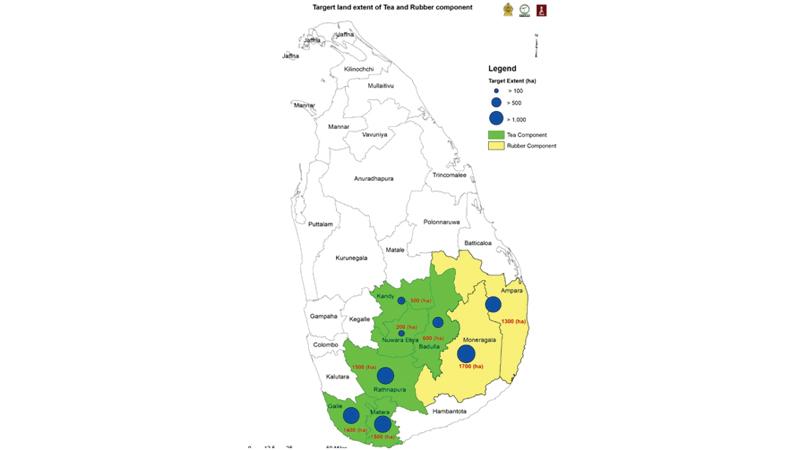 The Ministry of Plantation Industries and Export Agriculture launched the automation of measuring lands through GPS technology under the Smallholder Tea and Rubber Revitalisation (STARR) Project funded by the International Fund for Agriculture Development (IFAD) last week.
Plantation Industries and Export Agriculture Minister Dr. Ramesh Pathirana, State Minister of Tea Industry Development, Kanchana Wijesekara and Country Director of IFAD, Dr. Tarek Kotb were present.
GPS devices were presented to Tea Inspectors of the Tea Smallholders Development Authority, who are responsible for measuring the lands of Tea Smallholders
Smallholders dominate Sri Lanka's tea and rubber sectors, which have been making a notable contribution to the national economy for over a century. They account for 73 per cent share of tea production and 63 per cent share of rubber production (MPI, 2016). There are tremendous opportunities and challenges for sustainable smallholder tea and rubber development, particularly in terms of productivity and market linkages which impact directly on the smallholders' livelihood and poverty levels, according to a report by the STARR project.
The Government has set up the Smallholder Tea and Rubber Revitalisation (STARR) Project in collaboration with the International Fund for Agricultural Development (IFAD) to assist in improving the productivity of the tea smallholder sector, expand rubber cultivation into non-traditional rubber growing areas and to support small scale rubber processing.
The total project cost will be US$ 65.4 million over a six-year period, of which IFAD will provide a loan equivalent to USD 25.76 million. Expenditure categories for IFAD funding include society strengthening, production support for tea and rubber plantations, equipment and materials, goods, services and inputs, capital grants, salaries, allowances and operational costs.
The Government's contribution to the budget also includes subsidy payment for tea and rubber, implemented according to the Government scheme and cost-sharing on other expenditure categories. Beneficiaries will make a substantial contribution in terms of their own labour and capital for replanting of tea, cultivation of rubber, inter-cropping and their contribution to private nurseries, access roads and rubber processing units provided under the project.
The project area would be located in eight neighbouring districts in central and southern Sri Lanka, including Galle (tea), Ratnapura (tea and rubber processing), Badulla (tea), Kandy (tea), Nuwara Eliya (tea), Moneragala (rubber) and Ampara (rubber). These districts have been selected based on their poverty incidence, production of tea and potential for rubber. Over 143,000 people, or 32,000 households, would benefit from the project.
The project is being implemented over a six-year period (2016-2022). The Ministry of Plantation Industries (MPI) is the lead project agency. A Project Management Unit (PMU) was established under the MPI to implement the project activities. Seven District Project Management Units (DPMUs) were also established in districts ( where the project is operational) to manage all project activities through facilitation, coordination and operationalisation.
The private sector plays an active role in the Project through developing business models to strengthen the technical assistance and capacity building among beneficiaries to transform the sector into a tradable product sector through promoting value chains and supply chains.
Leading commercial and development banks would also act as partners with the STARR project to provide loan facilities for smallholder tea and rubber development and other livelihood development in eight districts where the project is operational through seven selected Participatory Financial Institutions.
The goal is to enable poor rural people to improve their food security, increase their incomes and strengthen their resilience.